ON THIS DAY in 1911,
radio 'soap opera queen' Florence Freeman was born in New York City.  She starred for more than a decade in the title role of two longrunning daytime dramas, NBC's Young Widder Brown and CBS's Wendy Warren & the News, and was a prominent cast member of Pepper Young's Family, John's Other Wife and Valiant Lady. She was also a regular on Maxwell House Show Boat and Abie's Irish Rose, both weekly New York-based NBC radio productions.   She died April 25 2000 at age 88.
In 1914, transcontinental telephone service began in the US with the first test phone conversation between New York and San Francisco.
In 1921, actor Richard Egan was born in San Francisco. Besides his big screen career, Egan also worked extensively in television, starring in the western drama Empire from 1962 to 1964. Later he made guest appearances on other television shows as well as acting in films made specifically for television. In 1982 he joined the cast of TV's new daytime political drama Capitol. He died from prostate cancer July 20th, 1987, 9 days before his 66th birthday,

In 1924, actor Lloyd Bochner was born in Toronto. At age 11 he started in radio doing voice-over work and radio dramas in Vancouver. His work in radio continued throughout his schooling and into his adult years. In the 1950's, he started to get work in New York, starring in TV's Studio One and One Man's Family opposite Eva Marie Saint. He later moved to Hollywood to play Neil Campbell in the television series Hong Kong, which led to regular roles on The Richard Boone Show and Dynasty. He died of cancer Oct 29, 2005 at age 81.
In 1936, despite the very few TV sets in existence, in New York RCA showed the first real TV program, comprised of dancing, a film on locomotives, a Bonwit Teller fashion show, some comedy, and a monologue from the play Tobacco Road.  It would be more than a decade, after WWII, before commercial television really took hold.
In 1938, television reporter/anchor Peter Jennings was born in Toronto.  His father, Charles, was a CBC announcer and executive, and at age 9, Peter hosted a half-hour weekly children's show on the network.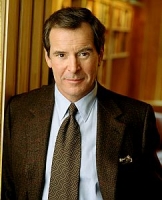 After dropping out of Trinity College School, he joined the CBC as host of a public-affairs program, then in 1962 co-anchored the CTV News. In 1964, he moved to New York and became a correspondent for ABC, then anchor of ABC Nightly News (1965-67). He returned to reporting in 1968, serving as ABC's chief foreign correspondent in London. He was appointed sole ABC anchor when the show moved to New York City in 1983. He died of cancer Aug 7 2005 at age 67.
In 1939, the CBC's prairie powerhouse CBK-540 signed on with 50,000 watts from Watrous, Saskatchewan. At the time, it was the only CBC radio outlet between Winnipeg and Vancouver.
In 1940, the pilot for the radio comedy Duffy's Tavern aired on CBS.  Starring Ed Gardner as tavern manager Archie, and a title character who never appeared, Duffy's won its own weeekly slot the following March, and would continue as a radio staple into 1952.
In 1957, Jack Paar began a successful five-year run as host of the Tonight show on NBC-TV, changing its name by 1959 to The Jack Paar Show.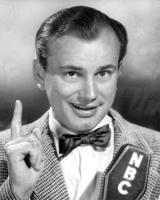 The very first show had as guests Alexander King, singer Robert Merrill, and funnyman Buddy Hackett.  King and Hackett became regulars over the years just as Jack Paar became a regular in our bedrooms every weekday night until March 30, 1962.  Hugh Downs was his announcer, Jose Melis led the band.
In 1959, the Isley Brothers recorded "Shout." The song reached only to No. 47. Joey Dee & the Starliters took it No. 6 three years later.
Also in 1959, Frankie Ford was Dick Clark's guest on American Bandstand, performing his Top Twenty hit song 'Sea Cruise.'
In 1961, Dick Clark premiered his summer stage show, the Dick Clark Caravan of Stars, at the Steel Pier in Atlantic City.  Performers included Chubby Checker, Paul Anka, Duane Eddy and The Shirelles.

In 1963, Peter, Paul & Mary's soon-to-be smash hit "Blowin' In The Wind" was released.  It was the most successful of the many versions of the Bob Dylan composition, which he claims he "probably wrote in about ten minutes."
Also in 1963, as US music charts were plumb full of hot rod songs, Capitol Records sent radio deejays a list of car terms and phrases to help promote "Little Deuce Coupe," the latest single by the Beach Boys.
In 1965, Queen Elizabeth attended the premiere of the motion picture, Help!, starring The Beatles. The command performance was held at the London Pavilion.
In 1966, the Grateful Dead played their first ever show outside the US when they appeared at the PNE Garden Auditorium in Vancouver.
Also in 1966, Bob Dylan was injured in a motorcycle accident near his Woodstock, N.Y., home; he went into seclusion for months as he recovered from injuries to his vertebrae.

In 1967, "Light My Fire" by the Doors topped the charts and stayed there for 3 weeks.
Also in 1967, The Temptations' "You're My Everything" was released.
In 1968, The Byrds left on a tour of South Africa without guitarist and pianist Gram Parsons, who had refused to perform in a country still practicing apartheid.
Also in 1968, the first recording session of The Beatles' seven-minute epic 'Hey Jude' took place at Abbey Road studios in London. The Paul McCartney song was written about John Lennon's son Julian.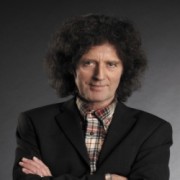 In 1972, Gilbert O'Sullivan started a five week run at No.1 on the Billboard pop singles chart with 'Alone Again, (Naturally)'.
Also in 1972, Barbara Mandrell became the latest Country artist to join the Grand Ole Opry.
In 1973, Led Zeppelin's safe deposit box at The Drake Hotel in New York was robbed while they performed at Madison Square Garden. The band lost $180,000 in receipts from the previous night's show, a crime that has never been solved.
In 1974, singer Cass Elliot of the Mamas and the Papas died of a heart attack in London, at age 32.  She was found in her bed with a ham sandwich by her side.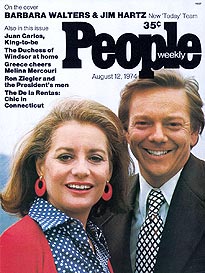 Also in 1974, Jim Hartz was named to join Barbara Walters as co-host of the Today show on NBC.  Others who have hosted the show since 1952 include Dave Garroway, John Chancellor, Hugh Downs, Frank McGee, Tom Brokaw, Bryant Gumbel, Katie Couric, Matt Lauer and Meredith Viera.
Again in 1974, the still-struggling Canadian band Rush got a new drummer as Neil Peart replaced John Rustey.
In 1977, Clint Buehlmann did his last show on WBEN-AM, Buffalo, New York. He had been a highly-rated morning personality for about 40 years.
In 1978, 600,000 attended the "Summer Jam" rock festival, at Watkins Glen, New York.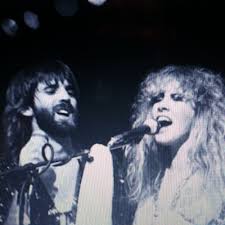 Also in 1978, Kenny Loggins "Whenever I Call You Friend," a future Top Five single on which he was joined by Stevie Nicks, was released.
Still in 1978, Prince appeared on the Billboard charts for the first time with 'Soft and Wet.'  And the film soundtrack to Grease featuring John Travolta and Olivia Newton-John went to No.1 on the Billboard album chart.
In 1979, TV game show producer Bill Todman, who together with Mark Goodson gave us What's My Line, To Tell The Truth, I've Got A Secret, Password, Match Game, Family Feud, The Price Is Right, etc. etc., died of heart disease at age 62.
In 1981, millions of people around the world watched on television as England's Prince Charles and Lady Diana Spencer took center stage amidst the pomp and splendor of their royal wedding at St. Paul's Cathedral in London.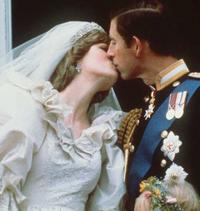 The ceremony took place in the wee small hours on this side of the Atlantic, but was still a ratings success, with coverage on all networks. 2,500 guests were in actual attendance.
In 1983, Toronto-born actor Raymond Massey died at age 86. The brother of Governor General Vincent Massey, Raymond was best remembered for his TV role as Dr. Gillespie on the Richard Chamberlain series Dr. Kildare.  Massey was also very active in quality radio, cast in various productions for the esteemed Norman Corwin & Arch Oboler, and repeatedly guesting on the eerie Inner Sanctum Mysteries.
Also in 1983, suave English actor David Niven (below), who guested all over early US TV drama, who hosted David Niven's World, and acted in the series The Rogues, died in Switzerland at age 73.

Still in 1983, "Friday Night Videos" premiered on NBC TV, the first show of a 19-year run.
In 1984, orchestra & chorale leader Fred Waring, who emceed the longrunning radio show Fred Waring's Pennsylvanians, and continued the program for 6 years in early TV, died suddenly following a stroke at age 84.
In 1987, Michigan's governor announced an annual "Four Tops Day" to honor the group's contribution to American music.
In 1990, Elton John checked into a Chicago clinic to cure bulimia and an addiction problem, as he took more than a year off from touring and recording.

In 1991, during their Use Your Illusion Tour, Guns n' Roses played the first of four nights at the Great Western Forum in southern California.
In 1992, while filming an episode of TV's Hat Squad in Vancouver, actor Ray Sharkey was arrested for drug possession, after Canada Customs officials at YVR discovered small amounts of cocaine and heroin. Police searched his hotel room and found an additional drug stache.
In 1994, the last steel beam was placed on Cleveland's Rock & Roll Hall of Fame.
In 1995, bandleader Les Elgart died of heart failure at age 76. Elgart's recording of Bandstand Boogie was adopted by Dick Clark as the theme for American Bandstand. Elgart also had two top-selling albums in the 50's: The Elgart Touch and For Dancers Also. He often jointly led a band with his brother Larry in the 1950s and 60s.
In 1997, CBL-AM Toronto was approved to move to FM, on 99.1 MHz. That move prompted the relabelling of the CBC AM network as Radio One.

In 1999, Anita Carter, singer and stand-up bass player for the country act the Carter Sisters, died at home in Nashville at age 66. She was the younger sister of June Carter Cash.
In 2000, 'N Sync's annual Challenge For The Children celebrity basketball game, held at St. John's University in New York, raised $550,000 for a group of charities. The event saw musicians Queen Latifah, Youngbloodz, Jordan Knight, and Pink, actors Dean Winters and Duane Martin, and MTV VJ Ananda Lewis join members of 'N Sync in a star-studded game.
Also in 2000, actor Brad Pitt married actress Jennifer Aniston (Friends) in Malibu. They separated after four and a half years of marriage.
In 2001, Destiny's Child started a two week run at No.1 on the Billboard pop singles chart with 'Bootylicious'.
In 2003, the Rolling Stones, AC/DC and Rush headlined a benefit concert in Toronto, to prove that the city is safe from SARS. 450,000 crammed into Downsview Park for the largest concert in Canadian history.

In 2005, TV gag writer & funnyman Pat McCormick died at age 78.  He wrote jokes over the years for Jack Paar, Merv Griffin, Red Skelton, Danny Kaye, Lucille Ball, Bette Midler, and most notably Johnny Carson for 12 years.
Also in 2005, the single-named society singer Hildegarde, one of the most popular vocalists on North American radio in the 1940's, died at the age of 99.
Still in 2005, an anonymous bidder at a UK auction paid $1 million for the handwritten lyrics to the Beatles' "All You Need Is Love," which had been snatched from John Lennon's music stand after the Fab Four's final TV appearance in 1967.
Again in 2005, CKCK-FM Regina became Jack-FM.
In 2006, actor-director Mel Gibson issued a lengthy statement apologizing for his drunken-driving arrest and for what he called his "despicable" statements toward the deputies who arrested him in Malibu, Calif.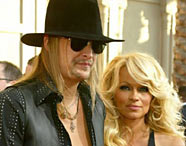 Also in 2006, Ladysmith BC's Pamela Anderson and musician Kid Rock were married in St. Tropez, France. They both filed for divorce four months later.
In 2007, in San Francisco, the host of NBC's Tomorrow Show (1973-82), and later CBS TV's Late Late Show (1994-99), Tom Snyder, died of leukemia at age 71.
Also in 2007, heart problems forced Kiss singer and guitarist Paul Stanley to abandon a show in California. Paramedics stopped and restarted his heart to give it a regular rhythm after his heart spontaneously jumped to 190-plus beats per minute.
In 2011, singer Gene McDaniels, who hit pay dirt with 'A Hundred Pounds Of Clay' in 1961, died at his home in Maine at age 76.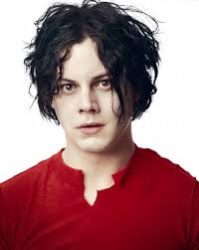 In 2013, 
Jack White
 of White Stripes made a $200,000 donation to the National Recording Preservation Foundation who preserve sound libraries and cultural institutions from recorded music history. White is a foundation board member.
.
In 2014, legendary New Orleans drummer Idris Muhammad, (born Leo Morris), died at age 74.  His lengthy career playing with the greats of jazz, bebop and funk began at age sixteen when he played on Fats Domino's most important recording, 1956's "Blueberry Hill."
Also in 2014, Jack White threw out the ceremonial first pitch prior to a Tigers-White Sox MLB game at Detroit's Comerica Park. White is a Detroit native.
In 2015, 'Amen' became Halestorm's third #1 song on Billboard's Mainstream Rock Songs chart. 'Freak Like Me' and 'Apocalyptic' were the first two. This Pennsylvania-based band, fronted by Lizzy Hale, and Pretty Reckless are the only female-led bands to top the Mainstream Rock Songs chart.
Today's Birthdays:
Actor Robert Fuller (Laramie, Wagon Train, Emergency) is 84.
Musician/singer/songwriter Randy Sparks (New Christy Minstrels founder) is 84.
Actor David Warner (Star Trek: Next Generation, Batman, Spiderman, Penny Dreadful) is 76.
Keyboardist Neal Doughty, the last surviving original member of REO Speedwagon is 71.
Actress Leslie Easterbrook (Laverne & Shirley) is 68.
Actor Mike Starr (Ed, Joan of Arcadia) is 67.
Toronto-born singer-bassist Geddy Lee of Rush is 64.
Documentary maker Ken Burns (Baseball, Jazz, FDR, Civil War) is 64.
TV producer/personality/voicist Tim Gunn (Project Runway, Sofia the First) is 64.
Singer Patti Scialfa with Bruce Springsteen and the E Street Band is 64.
Actress Jeannetta Arnette (Head of the Class, The Jackie Thomas Show, Extant) is 63.
Actor/voicist Brian Peck (All That, The Twisted Tales of Felix the Cat, Growing Pains) is 57.
Actress Alexandra Paul (Baywatch) is 54.
Actress Lisa Peluso (Another World, Loving, Search for Tomorrow) is 53.
Manitoba-born actor/voicist Dean Haglund (The X Files, Robocop: Alpha Commando) is 52.
Country singer Martina McBride is 51.
Actor/voicist Richard Steven Horvitz (The Grim Adventures of Billy & Mandy, Betsy's Kindergarten Adventures) is 51.
Drummer Chris Gorman (Belly) is 50.
Actor Rodney Allen Rippy (Jack in the Box commercials) is 49.
Seattle-reared actor Tim Omundson (Galavant, Psych, Judging Amy) is 48.
Actor Bryan Dattilo (Days of Our Lives) is 46.
Actress Monica Calhoun (Diary of a Single Mom, Bagdad Cafe) is 46.
Actor Wil Wheaton (Star Trek: The Next Generation, Big Bang Theory, Eureka) is 45.
Actor Ato Essandoh (Vinyl, Elementary, Blue Bloods, Copper) is 45.
Singer Wanya Morris of Boyz II Men is 44.
Actor Stephen Dorff (Earthly Possessions, What a Dummy) is 44.
Country singer James Otto is 44.
Actor Josh Radnor (How I Met Your Mother) is 43.
Musician Danger Mouse of Gnarls Barkley is 40.
Actress Rachel Miner (Guiding Light, Californication) is 37.
Actress Megan Hayes (Fark TV) is 37.
Actor Dominic Burgess (Feud, A.N.T. Farm) is 35.
Actress Allison Mack (Smallville) is 35.
Actress Tania Gunadi (Aaron Stone, Penn Zero: Part Time Hero) is 34.
Actor Todd Bosley (Scrubs) is 33.
Actress Genesis Rodriguez (Entourage) is 30.
Ontario-born actor Munro Chambers (Degrassi: The Next Generation) is 27. 
Actress Penny Bae Bridges (Half & Half) is 27.
Actor Maestro Harrell (Suburgatory, The Wire) is 26.
Actor Lino Facioli (Game of Thrones) is 17.
Chart Toppers – July 29th
1946
They Say It's Wonderful – Frank Sinatra
The Gypsy – The Ink Spots
Surrender – Perry Como
New Spanish Two Step – Bob Wills
1955
Rock Around the Clock – Bill Haley & His Comets
Hard to Get – Giselle Mackenzie
Sweet and Gentle – Alan Dale
I Don't Care – Webb Pierce
1964
Rag Doll – The 4 Seasons
A Hard Day's Night – The Beatles
The Little Old Lady (From Pasadena) – Jan & Dean
Dang Me – Roger Miller
1973
Bad, Bad Leroy Brown – Jim Croce
Yesterday Once More – Carpenters
Shambala – Three Dog Night
You Were Always There – Donna Fargo
1982
Eye of the Tiger – Survivor
Rosanna – Toto
Hurts So Good – John Cougar
Take Me Down – Alabama
1991
(Everything I Do) I Do It for You – Bryan Adams
Right Here, Right Now – Jesus Jones
P.A.S.S.I.O.N. – Rythm Syndicate
I Am a Simple Man – Ricky Van Shelton
2000
It's Gonna Be Me – 'N Sync
Bent – Matchbox Twenty
I Think God Can Explain – Splender
I Hope You Dance – Lee Ann Womack (featuring Sons of the Desert)
2009
Lovegame – Lady Gaga
Waking Up In Vegas – Katy Perry
I Gotta Feeling – Black Eyed Peas
I Run to You – Lady Antebellum