by 

John Mackie, Vancouver Sun

                                                                                                       Published on: June 30, 2017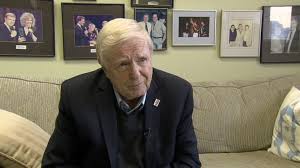 .
Red Robinson has tried to retire a few times.
"I had big parties and everything — it was terrific," he laughs.
"It became a thing with me. Maybe next year I can retire again."
But each time the easy life beckoned, he missed the buzz of going on the radio. So the legendary disc jockey has remained on the air for 64 years.
For the last several years Robinson has held down a Sunday slot on CISL. He celebrated his 80th birthday on air March 30.
But CISL was recently sold and will be changing formats from oldies to sports in September. So this week, Red decided it was time to finally retire for good.
.
"I'll tell ya what did it to me," he said.
"My grandson is 14. He's always bugging me, 'Grandpa when are you going to retire?' I knew what he meant — spend more time with him. A couple of weeks ago I said 'Aden, I'm retiring.'
"He said, 'Grandpa, you mean we can spend more time together?' That got to me. It's the right move. You've got to go sometime, right?"
His last day will be Aug. 27. This week, he started going through some of the boxes of memorabilia in his office. Going through a box filled with autographs Robinson came across something special — a Buddy Holly signature from his lone appearance here on Oct. 23, 1957.
READ MORE  HERE  AT THE VANCOUVER SUN WEBSITE