Venerable broadcaster, who's called Toronto games for half of his life, has made lifestyle changes after cancer surgery and a bout of laryngitis.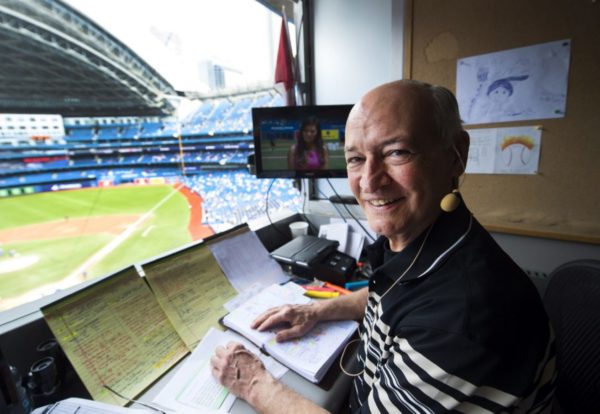 Toronto Blue Jays broadcaster Jerry Howarth overlooks the field from his broadcast booth before a game at Rogers Centre on June 17, 2017.  (

Nathan Denette / THE CANADIAN PRESS

)  
The list of Toronto Blue Jays who have spent time on the disabled list over the first three months of the season is one of the longest in recent memory. Even the team's longtime radio broadcaster was forced out of action for an extended period.
About 4 ½ months after undergoing successful prostate cancer surgery, Jerry Howarth was back in the booth calling games at the start of the 2017 campaign. However, a virus in late April led to laryngitis and he was forced to miss 21 games.
"It took a little while to come back," Howarth said. "Even now my voice is not 100 per cent."
Howarth has made a few minor changes to get back in top form since returning to his duties a few weeks ago. He has switched to decaffeinated coffee, is drinking more water than usual, and has been meeting with specialists at a downtown voice clinic to see if nasal polyps are an issue.
"Overall I'm happy to be back and even at 80-85 per cent (to) call games and enjoy that," Howarth said. "But I still think there is room for improvement."
THERE"S MUCH MORE TO THE HOWARTH HEALTH STORY .. READ IT  HERE  AT THE TORONTO STAR WEBSITE