by Marty Forbes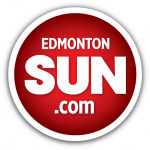 Saturday June 24, 2017
There certainly is lots going on now in the big city.
First off, one of the projects I'm proudly working on is the Alberta Motorcycle Safety Society and this week the City of Edmonton Traffic Safety Division is awarding our leader, Liane Langlois, with a big award. It's a unique campaign using television, radio, digital outdoor and print, as well as featuring media rider ambassadors to carry our message. Think Bike stands out — and we thank motorists on all wheels from 2 to 18 for making our roads safer. Thanks to media in Edmonton, Calgary and Red Deer or carrying the messages too.
In media, congrats to the Bell building in the west end for another successful Stollery Radiothon. The Bear, Virgin, TSN, and CTV all joined together and raised $200,000 for the Stollery Children's Hospital last week.
The Bear also welcomes newcomer Christopher Johnston (Aka Toby), who returns to Alberta from doing afternoons at Virgin Winnipeg. Born and raised in Red Deer, he is anxious to get back home.
At Newcap GM Neil Cunningham has moved on to the next best phase of his life retiring from K97, Capital FM, CFCW in the West Edmonton Mall last week. No word on a replacement as yet.
Congrats to Bert Crowfoot and Boyd Leader from CFWE Radio as the CRTC has granted them a few more FM licences. This radio station has been a huge success in the Indigenous world and the Commission recognized their service to the community with the chance to add another FM licence to both Edmonton and Calgary. The former Aboriginal Voices Radio frequency has been hovering around unutilized in both cities for well over a decade and the new station(s) should be signing on in the next six months or so.
A couple of former Edmonton media personalities are joining forces at JACK FM in Vancouver shortly. Paul Brown, ex-morning man at The Bear and Michael Kuss, a former weatherman at CITY TV (then A Channel) are the new morning team at that Rogers station. Coincidentally, I was the Program Director in that building in the mid-'80s.
Returning to Edmonton from the "wet coast" is former CITY TV/Shaw Television broadcaster Jennifer Martin. No word where Jen is going to ply her trade but suffice to say one of the nicest ladies in the media is going to be welcomed back home by her friends and peers during the summer months.
A few weeks back I was honoured to be part of a special Intervivos Mentoring Day. Some great and accomplished Edmonton business leaders did a 'speed dating' style chat with 15 up-and-coming millennials. It was a great exchange and it was nice to see these folks opening up doors and trying to get ahead in a very competitive world. We now await the 'matching process' and get to work with one up and comer for (at least) the next six months giving them help and advice on how to move forward in the business world. For more on this unique program check out http://intervivos.ca
Finally, the inaugural Crescendo concert was a huge success at the Winspear Centre on June 9th. An almost packed house enjoyed a 120 member choir, backed by 60 top notch Edmonton musicians, and the core of John Cameron Entertainment performers in a full blast night of music and messages.
Crescendo was a blend of great classic hits — mixed with messages from a variety of people talking about mental health issues. Coun. Scott McKeen also was part of the messaging as he talked about struggles in his past. It was a warm and wonderful night and there is a five-year plan to raise $5 million for mental health issues in our town.
Thanks to those who bought tickets and supported the show through sponsorship. I can safely say next year will sell out and I'll be happy to keep you in touch with plans, special guests, and the 2018 lineup in this column and via my Twitter @mjforbes.
Till then check crescendoyeg.com; like the Facebook page, and follow on Twitter and Instagram @crescendoYeg
Have a great summer — support one of our great local festivals, Farmers Markets, and special events.
Read More HERE