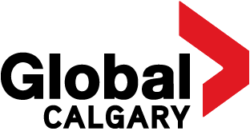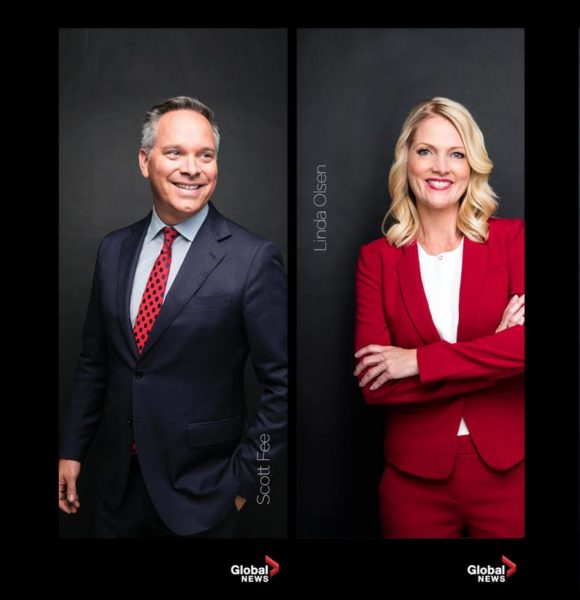 News Anchor Kris Laudien Moves to Weekdays on
Global News Morning
CALGARY, June 12, 2017 – Global News is thrilled to announce award-winning anchor Scott Fee is joining Linda Olsen as the new co-anchor of Global News Hour at 6. Fee has been a vital member of the Global News Morning and Global News at Noon teams for the last six years, delivering breaking news, top local news stories, in depth interviews, and all the information that matters most to Calgarians.
Fee's energy and creative storytelling paired with Olsen's extensive media experience and deep roots in the community will redefineGlobal News Hour at 6 as they start a new chapter as co-anchors in the fall. With Global Calgary's dedication to providing viewers with the most insightful and informative news programming, Fee and Olsen will dig even deeper into the stories making news in the city.
As part of his new role with Global News Calgary, Fee will also take the reins of Global News at 11 weeknights, joining Paul Dunphy and the Global News Sports team as they gather and deliver the top stories of the day.
"Scott is a dynamic and highly respected journalist who has shared his experience and sense of humour with Global News Morning viewers for years. I am excited to welcome him and his energy to our winning team of journalists on the evening news broadcast," says Linda Olsen, Anchor, Global News Calgary. "Scott is committed to his work and deeply cares about the people he broadcasts to and about. I will enjoy working alongside a seasoned professional but also a dear friend. Off the air, Scott is all about his family and friends and his passion for camping and traveling and I look forward to learning more about his adventures while we chat in the commercial breaks!"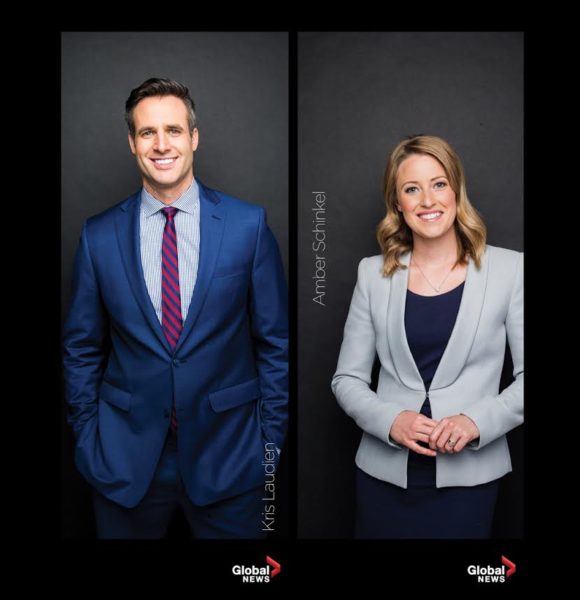 With Fee's switch to evenings, Global News Calgary is bringing weekend morning anchor Kris Laudien to weekdays to fill Fee's shoes on Global News Morning and Global News at Noon. A well-known journalist who resonates with local audiences, Laudien's broadcast experience, humour and enthusiasm will make him an excellent addition to Global Calgary's all-star morning team alongside co-anchor Amber Schinkel, meteorologist Jordan Witzel and traffic reporter Leslie Horton.
"Both Scott and Kris have proven to be some of Calgary's best news personalities and we're excited to see what they bring to their new roles," said Chris Bassett, News Director, Global News. "Their journalism experience and comfort with our viewers will further strengthen our newscasts morning, noon, and night."
The changes will take effect Tuesday, September 5.
Global News is positioned as Calgary's leading news station and has been part of the marketplace for over 60 years. As Calgary's first television station, the news team continues to offer more local news than any other station in the market and is home to the city's only television news helicopter. For more details about Global News Calgary or Global's programming line-up, please visit Globalnews.ca.
*Source: Numeris Infosys Data Spring 2017 (Jan 2 – May 28, 2017) Mo-Fr 6pm – 7pm Calgary EM Ind. 2+ (1 minute reach condition) Average Weekly Reach
-30-
SOCIAL MEDIA LINKS:
Follow Corus PR on Twitter @CorusPR
Follow Global News Calgary on Twitter @GlobalCalgary
Like Global News Calgary on Facebook www.facebook.com/GlobalCalgary/
Global News Calgary is part of the Corus Entertainment Network.
About Corus Entertainment Inc.
Corus Entertainment Inc. (TSX: CJR.B) is a leading media and content company that creates and delivers high quality brands and content across platforms for audiences around the world. The company's portfolio of multimedia offerings encompasses 45 specialty television services, 39 radio stations, 15 conventional television stations, a global content business, digital assets, live events, children's book publishing, animation software, technology and media services. Corus' roster of premium brands includes Global Television, W Network, OWN: Oprah Winfrey Network Canada, HGTV Canada, Food Network Canada, HISTORY®, Showcase, National Geographic Channel, Q107, CKNW, Fresh Radio, Disney Channel Canada, YTV and Nickelodeon Canada. Visit Corus at www.corusent.com.

For media inquiries, please contact:
Samantha Simic, Communications, Global News & Corus Radio, Western Canada
Corus Entertainment