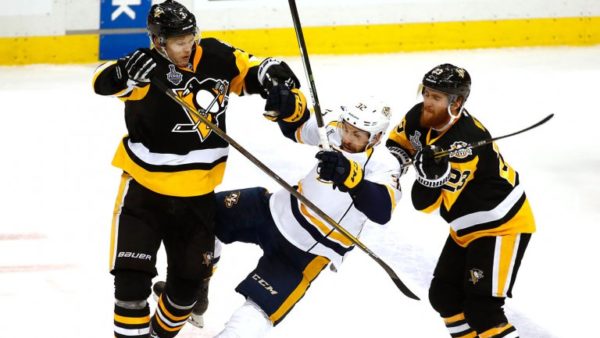 Game 5 of the Stanley Cup Finals topped all of TV on Thursday night. Though the latest showdown between the Pittsburgh Penguins and the Nashville Predators does not hold a candle to the week's basketball games, hockey was enough to win NBC an easy victory in the key demo.Preliminary returns for the game, which saw the Penguins hammer the Predators 6-0, have it leading the night by most measures. The overnight 3.1 households rating won't likely catch CBS or ABC encores among total viewers — but it will top in the demo with a preliminary 1.4 rating among adults 18-49 prior to time zone adjustments.

The Penguins are now one win away from wrapping up the Stanley Cup — as the Golden State Warriors are with the NBA Finals. That series will end tonight if the Warriors trounce the Cleveland Cavaliers one more time.

This being June, original competition was slim. The only new offerings were on Fox, which had steady episodes of Beat Shazam (1.0 adults) and Love Connection (0.8 adults).
(Ed note:  It wasn't long ago that the NHL had trouble finding a US carrier for its games.)