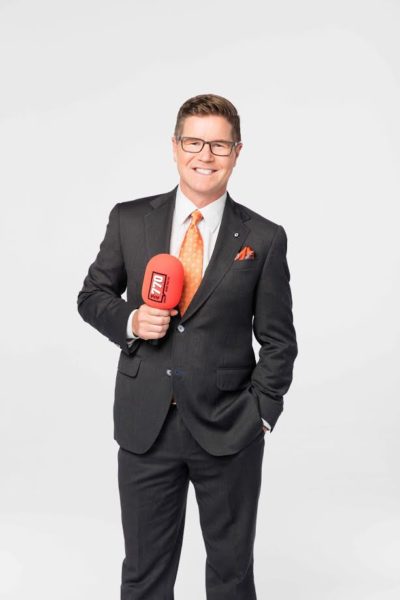 GLOBAL NEWS CALGARY ANCHOR GORD GILLIES TO JOIN
NEWS TALK 770 AS NEW MORNING HOST
Gillies to Replace Long-Time Host Bruce Kenyon in Morning News Slot
CALGARY, June 6, 2017 – Acclaimed news personality, Gord Gillies is transitioning from the anchor desk to the radio airwaves with a new, dynamic morning show, The Morning News with Gord Gillies, which will officially launch Monday, August 14 on News Talk 770.Gillies is best known as the long-time co-anchor of Global News Hour at 6 and recently joined News Talk 770 as co-host of Friday Free for All.
Bringing his tremendous insight, humour and intellect to the morning hours, Gillies will break down the key issues facing Calgarians, focusing on the news that matters most in the city. With his extensive journalism background spanning more than 25 years, News Talk 770 listeners can look forward to a show full of lively debate, engaged conversation and a fresh take on the day's headlines.
"While we're sad to see Gord leave Global News Calgary, we're so excited about his new show within the Corus family and what he will bring to listeners tuning in each day," said Kenton Boston, VP News & Information, Western Canada. "Gord is a long-admired news anchor and his new role will give him a chance to let his personality truly shine with candid conversation, contextual analysis and maybe even a few jokes. We wish him the best of luck on his new radio gig and look forward to listening to him every morning on News Talk 770."
Gillies began his career in journalism as a copy boy at the Toronto Star in 1981 after graduating from the Radio and Broadcasting Arts program at Humber College in Toronto, Ont. Since then, he has worked in a number of newsrooms across the country. Some of the biggest highlights of his career includes covering the 1988 Olympic Winter Games and the devastating floods in Southern Alberta in 2013. A vital member of the community, Gillies supports a number of charitable initiatives including; The Alberta Children's Hospital Foundation, The Salvation Army, Hull Child and Family Services.
"I am honoured to be given an opportunity to connect with Calgarians in a whole new way while wearing a lot less makeup. My goal is to inform our listeners with what they need to know and send them out the door with a smile," said Gord Gillies, Host, The Morning News with Gord Gillies. "I've re-commissioned the alarm clock and re-introduced myself to caffeine to get ready for this exciting new chapter."
A new co-anchor for Global News Hour at 6 will be announced in the coming weeks. For more details about The Morning News with Gord Gillies or News Talk 770, please visit newstalk770.com.
-30-
SOCIAL MEDIA LINKS:
Follow Corus PR on Twitter @CorusPR
Follow News Talk 770 on Twitter @NewsTalk770
Like News Talk 770 on Facebook facebook.com/NewsTalk770Calgary
Global News Calgary is part of the Corus Entertainment Network.
About Corus Entertainment Inc.
Corus Entertainment Inc. (TSX: CJR.B) is a leading media and content company that creates and delivers high quality brands and content across platforms for audiences around the world. The company's portfolio of multimedia offerings encompasses 45 specialty television services, 39 radio stations, 15 conventional television stations, a global content business, digital assets, live events, children's book publishing, animation software, technology and media services. Corus' roster of premium brands includes Global Television, W Network, OWN: Oprah Winfrey Network Canada, HGTV Canada, Food Network Canada, HISTORY®, Showcase, National Geographic Channel, Q107, CKNW, Fresh Radio, Disney Channel Canada, YTV and Nickelodeon Canada. Visit Corus at www.corusent.com.

For media inquiries, please contact:
Samantha Simic, Communications, Global News & Corus Radio, Western Canada                                                Corus Entertainment                                                              (604) 422-6432