Legendary host was best known for his work on World Report
courtesy CBC News    Posted: Apr 21, 2017 
CBC radio journalist Rex Loring is seen watching archival video from his days at CBC. His family said Friday that Loring had passed away at age 91. (Facebook)
Legendary CBC broadcaster Rex Loring, best known for his work on World Report, has died.
He was 91.
"We are saddened to announce the passing this morning of our father, Rex Loring," his daughters Carrie and Elaine Loring said in a statement on Facebook confirmed by CBC News.
Loring was a founding host of CBC Radio's World Report and stayed with the show for 20 years.
Before that, he was a fixture on CBC Television.
"He was the master of the cold read," Elaine Loring told CBC News by email. "While reading the news live, he would be slipped a story from a newsroom writer, in the middle of reading live on-air … then read it, never having seen it before, perfectly. I've been told this time and time again by those who worked with him."
Loring retired in 1990.
.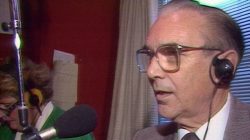 .
"Dad made it to 91 still in his own apartment, master of his own life," the Facebook statement said.
The statement said Loring continued to enjoy driving, cooking, going to the pub, listening to music and watching classic movies.
READ THE REST OF THE STORY  HERE  AT THE CBC NEWS WEBSITE