April 27, 2017 by Justin Terranova, The New York Post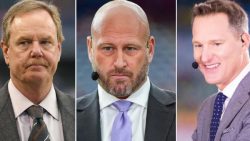 ESPN talent Ed Werner, Trent Dilfer and Danny Kanell. All laid off.  NY Post
.
The feared day is here for many in Bristol.
ESPN president John Skipper sent out a memo to employees Wednesday morning alerting them that 100 employees will be laid off. Around half of those receiving pink slips are well known, according to James Miller, author of the ESPN behind-the-scenes book "These Guys Have All the Fun."
The lay-offs were expected for months, but according to Miller, some are still in shock as they are notified they are among the ones being let go.
Ed Werder, a prominent on-camera NFL reporter, shared on Twitter that he was fired.
ESPN Radio host Danny Kanell soon joined the grim tally. Fellow former NFL quarterback Trent Dilfer wasn't far behind.
Longtime respected baseball journalist Jayson Stark also announced he was done at the network.
Other journalists who revealed they have been let go include: columnists Johnette Howard and Jane McManus; baseball reporters Jim Bowden, Doug Padilla and Mark Saxon; basketball reporters Ethan Strauss and Calvin Watkins; hockey reporters Pierre LeBrun, Scott Burnside and Joe McDonald; college reporters Dana O'Neil, Brett McMurphy, Eamonn Brennan, Jeremy Crabtree, Max Olson, C.L. Brown, Austin Ward and Jesse Temple; and soccer reporter Mike L. Goodman.
READ THE REST OF THE STORY  HERE  AT THE POST WEBSITE