by Brian Stelter, Chief Media Correspondent, CNN Money   April 20, 2017: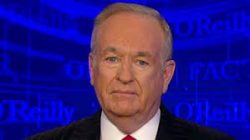 .
Bill O'Reilly will be paid tens of millions of dollars on his way out of Fox News, two well-placed sources told CNNMoney.
.
"It is a staggering amount," said a source personally involved in the exit maneuverings.
 After this story was originally published Thursday morning, a third source said the payout totals $25 million.                                                                                                                .
21st Century Fox and O'Reilly's representatives will not acknowledge the existence of a payout. A confidentiality agreement limits what the two sides can say.
But the sources confirmed that O'Reilly does have a parachute, partly because O'Reilly signed a new contract right before being ousted.
The two original sources, who spoke independently of one another, said the new contract was worth about $25 million per year.
(Previous news reports have pegged O'Reilly's past contract at $18 to $20 million a year.)
READ THE REST OF THE STORY  HERE  AT CNN Money