ON THIS DAY in 1913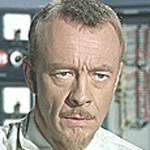 actor Les Tremayne was born in England, but moved to Chicago at age 4. Landing his first radio job in 1930, he went on to appear in scores of serials and shows using a variety of voices and accents, including leads in First Nighter, The Thin Man & The Falcon.  He is believed to have worked on more than 30,000 broadcasts, with as many as 45 radio shows a week in the 30s and 40s. In TV he had recurring roles in One Man's Family, Ellery Queen, Rin Tin Tin & General Hospital, as well as scores of guest roles.  Late in life he turned to voiceover cartoon work.  He died of heart failure Dec 19, 2003 at age 90.
In 1915, actress Joan Alexander was born in St. Paul, Minn. She played Lois Lane on the radio serial The Adventures of Superman (1940-51) for more than 1600 episodes, and Della Street on the CBS radio daytime drama Perry Mason.  On TV she appeared as a regular panelist on the 1951–1955 ABC-TV game show The Name's the Same.  She died at age 94 due to an intestinal blockage on May 21 2009.
In 1920, actor Barry Nelson was born Barry Nielsen in San Francisco.  In early TV he was a regular on My Favorite Husband, The Hunter & Hudson's Bay, then guest starred on scores of shows over the next 35 years.  He died April 7 2007, just shy of his 87th birthday.
In 1924, pianist, composer and orchestra leader Henry Mancini was born in Cleveland.


After six years as a pianist-arranger with the Glenn Miller-Tex Beneke orchestra, Mancini joined the Universal International Studios music department in 1952. Following work on more than 100 films, he left in 1958 for an illustrious career as an independent composer and arranger. Mancini's classics included "Moon River," "Days of Wine and Roses" and the themes from the "Peter Gunn" T-V show and the "Pink Panther" movies. His 90-plus albums included 1969's million-selling "Love Theme From Romeo and Juliet," on which he played piano. Mancini was 70 when he died of cancer in Los Angeles on June 14th, 1994.
In 1929, soul/pop singer Roy Hamilton was born in Leesburg Ga.  His hits included You'll Never Walk Alone, If I Loved You, Ebb Tide, Unchained Melody, Don't Let Go, & You Can Have Her.  He died July 20, 1969 at age 40.
In 1930, jazz musician/flautist Herbie Mann was born in Brooklyn. Early in his career, he also played saxophones and clarinets, but Mann was among the first jazz musicians to specialize on the flute and was perhaps jazz music's preeminent flautist during the 1960s.  He died July 1, 2003 at age 73.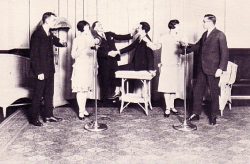 In 1933, Vancouver radio station CNRV became CRCV 1100, as the Canadian Radio Broadcasting Commission took over. (Pictured are 'The CNRV Players' in studio.) CRCV was the only commission-owned station west of Toronto; eventually it would evolve into CBR and then CBU.
In 1935, the soon-to-be highly popular "Fibber McGee & Molly" radio program starring Jim and Marian Jordan, debuted on the N-B-C Blue Network from Chicago.
In 1939, Dusty Springfield (below), Britain's leading female vocalist of the mid-'60s, was born Mary Isobel Catherine O'Brien in London. She took her stage name from a folk group called the Springfields, which she formed with her brother Tom. After the group broke up in 1963, Dusty's solo career included such hits as "I Only Want to Be With You" and "You Don't Have to Say You Love Me." In 1988, Springfield combined with the Pet Shop Boys on the top-10 hit, "What Have I Done To Deserve This?"  Dusty Springfield died of breast cancer at her home in England on March 2nd, 1999, at age 59.  She was named to the Rock 'n' Roll Hall of Fame that same year.

In 1947, Zoomar arrived. No, this was not about some comic book superhero or space alien. Zoomar was a lens demonstrated by NBC-TV in New York City. The Zoomar lens was a device that could feature close-up and long distance camera shots from a stationary camera. Eventually, the lens would be scaled down for use by regular photographers, not just for television. There are many different kinds of close-up/long distance lenses today, including the zoom lens named after the original Zoomar.
In 1954, Roy Orbison attended an Elvis Presley show at the Sportatorium in Dallas.
In 1955, Elvis was the headliner on "The Big D Jamboree," a live show on Dallas radio station KRLD. The audience was admitted to the studio for just 60 cents for adults, 30 cents for kids.
In 1956, ABC Radio debuted "Rhythm Parade," a a nationally broadcast rock and roll show from the Flame Show Bar in Detroit

Also in 1956, Chuck Berry was at Chess Records in Chicago to record his next two hit singles, "Roll Over Beethoven" b/w "Drifting Heart," which was released at the end of May, and "Too Much Monkey Business" b/w "Brown Eyed Handsome Man," which hit stores in September.
Still in 1956, rock `n' roll pioneer Buddy Holly's first single for the Decca label, "Blue Days, Black Nights" which had been recorded in Nashville in January, was released.  However it failed to chart.
Again in 1956, the first solar powered radio went on sale.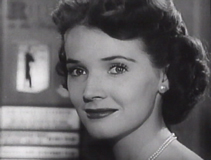 In 1957, Polly Bergen starred in The Helen Morgan Story on CBS TV's Playhouse 90.
In 1961, comedians Jack Carter and George Kirby were featured on CBS-TV's Ed Sullivan Show, along with singers Pearl Bailey and Anna Maria Alberghetti.  And the widow of baseball's Babe Ruth took a bow from the audience.
In 1962, Walter Cronkite succeeded Douglas Edwards as anchor of "The CBS Evening News," at that time just 15-minutes long.
In 1963, The Beatles performed on BBC TV for the first time on "The 625 Show."
Also in 1963, the New Christy Minstrels recorded their first big hit "Green Green" for the Columbia label.

In 1964, in Hollywood, Dean Martin recorded the ditty that would soon become his theme song, "Everybody Loves Somebody," for Reprise Records. It would turn into Dean's first hit in six years!
Also in 1964, The Rolling Stones first album, imaginatively titled  "The Rolling Stones," was released in the UK.
In 1965, the Hollies began their first U-S tour at Brooklyn's Paramount Theater.  It wasn't until the following year that the group cracked the U-S top 10 with "Bus Stop."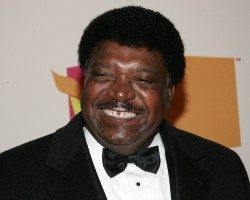 In 1966, Percy Sledge released his soon-to-be chart topper "When A Man Loves A Woman."
In 1967, CBS-TV's Ed Sullivan Show featured Tony Bennett singing four numbers with theCount Basie Orchestra. Also on the playbill were Nancy Sinatra and Lee Hazelwood who sang their currently popular duet, "Summer Wine," written by Hazelwood.
In 1969, Glen Campbell's LP "Galveston" was certified as a Gold Record, having sold more than half-a-million copies.
In 1971, Ringo Starr released to the North American market his George Harrison-produced single "It Don't Come Easy."  It would peak at #4 on the Billboard pop chart.
In 1972, the orchestral rock ensemble known as the Electric Light Orchestra played its first live show at the Reading Festival in England. Their 1971 debut album featured guest soloists from the London Symphony Orchestra.
 In 1973, former Beatle, Paul McCartney, leading the group, Wings, starred in his first TV special, "James Paul McCartney," on ABC.  The show featured the new group, including Paul's wife, Linda (on keyboards and backing vocals).
In 1974, Queen gave their first concert in North America at Regis College in Denver.
In 1976, Boz Scaggs went to visit friend Bobby "Blue" Bland backstage at Antone's in Austin, Texas, and was beaten unconscious by two bouncers.
Also in 1976, Aerosmith played the Kiel Auditorium in St. Louis, first stop on their 76-date "Rocks Tour" of North America.
In 1980, film composer and conductor Morris Stoloff died at age 81. He was musical director of Columbia Pictures for more than two decades, beginning in 1936. Stoloff won three Academy Awards, and his 1956 recording of "Moonglow and Theme From Picnic" topped the Billboard chart for three weeks.
In 1981, the final episode of "Buck Rogers in the 25th Century" aired on NBC-TV.

In 1983, Canadian rocker Bryan Adams appeared on ABC's "American Bandstand" to perform "Straight from the Heart" and "Cuts Like a Knife"
In 1987, the Federal Communications Commission (FCC) sternly warned U.S. radio stations to watch the use of indecent language on the airwaves. This was directed at shock jocks, like Howard Stern, and those on your neighborhood radio station. Some stations, the FCC noted, had gone way beyond the seven dirty words made famous by comedian George Carlin in a routine from the early 1970s.
Also in 1987, Twist king Chubby Checker, jazz trumpeter Dizzy Gillespie and conductor Leopold Stokowski were among the first 10 inductees of the Philadelphia Music Foundation Hall of Fame. Also honoured for making their mark on music in Philadelphia were singers Bessie Smith, Pearl Bailey, Mario Lanza and Bobby Rydell; jazz saxophonist John Coltrane and rock 'n' roll pioneer Bill Haley.
In 1990, more than 72-thousand fans gathered at London's Wembley Stadium for a concert honouring recently freed African National Congress leader Nelson Mandela. The crowd heard from Mandela as well as such performers as Bonnie Raitt, Neil Young and Tracy Chapman. George Duke and Canadian producer Daniel Lanois conducted two superbands.

In 1992, crooner Andy Russell died in Phoenix at age 72 of complications from a stroke. Russell's hits in the 1940's included "Besame Mucho," "Laughing on the Outside" and the "Anniversary Song."And he headlined CBS Radio's "Your Hit Parade" in the 1947/48 season.
In 1993, Billy Burnette announced that he was leaving Fleetwood Mac to concentrate on recording country music.
Also in 1993, Paul McCartney headlined a concert at the Hollywood Bowl to celebrate Earth Day. Other performers at the concert included Ringo Starr, Steve Miller and Don Henley.
Still in 1993, rocker David Lee Roth was arrested in New York's Washington Square Park after allegedly buying a $10 bag of marijuana.
In 1995, George Michael raised $112,000 – and Sony's ire – by giving the single "Jesus for a Child" a one-shot charity airing in London. He was released from his contract on July 13 and signed with DreamWorks.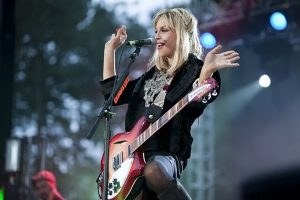 Also in 1995, Courtney Love and her band Hole performed on the sixth season premiere of MTV's "Unplugged."
In 1996, Kiss appeared in full make-up at the 38th Grammy Awards, where they announced a reunion tour. It would mark the first time all four members had appeared together in more than fifteen years.
Also in 1996, Oprah Winfrey had a segment on mad cow disease on her syndicated TV show. A group of Texas cattle ranchers later sued her over her anti-beef comments. During the litigation she met Dr. Phil McGraw, which led to his remarkable TV career.
In 1997, Elton John was awarded an honorary membership to his old alma mater, Britain's Royal Academy of Music.

In 1998, during her first live performance in 15 years, Joni Mitchell performed a duet with Icelandic singer Bjork (pictured, left) on Cole Porter's "What Is This Thing Called Love?" It was part of ex-Eagle Don Henley's annual Walden Woods benefit in Los Angeles. Ten major contemporary female artists — including Paula Cole, Sheryl Crow and Gwen Stefani — performed jazz and pop standards.
In 1999, Skip Spence, a founding member of Jefferson Airplane, died of cancer in San Francisco at 52. Spence had long battled alcoholism, schizophrenia and periods of homelessness. The Windsor, Ontario native was a key part of the San Francisco music scene in the '60s, starting out as a drummer with the Airplane. He left in 1966 to found the group Moby Grape and return to his original instrument, the guitar.

Also on this date in 1999, Bad Boy Entertainment impresario Sean (Puffy) Combs and two others were alleged to have beaten another rap executive in a dispute over a music video. Combs pleaded guilty to harassment and was ordered to attend an anger-management class.
Also in 1999, Canadian country star Shania Twain became the first woman to be honored as Songwriter/Artist of the Year by the Nashville Songwriters Association International, during the 32nd Annual Songwriter Achievement Awards in Nashville.
In 2002, actor Robert Urich (below) succumbed to a rare form of cancer at age 55. Urich was best-known for playing private eyes on two ABC-TV series "Spenser: For Hire" and "Vega$."

Also in 2002, Sony Music Entertainment filed suit against the Dixie Chicks asking the court to enforce their contract with the Sony label, and to prevent their signing elsewhere.  The Chicks had been complaining about a shortfall in royalty payments on their Sony albums.
In 2003, 52 year-old soul singer Luther Vandross was admitted to a New York hospital after suffering a stroke.
Also in 2003, Jerry Lee Lewis filed for divorce from his sixth wife, Kerrie McCarver Lewis, who before their 1984 wedding had been president of his fan club.

In 2005, OK Computer by Radiohead was voted the best album of all time in a poll by a British TV station.  U2 were in second place with The Joshua Tree and Nirvana third with Nevermind.
in 2007, in Nashville, Bon Jovi performed in the unusual venue of cable channel CMT's Country Music Awards, playing "(You Want to) Make a Memory."
In 2008, Barbra Streisand donated $5 million to the Cedars-Sinai Medical Center in Los Angeles for a women's heart education and research program.
Also in 2008, "The Boss" Bruce Springsteen endorsed Barack Obama for US president.
In 2011, comedy writer Sol Saks, who created the classic 1960's TV sitcom "Bewitched," and wrote scripts for radio's "Duffy's Tavern," and TV's "I Married Joan," " My Favorite Husband" and "Mr. Adams and Eve,"  died at age 100.

Also in 2011, a Nirvana exhibit opened at Seattle's Experience Music Project. "Taking Punk To The Masses" included frontman Kurt Cobain's famous yellow sweater, a smashed Univox guitar and handwritten lyrics, plus the angel prop that hung over the stage during the band's In Utero tour.
In 2012, Train began a weeklong stint as the house band on syndicated TV's "Rachael Ray Show" to promote their album "California 37."
In 2013, Cape Breton's first lady of song Rita MacNeil died of complications following surgery at age 68.

Also in 2013, former NFL placekicker and sportscaster Pat Summerall, the lead play-by-play voice of NFL football for first CBS, then Fox and ESPN, suffered cardiac arrest and died at age 82.
In 2015, Johnny Kemp, the Bahamas-born R & B singer behind the 1988 smash "Just Got Paid," was found dead floating in Montego Bay, Jamaica, after hitting his head in a fall. He was 55.
T

oday's Birthdays:

Actor/voicist Peter Mark Richman (Dynasty, Longstreet, Defenders of the Earth) is 90.

Bandleader/arranger/composer Perry Botkin, Jr. is 84.

Singer Bobby Vinton is 82.

Midnight Oil singer-turned-politician Peter Garrett is 64.

Actor Jay O. Sanders (After MASH, Crime Story) is 64.

Actor Marshall R. Teague (American Heiress, Bailout, Walker Texas Ranger, 1st & Ten: The Championship) is 64.

Actress Ellen Barkin (Before Women Had Wings, Clinton & Nadine) is 63.

Actor Michael Gill (Guiding Light, House of Cards) is 57.

Bassist Jason Scheff of Chicago is 55.

Singer Jimmy Osmond is 54.

Singer David Pirner of Soul Asylum is 53.

Actor-comedian Martin Lawrence (Martin, What's Happening Now) is 52.

Actor Jon Cryer (Two & A Half Men, Hey Joel) is 52.

Actor Peter Billingsley (Sherman Oaks, Carly's Web) is 46.

Actor Max Beesley (Suits) is 46.

Singer-songwriter Akon is 44.

Actress Valarie Rae Miller (Dark Angel , Reaper, Men of a Certain Age) is 43.

Actor Max Beesley (Suits) is 42.

Actor Karl Yune (The Arrow) is 42.

Actor Sean Maher (Make It or Break It, Firefly, The $treet) is 42.

Actor Lukas Haas (Touch, Ryan White Story) is 41.

Actor David Lyons (Revolution, The Cape) is 41.

Actor Hayes MacArthur (Angie Tribeca, Perfect Couples) is 40.

Actress Nikki Griffin (The O.C.) is 39.

Actor Christos Vasilopoulos (Banshee, The Last Ship) is 39.

Actress Kristin Proctor (The Wire) is 39.

Actor Russell Harvard (Fargo) is 36.

Model/martial artist Gina Carano (American Gladiators, Fight Girls) is 35.

Actress Claire Foy (The Crown, Upstairs Downstairs 2010, Little Dorritt) is 33.

Actress Liliana Mumy (The Cleaner, Lilo & Stitch:The Series) is 23.

Actress Anya Taylor-Joy (Atlantis) is 21.

Actress Alina Foley (Shimmer & Shine, The League, Days of Our Lives) is 14.
Chart Toppers – April 16th 
1946
Oh, What It Seemed to Be – The Frankie Carle Orchestra (vocal: Marjorie Hughes)
You Won't Be Satisfied – The Les Brown Orchestra (vocal: Doris Day)
Doctor, Lawyer, Indian Chief – Betty Hutton
Guitar Polka – Al Dexter
1955
The Ballad of Davy Crockett – Bill Hayes
The Ballad of Davy Crockett – Fess Parker
Cherry Pink and Apple Blossom White – Perez Prado
In the Jailhouse Now – Webb Pierce
1964
Can't Buy Me Love – The Beatles
Suspicion – Terry Stafford
Hello, Dolly! – Louis Armstrong
Understand Your Man – Johnny Cash
1973
The Night the Lights Went Out in Georgia – Vicki Lawrence
Tie a Yellow Ribbon Round the Ole Oak Tree – Dawn featuring Tony Orlando
Sing – Carpenters
A Shoulder to Cry On – Charley Pride
1982
I Love Rock 'N Roll – Joan Jett & The Blackhearts
We Got the Beat – Go-Go's
Chariots of Fire – Titles – Vangelis
The Clown – Conway Twitty
1991
I've Been Thinking About You – Londonbeat
You're in Love – Wilson Phillips
Hold You Tight – Tara Kemp
Down Home – Alabama
2000
Bye Bye Bye – 'N Sync
Maria Maria – Santana featuring The Product G&B
Say My Name – Destiny's Child
How Do You Like Me Now?! – Toby Keith
2009
Poker Face  – Lady Gaga
Right Round – Flo Rida
Dead And Gone – T.I. featuring Justin Timberlake
It Won't Be Like This for Long – Darius Rucker