Curmudgeonly comedian known for abrasive, insult-filled brand of humour
By Jessica Wong, CBC News       Posted: Apr 06, 2017 2:20 PM ET.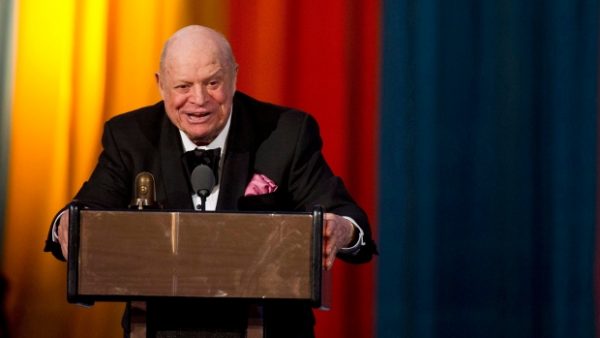 Don Rickles, seen accepting the Johnny Carson Award at the 2012 Comedy Awards, hadied weeks short of his 91st birthday. (Charles Sykes/Associated Press) 
U.S. comedian Don Rickles, the performance curmudgeon known for his abrasive mocking and more recently as the voice of Mr. Potato Head in the Toy Story movies, has died at the age of 90.
Rickles died Thursday morning from kidney failure at his Los Angeles home, according to his longtime publicist Paul Shefrin.
Though people close to him praised him as a good guy and a devoted family man, Rickles gained fame for an acerbic, insult-filled brand of humour that spared no one — from regular Joes to U.S. presidents to the famously hot-tempered Frank Sinatra, who became one of his champions and a close friend.
"I think the reason that [my act] caught on and gave me a wonderful career is that I was never mean-spirited," Rickles, who became an honorary member of Sinatra's Rat Pack, once said.
"Not that you had to like it, but you had to be under a rock somewhere not to get it."
Born in New York, Rickles served in the U.S. navy during the Second World War and later graduated from the American Academy of Dramatic Arts.

Rickles occasionally appeared in films over the years, including war drama Run Silent, Run Deep, The Rat Race with Tony Curtis, Pajama Party and Beach Blanket Bingo with Annette Funicello, Kelly's Heroes with Clint Eastwood, Martin Scorsese's Casino and the Toy Story franchise.
READ MORE  HERE  AT THE CBC NEWS WEBSITE