Courtesy Radio Ink – March 27, 2017
Hubbard Radio's WTOP tops the list for the second year in a row, raking in $67.5 million in 2016, according to BIA/Kelsey. That's $2.5 million more than the station generated in 2015. WTOP has been the number one billing radio station in America for five of the last six years. In 2014, iHeartMedia's KIIS-FM in Los Angeles bumped WTOP down to number two, before it returned to the top spot in 2015.
Hubbard DC Market Manager Joel Oxley told Radio Ink, "I am extremely proud of our entire organization, and especially our sales staff led by DOS, Matt Mills. About half of our business is direct, and whether we are working with an agency or directly with a client, our people work hard to find solutions that result in repeat business. We are very fortunate that we are owned by Hubbard, because they invest in our people to make it so they can do the best work possible for our clients."
Hubbard President and COO Drew Horowitz told Radio Ink that, as a private company, Hubbard doesn't report its financial performance. "We are proud of Joel and his team who do an extraordinary job in making WTOP an industry leader."
All 10 stations on BIA's 2016 list are identical to the 10 stations that topped the list in 2015. CBS' (soon to be Entercom's) WCBS in New York dropped two positions, taking in $1 million less in 2016 than it did in 2015. Also, CBS-owned WFAN and WINS in New York both took in $500,000 less in 2016. WHTZ (iheartMedia) in New York took in $800,000 less in 2016 than 2015. All other stations in the top 10 increased their revenue in 2016.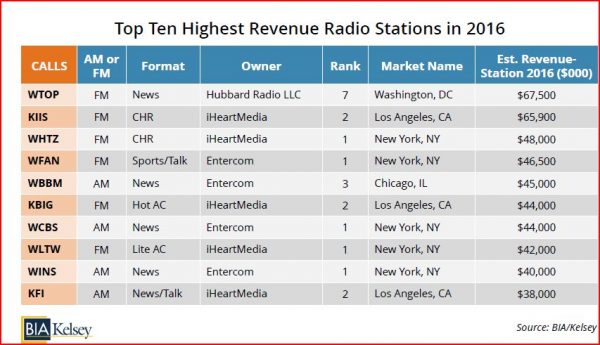 .
READ MORE  HERE