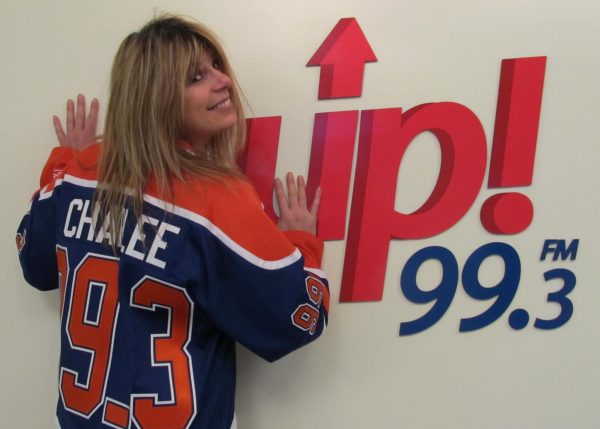 One of our favourite people, Charlee Morgan, after much thought and consideration, decided to leave her full time gig with UP in Edmonton and head back to British Columbia…
After contacting Charlee last night, she responded with the following.
"I've been a proud adopted Albertan for 22 years, in Calgary and Edmonton. Alberta has been VERY good to me and it's not easy leaving a great province, a great station and a great boss who understands and accepts my quirks.  Some would think I'm crazyyyy to leave such a good gig when radio jobs are few and radio people out of work are many.
However, it's time to go home to BC while I'm still young enough and my family is still around. We've lost many good people, far too young, in this biz. It's really given me perspective. I also will never again let this business decide when I'm done.  I'll be semi-retiring on Vancouver Island. I have a place in Parksville, BC where a little studio will be set up and I will do VT work only. Kinda done with live shows. I could never get to them on time anyway.
First off, I will be taking the summer off, then I most likely will VT a couple of Pattison stations on the Island in the near future.  As for up! 99.3, they need a live person for my show where my last day on air is Wed. May 10th.  When asked why I would leave when I wasn't being pushed out the door?, this is my exact quote.  "It doesn't get much better than this (at up! 99.3) so I want to leave live radio on a HIGH note". Oh, and I will never be a Canucks fan again. Go Oilers Go. Haha."
Puget Sound Radio wishes you all the best Charlee, and we look forward to a coffee in Parksville once you're settled.
Michael
Bio of Charlee, courtesy of Vancouver Broadcasters.com
Charlee Morgan – BCIT Broadcast Program graduate; CHAB Moose Jaw SK 1985-86; CKCK Regina 1986; evenings then middays CKLG Vancouver 1986-90; CKKS-FM Vancouver 1991-95; middays CHFM-FM Calgary 1995-2008; morning host CKCL-FM Chilliwack/Vancouver 2008, CHUP-FM Calgary 2008-10; middays CIUP-FM Edmonton 2010-17; semi-retired/VT work Parksville 2017-current