CNN reportedly asks for access to Inauguration event, gets curt note on why they won't get it instead
By Samantha Chang



January 19, 2017
Oh, how the mighty have fallen.
CNN got an epic smackdown when it requested press passes to cover the highly anticipated DeploraBall, a pro-Trump inauguration party being held tonight at the National Press Club.
MAGA 3X, the group that organized the DeploraBall, posted a blistering response to CNN, saying its press application was rejected because of the network's history of biased news coverage.
MAGA 3X said it had issued press passes to other liberal media outlets like the New Yorker and New York magazine, but CNN didn't deserve to cover the event.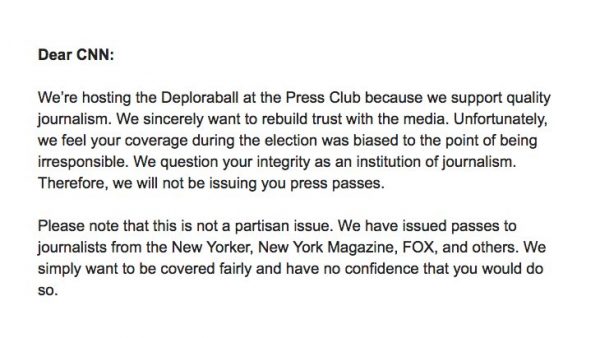 It's Official CNN Press pass DENIED
and THIS
CNN LIES about crowd size….