Prostitutes for the Presstitutes: SNOPES fact-checkers revealed to be actual whores, fraudsters and deviant left-wing fetish bloggers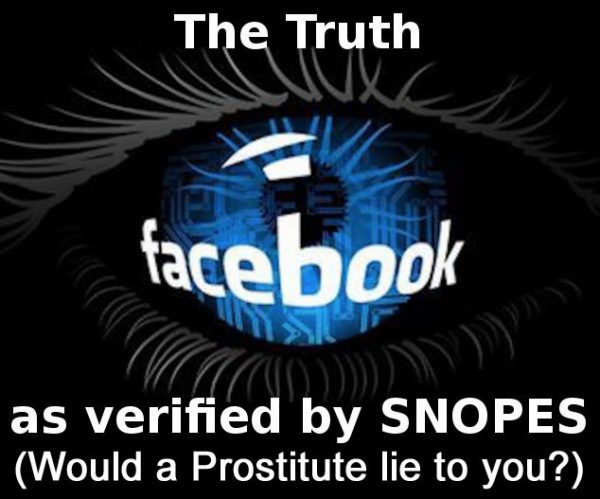 By Mike Adams
http://naturalnews.com/
Sunday, December 25, 2016
(NaturalNews) The propagandizing "fact-checking" website SNOPES is being run by a whore-digger who defrauded the publisher out of $98,000 to hire prostitutes, say now-public divorce documents. One of the site's administrators is an "escort-porn star," and a fact-checker at SNOPES turns out to be a fetish sex blogger named "Vice Vixen domme," explains the UK Daily Mail. The SNOPES organization, reports the paper, was founded through an elaborate fraud scheme, and its CEO married an international escort worker who traveled the globe to be banged by "VIP" clients who posted glowing online reviews of why she's such a good choice to be hired as a "lover."
Facebook recently announced it would rely on SNOPES to "fact-check" news articles to make sure Facebook operated with high integrity standards and full transparency. In reality, the announcement was a thinly-veiled attempt to censor independent journalism by labeling real news "fake news" with the help of all the left-wing (actual) whores and fraudsters at SNOPES.
SNOPES has frequently labeled truthful reporting on vaccines, GMOs and false flag shootings to be "false" information, siding with liberals, President Obama and the corporate establishment on nearly every topic. While claiming it is an arbiter of truth, SNOPES really functions as just another liberal propaganda mouthpiece, declaring left-wing propaganda to be "truthful" while slamming anything that contradicts liberal ideology or Big Government narratives. In this way, SNOPES mirrors Politifact, which is also run by left-wing propagandists and mind manipulators.
SNOPES, "claims to be one of the web's 'essential resources' and 'painstaking, scholarly and reliable'" says the Daily Mail, which goes on to explain:
It was founded by husband-and-wife Barbara and David Mikkelson, who used a letterhead claiming they were a non-existent society to start their research. Now they are divorced – with Barbara claiming in legal documents he embezzled $98,000 of company money and spent it on 'himself and prostitutes'.
Snopes.com founder David Mikkelson's new wife Elyssa Young is employed by the website as an administrator… she has worked as an escort and porn actress and despite claims [that SNOPES] is non-political ran as a Libertarian for Congress on a 'Dump Bush' platform. Its main 'fact checker' is Kimberly LaCapria, whose blog 'ViceVixen' says she is in touch with her 'domme side' and has posted on Snopes.com while smoking pot.
Read More HERE