Thursday December 15, 2016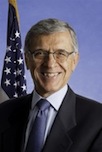 Answering the oft-asked, 'will he stay, or will he go?' question, FCC Chairman Tom Wheeler announced today in an open meeting of the agency that he will step down at the end of President Obama's term next month. Wheeler's tenure as Chairman of the FCC has not been without turmoil, and his relations with Republicans on the Commission have often been strained.
The 3-2 Democratic majority while he's chaired the agency have frequently passed measures along party lines, including Wheeler's controversial 'Net Neutrality' rules and regulations that are likely to get a review under a Republican majority ahead.
Pending future appointments by President-elect Donald Trump, Wheeler's departure will temporarily leave the Commission with two Republicans — Ajit Pai and Michael O'Rielly — and one Democrat — Mignon Clyburn, whose term expires in mid-2017.
Commenting on Wheeler's departure announcement, NAB President/CEO Gordon Smith released a prepared statement saying, "Chairman Wheeler has been a tenacious fighter on telecommunications issues during a period of remarkable change in the media landscape. We wish him well in whatever the future may hold.