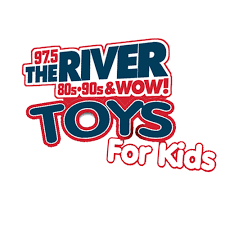 97-5 The River's Toys For Kids Breakfast!  
This year's 97-5 The River's Toys For Kids Breakfast was an overwhelming success.  Wednesday, December 7, 2016 The River and Hotel 540 hosted the 24th Annual Toy for Kids Breakfast.  We received 3,481 toys and $8,500 for Christmas Amalgamated and $16,197 for the Royal Inland Hospital Foundation's Pediatrics Ward.  Event Organizer Charlie Hackman says this was a big day for children in Kamloops.
"I would think there will not be any children going without toys this year. That is my hope. There was definitely a lot of toys for all ages, which was great."
RIH Foundation CEO Heidi Coleman says it was another packed event.
"People came early in the morning. We had companies, individuals, and families coming down. Even some people who looked like they could use a little bit of help themselves but they were coming to reach out."
For more information, please contact:
Charlie Hackman
250-372-2197
Administration & Promotional Assistant
NL Broadcasting Ltd.