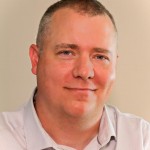 Audio Active Advertising – Episode 32:
Is your account list RATINGS PROOF? – by Ryan Ghidoni.
If you've been providing your clients with "sausage factory" ads that do little more than fill 30 seconds with a shopping list of features, then you SHOULD be worried about the ratings. If your stations go down this time 'round, there will be nothing keeping your clients from jumping over to the stations that went up at your expense.
Give your clients solid advertising advice and an ad that can't be made anywhere else…and you'll discover the benefits of being RATINGS PROOF.
Join me this week as I discuss how consultative selling and exceptional creative are the keys to long term success in radio sales.
READ THE FULL ARTICLE HERE:
http://www.audioactiveadvertising.com/blog.html
Ryan Ghidoni is an 18-year veteran of radio advertising and has worked with some of the most creative sales reps, writers, producers and voice talent in the business. Want a more efficient and creative Client Services Department? Email [email protected] today to find out more about the benefits of bringing in a Creative Consultant.