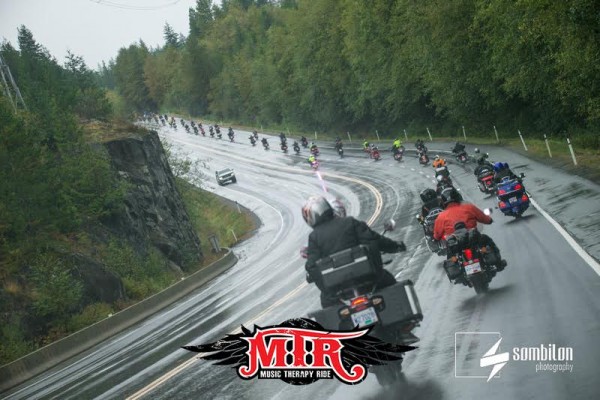 Press Release
Nov 15 / 2016
 .
Music Therapy Ride Raises over $1 Million to support Music Therapy in BC
 .
Vancouver's Music Therapy Ride has raised over $1 Million to support music therapy services and The Bandwagon Project in BC. This year's 15th Annual music industry and media motorcycle event brought in over $150K to pass the million dollar milestone. Close to 200 participants rode from Vancouver to Whistler on the Sea-to-Sky highway with a presidential escort from the Vancouver Police Motorcycle Police Drill Team.
.
"We're sincerely grateful to all our supporters for funding music therapy in BC." states MTR co-founder and organizer Patrick Zulinov (of RPM Promotions and Hyvetown Music Publishing). "We couldn't do this without generous sponsors such as The Slaight Foundation, who kicked in $25,000, and supportive labels Warner, Universal, Reliant, and Sony Music."
 .
The star studded event also enjoys media support from local TV and radio stations including Roundhouse Radio, Rogers Broadcasting, Corus, Bell Media, City TV, Pattison Broadcasting, Global TV, and Newcap. "It's great to see our media partners roll up together in the motorcade, sharing the belief that music therapy can make a difference," says Zulinov. "Music therapists work in incredible ways to change lives and utilize the positive magic of music often taken for granted at a healing level."
 .
Funds from the ride go towards funding programs and building 
"Bandwagon"
 mobile bedside music studios used by therapists in many facilities including
BC Children's Hospital, Ronald McDonald House, Canuck Place Children's Hospice,
and centres aiding autism, dementia and Alzheimers. MTR's partner 
The Music Heals Foundation
ensures funding goes to those in need and continues fundraising efforts throughout the year.
 .
Past celebrity guests have included Colin James, Barenaked Ladies' Ed Robertson, Jann Arden, Brent Butt, Chantal Kreviazuk, Raine Maida, The Simmons Family, Bif Naked, The Road Hammers, High Valley, Odds, 54-40, Nickelback, Theory of a Dead Man, and many more. This years special guests included Tommy McDonald of Hedley, Kurt Dahl of One Bad Son and a performance by Daniel Wesley.
 .
 .
Find out more about…
.
 .
.