Monday November 7th, 2016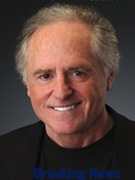 Longtime Imus In The Morning show sportscaster Warner Wolf announced during last Friday's broadcast (11/4) that it was his final program — something that apparently took other cast members on the show by surprise.
The New York Daily News' Don Kaplan characterized Wolf's departure as a "firing" and reports that when asked why he was suddenly leaving the show (which airs locally on WABC/New York and nationwide via Westwood One) Wolf offered a simple reply: "You'd have to ask Imus that question."
WABC's Bernie & Sid show co-host Sid Rosenberg — who previously had a nearly five-year run doing sports for the I-Man back in the early 2000's — will return to the show to takeover sports anchoring duties. He'll also continue to co-host his mid-morning talk show with fellow Imus In The Morning crew member Bernard McGuirk.
Read more HERE.