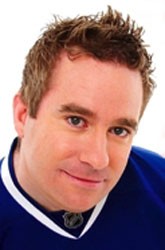 Word just in, Ronnie Stanton moves from V.P Programming, to Lead Consultant for Corus, at the end of November, at which time, he and his wife will be moving to the United States and begin focusing in on his radio consulting business. Corus is one of Stanton's clients who contracts with him as a consultant. In a confirmation chat with Ronnie, as to the move south, he said he needs more sun.
Another of Stanton's roles, was PD of CFOX FM. Dustin Collins, current PD of Rock 101, will add that title to his resume, as the new PD for CFOX
Ronnie left his homeland of Australia for Vancouver in 2008, first becoming PD for Astral's radio stations Crave/Virgin, then he crossed the street to Corus in 2013, becoming Senior Brand Director for CFMI/CFOX.
Puget Sound Radio, wish you and your company, the best of success, Ronnie!
A word from Brad Phillips …
our friend and colleague Ronnie Stanton is leaving Corus Radio effective November 25. Ronnie has worn many hats in over 3 years here, including PD of both of our FM's – and Vice President of Radio Programming for Corus. While Dustin Collins has taken over Rock 101 PD duties, Ronnie has retained the PD job at CFOX to this day.
And, there's more news to share: Ronnie is leaving to pursue his own media consulting business. I'm very happy to announce that Corus Radio will be Ronnie's exclusive client in Canada – so his expertise will continue to guide all Corus stations – including those in Vancouver, of course!
While all of us have contributed to our success in the past 3 years, Ronnie's influence has been profound. He leaves as an employee with both of our Vancouver FM's in the Top 5 – a remarkable accomplishment for rock based stations. In fact, under Ronnie's programming leadership Rock 101 and CFOX have become the benchmark and format providers for many other major market Corus stations – most of them with improved ratings performance. Ronnie has fearlessly innovated in every market Corus operates and he has done nothing less than positively change the very foundation that all of our stations operate with.
via Brad Phillips (Vice President, General Manager | Corus Radio Vancouver)
Thanks to Vancouver Broadcasters for Ronnie's bio
Ronnie Stanton – Program Director/morning show host 4ZR Roma, Australia 1996-98; assistant PD 2WZD Wagga Wagga NSW Australia then PD/relaunched 2WZD as Star FM 1998-2000; morning co-host/APD 4RAM Townsville, North Queensland, Australia and manager 11 station network 2000; music director/launched Nova 100 3MEL Melbourne Australia 2000-02; programmed 3CAT and 3BAY Geelong, Victoria, Australia 2002-03; mornings/Group PD 4MCY Sunshine Coast, Australia 2003-08; ACRA award for best on-air team 2005; The Music Network magazine PD of the Year 2006; PD including flip from Crave to Virgin CKZZ-FM Vancouver 2008-13; Senior Brand Director CFMI-FM/CFOX-FM Vancouver 2013-current; Vice President, National Brands and Programming Corus Entertainment 2014-current.  LinkedIn profile