by Brian Stelter, CNN Senior Media Correspondent   October 26, 2016: 9:58 PM ET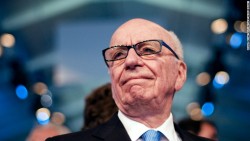 Rupert Murdoch just did something highly unusual: He gave an interview to one of his newspapers about contract negotiations at one of his TV networks.
Murdoch told the Wall Street Journal that he would like to renew the contracts of the two biggest stars on Fox News, Bill O'Reilly and Megyn Kelly.
But he also laid the groundwork for Kelly's potential departure from Fox.
While making clear that he doesn't want Kelly to leave, Murdoch told Journal reporter Joe Flint, "we have a deep bench of talent, many of whom would give their right arm for her spot."
Kelly is the 9 p.m. host on Fox News. Her contract is set to expire next summer.
Through the Journal, Murdoch confirmed that Kelly and Fox are in active negotiations about a new contract.
He said he is kept up to date on the talks "every minute of the day."
Normally these kinds of talks happen in secret. Agents and TV executives guard against possible leaks.
Case in point: Prime time CNN anchor Anderson Cooper recently renewed his deal, but the news only came out via sources after the contract was signed.
Kelly and Murdoch, on the other hand, are now effectively negotiating in public. Murdoch rarely grants interviews at all, so his decision to speak suggests some drama behind the scenes.
READ THE REST OF THIS ARTICLE  HERE  AT CNNMoney.com