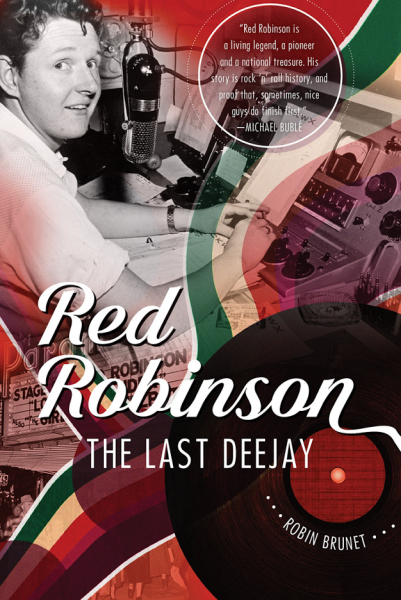 October 22, 2016 is the Canadian release date for Red Robinson's new book –
RED ROBINSON – THE LAST DEEJAY – by Robin Brunet. (Harbour Publishing)
Red Robinson details the life and career of Red Robinson, one of Canada's most celebrated pioneers of rock and roll. Robinson began spinning hits while in high school in the early 1950s, laying the foundation for what would become a glamorous, impossible-to-stop and ultimately fulfilling career that has made him a household name west of the Rockies.
Raised by a single mother, Robinson worked as a delivery boy to help support the family. From such humble beginnings, he developed a strong work ethic and unflappable moral core that enabled him to pursue a career that has endured. Here is the account of how Robinson pranked his way into his first radio job. Readers will be delighted by behind-the-scenes stories from close encounters with Vancouver's visiting celebrities, like the time Robinson spent an hour with Elvis Presley in the BC Lions dressing room talking cars, women, movies and opera, or when Robinson nearly killed Roy Orbison and Bobby Goldsboro in a 1962 Grand Parisienne convertible while speeding to catch the Nanaimo ferry.
Robinson's vast career highlights are remarkable, from introducing The Beatles to the stage, ushering Randy Bachman to the status of superstardom, and as part of EXPO '86, presenting The Legends of Rock'n'Roll featuring Ray Charles, Roy Orbison, Fats Domino, Jerry Lee Lewis and The Righteous Brothers. Red Robinson recalls the highs, hurdles and triumphs of a celebrated time in rock-and-roll history, presented by the man who dug into the guts, glory and glitz that only a champion of the frontlines of music really can.
Meet "The Redhead" and Red Robinson: The Last Deejay author Robin Brunet Saturdays at 1:30 PM at these fine Black Bond Books stores:
Saturday October 29 – Black Bond Books, 5251 Ladner Trunk Road, Ladner
Saturday November 5 – Black Bond Books, 32555 London Avenue, Mission
Saturday November 19 – Black Bond Books, 15562 24 Avenue, Surrey
Saturday November 26 – Black Bond Books, 610 6th Street, New Westminster
Saturday December 3 – Black Bond Books, 11900 Haney Place, Maple Ridge
Get your picture taken posing with Red, Robin and The Book! Annnnnnndddd… like the official RRTLDJ Facebook page at https://www.facebook.com/thelastdeejay/ to stay up to date on the latest shameless self-promotion!
Or you can Order Red's 'The Last Deejay' book through Amazon HERE