Monday October 3, 2016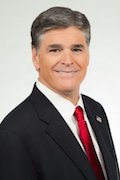 National radio and TV talk host Sean Hannity's nightly television show on FOX News Channel just closed out the month of September with a solid surge in the show's 25-54 viewers. TV news sheet The Wrap  reports it's the first time the Premiere Networks syndicated radio talker's television show was tops in the key demo since the program was moved to a 10pm (ET) time slot in 2013.
While some have criticized Hannity for his open support of GOP presidential hopeful Donald Trump, those regular appearances by the Republican White House hopeful on Sean's TV show would certainly seem to be contributing to the recent ratings gains.
Hannity and Trump reportedly first met each other back when then Clear Channel-owned Premiere was syndicating a daily two-minute radio commentary — Trumped! —  hosted by 'The Donald.' The two hit it off and have remained friendly every since. And as to those charges by his critics of blatant partisanship, Hannity is quick to point out he's "not a journalist" and adds that his radio and TV shows are "opinion" programs.