Wednesday September 28, 2016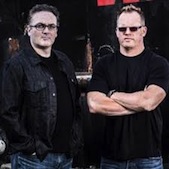 97.3 KIRO-FM/Seattle's Ron & Don Show has teamed up with the Seattle Police Department, the Seattle Police Foundation, and mattress retailer Sleep Train, for the 2016 Beds for Kids Project.
Created in 2014 by Seattle Police Officers Jeremy Wade and Ryan Gallagher, this year's goal is to provide a minimum of 150 mattresses, bedframes, sheet sets, comforters and pillows to local children in need. KIRO hosts Ron Upshaw and Don O'Neill (pictured) have been passionate and active supporters of the Beds For Kids Project since its launch …
Radio imaging and voiceover services company Benztown is busy compiling the company's 3rd annual Benztown 50 List of Radio's Biggest Imaging Voices (which will be released later this fall). Voice talents in the U.S. and Canada can get more details on the yearly list — which is based on multiple criteria — and apply to be included on it HERE …
Fans of Vin Scully, the longtime voice of the Los Angeles Dodgers, will be able to hear the legendary broadcaster's final audio broadcast on Sunday, October 2nd, via TuneIn's MLB Radio. Sunday's broadcast of the regular season's final game between the Dodgers and the San Francisco Giants will mark the final sign-off for the iconic broadcaster, who is retiring after 67 seasons in the Dodgers' broadcast booth.
Original Story HERE