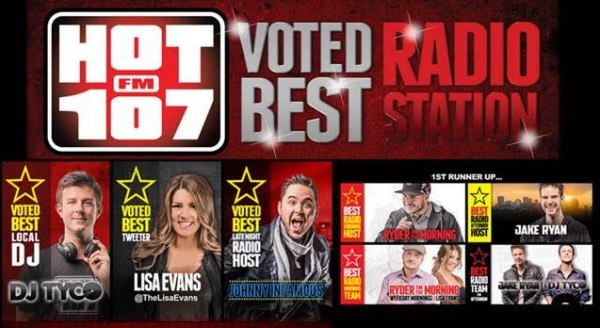 Vue Weekly's Best of Edmonton includes HOT 107!
FOR IMMEDIATE RELEASE

September 21, 2016 – The votes have been counted and Vue Weekly's Best of Edmonton 2016 results are IN! HOT 107 is excited to share that Edmonton has voted HOT 107 as their favourite radio station for the second year in a row!  Edmontonians also voted HOT 107's DJ TYCO as the Best Local DJ, Lisa Evans as their Favourite Tweeter (@thelisaevans) and Johnny Infamous as the Best Late Night Radio Host.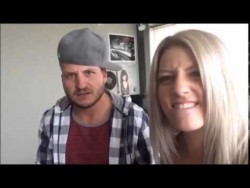 The City of Champions also selected as runner up in their categories: Ryder in the Morning for Favourite Morning Host along with the team of Ryder in the Morning with Lisa Evans for Best Radio Morning Team, Jake Ryan for Best Radio Afternoon Host and the team of Jake Ryan & DJ Tyco with the :107Minute HOTMix for Best Radio Afternoon Team.
Vue Weekly, Edmonton's urban weekly newspaper, asked their readers to weigh in on their favorite local heavyweights for the Best of Edmonton 2016. From favorite media personalities to the best doggie daycare, they've got it all covered in their Best of Edmonton poll. Watch for it on newsstands!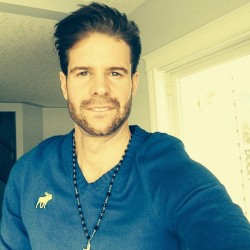 HOT 107 is Edmonton's HOTTEST Music. Catch Ryder in the Morning with Lisa Evans, Weekdays from 5:30AM – 9AM. Listen to Jake Ryan, Weekdays from 1PM – 6PM where he is joined daily by DJ TYCO for the :107Minute HOTMix starting at 4:20PM.
Full details on all shows HERE.
For more information, please contact:

Lacey Slater
Promotions & Marketing Director/Assistant Program Director
HOT 107 – Edmonton's Hottest Music
Direct: 780-391-3858,
[email protected]
About Harvard Broadcasting: Headquartered in Regina, Harvard is a privately owned broadcaster with a western focus, operating radio stations in Saskatchewan and Alberta. For additional information on Harvard Broadcasting Inc. and our stations please visit harvardbroadcasting.com