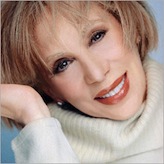 August 30, 2015
NTS MediaOnline Today is sad to report the death of longtime Talk radio host Dr. Joy Browne, who died suddenly on Saturday (8/27). She was 71. Most recently syndicated nationally by GCN, the advice and relationship host was best known for her many years at WOR/New York and across the country on the WOR Radio Network.
A Facebook post by Dr. Joy's sister, Alannah Sinclaire, reads in part: "My sister Joy, left her physical body on Saturday afternoon, August. 27th. She died suddenly, and seemingly without pain. I was actually on the phone with her chatting about movie reviews, recipes, and favorite memories from a recent birthday party for our 95-year-old mom, when the phone suddenly disconnected; her heart had stopped as well. No amount of tears or words of condolence will bring her back. I'm comforted by the thought that Joy is in a glorious and good feeling place right now."
No official word yet on any funeral or memorial service plans for the pioneering New York City-based Talk radio host.