ON THIS DAY in 1916,
actress, singer & comedienne Martha Raye was born in Butte Montana, into a vaudeville family.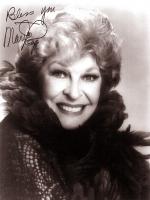 She was a big band singer, radio comedienne and movie actress before getting her own variety show in the early days of TV.  Her most famous characteristic was her large mouth. She died of pneumonia & cardiovascular problems Oct. 19 1994 at age 78.
Also in 1916, actor/radio announcer/newsman Larry Thor, the man with the distinctive resonant voice, was born in rural Manitoba. He began his radio career at CFAR Flin Flon where he was a writer, then moved to CKGB Timmins as an announcer, before being hired at CKCL Toronto as a newscaster.  Moving to Hollywood in 1946 he worked at KFAC, KMPC & KNX.  He starred from 1949-'54 as Danny Clover in CBS Radio's 'Broadway is My Beat,' and was the announcer on several lesser-known series.  For almost 25 years he played supporting roles on TV until suffering a fatal heart attack March 15, 1976 at age 59.
In 1946,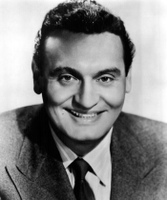 Frankie Laine recorded the million-seller that would ignite his career and become his signature song, "That's My Desire" for the Mercury label.  It peaked at #4 on the pop singles chart.
In 1950, the 1st transmission of a TV program from continental Europe was shown on the BBC.
Also in 1950, at the height of the anti-communist hysteria in the US, sponsor of the TV version of The Aldrich Family, General Foods replaced Jean Muir in the role of Mrs. Aldrich, after Muir was branded a communist sympathizer.  The blacklisting effectively ended the actress' career, she found no work for the next 11 years.
In 1956,

 CBLT Toronto moved down the dial from Channel 9 to 6.
In 1960, the "Louisiana Hayride" aired for the final time over radio station KWKH/1130 AM in Shreveport.  This was the country program that had first showcased Elvis Presley, Johnny Cash, Jim Reeves, Johnny Horton and Lefty Frizell, among others.
In 1961, Connie Francis signed in as the celebrity "mystery guest" on CBS-TV's panel show "What's My Line?"

In 1964, actress/comedienne Gracie Allen, co-star of radio & TV's George Burns and Gracie Allen Show, died of a heart attack at age 69.
Also in 1964, Johnny Cash and June Carter Cash recorded Bob Dylan's "It Ain't Me Babe," which peaked at #4 on the Billboard Country singles chart.
In 1965, the Beatles met Elvis Presley for the first and only time when they went to his rented mansion in Bel Air California.  It's been said the meeting was very awkward, and Elvis reportedly greeted the Beatles while playing his guitar to the music on TV.  The Beatles left with the impression that Presley's personality was decidedly "unmagnetic".

Also on this date in 1965, Bob Dylan's landmark album Highway 61 Revisited was released. It peaked at #3 on the pop albums chart, and has been listed by Rolling Stone Magazine as #4 on its list of the Top 500 Albums of all time.
In 1966, The Association released their smash hit single "Cherish." Within two weeks it had jumped to #1 on Billboard's Hot 100.
Also in 1966, Petula Clark rose to #1 on the Easy Listening Chart with "I Couldn't Live Without Your Love".
In 1967, Beatles' manager Brian Epstein was found dead in the bedroom of his London home from an overdose of the sleeping pill carbitrol.  His death was ruled accidental. At the time, the Beatles were in Wales on a retreat with the Maharishi Mahesh Yogi.

In 1969, just ten months after adopting their new name UK rockers Led Zeppelin played two shows at the Casino Ballroom in New Haven, Connecticut.  They hadn't yet developed a following that required larger venues.
In 1971, Bennett Cerf, the head of publisher Random House, and a panellist on TV's original What's My Line game show, died at age 73.
Also in 1971, Pink Floyd finished work on the album Meddle.
In 1973, Gladys Knight & the Pips released the single "Midnight Train to Georgia".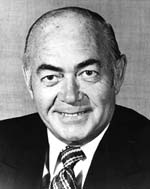 In 1975, hockey broadcaster and Canadian Sports Hall of Famer Jack Dennett died of cancer at age 59. He started his career at age 15 sweeping floors at Calgary radio station CFCA; a year later he had his own show. In 1935 he started to do between period interviews for the Regina Senior Hockey League. In 1943 he joined Toronto's CFRB where he was a featured newscaster and moderated the Hot Stove league on NHL hockey broadcasts, many over the CBC, for the next 32 years.
Also in 1975, the No. 1 Billboard Pop Hit was "Get Down Tonight," by KC and the Sunshine Band.
In 1977, Jackson Browne recorded "Stay" and "Running On Empty" in concert in Columbia, Maryland.
In 1979, Abba released the single "Voulez Vous," their first hit track recorded outside Sweden. (Miami.)
In 1980, humourist Sam Levinson, one of Ed Sullivan's favorite guests (21 times) & host of TV's Two for the Money, suffered a fatal heart attack at age 68.

In 1981, singer Joan Edwards, the longrunning co-star of radio's Lucky Strike Hit Parade (1941-46), died after a heart attack at age 62.
In 1982, Robert Plant's first solo album after leaving Led Zeppelin, "Pictures at Eleven" was certified Gold.
In 1984, a new face joined the group of journalists on CBS-TV's "60 Minutes."  Diane Sawyer became the fifth reporter on the top-rated TV newsmagazine. Mike Wallace, Morley Safer, Harry Reasoner and Ed Bradley welcomed Sawyer to the show, where she remained for five years, before ABC hired her away.
In 1986, former Creedence Clearwater Revival lead singer John Fogerty opened his first tour in 14 years in Memphis. The audience gave him six standing ovations despite the fact he refused to perform any of CCR's hits.
In 1988, 'Monkey' gave George Michael his eighth US No.1 single of the 1980s, a record only beaten by Michael Jackson.
Also in 1988, Tracy Chapman went to No.1 on the US album chart with her self-titled debut album, that went on to win three Grammys.

In 1990, blues guitarist Stevie Ray Vaughan was killed when the helicopter he was traveling in slammed into a fog-shrouded ski slope in southeastern Wisconsin. Vaughan was just 35. The accident also claimed three members of Eric Clapton's entourage.
In 1991, Pearl Jam released their debut album "Ten." It was not an immediate success, but by late 1992 it was #2 on the Billboard 200 chart.
In 1992, John Lennon's handwritten lyrics to The Beatles song 'A Day In The Life,' with some words crossed out and spelling mistakes, sold at a Sotheby's auction in London for $100,000.  The same lyric sheet has since been sold again for $1.2 million.
In 1994, Boyz II Men started a 14 week run at No.1 on the Billboard singles chart with 'I'll Make Love To You.'
In 1995, Canadian music star Neil Young headlined the UK's Reading Festival with Pearl Jam as his backing band.  Others appearing over the three days included Foo Fighters, Green Day, Smashing Pumpkins, Beck, Björk, Soundgarden, The Cardigans, Hole and Blind Melon.

In 1996, Greg Morris, an original cast member on TV's Mission Impossible, died of brain cancer at age 61.
In 1997, NBC TV executive Brandon Tartikoff died of Hodgkin's Disease at age 48.  His programming savvy is credited with turning NBC from a have-not network to the home of the hits like Hill Street Blues, L.A. Law, Family Ties, The Cosby Show, Cheers, The Golden Girls, Knight Rider, The A-Team, St. Elsewhere, and Night Court.
In 1998, Garth Brooks' mother underwent 12 hours of surgery to remove a cancerous growth in her throat. Colleen Brooks had not been able to eat solid food for several years because of her condition. All the cancer was successfully removed, and Ms. Brooks' first request upon hearing the news was for pizza or a cheeseburger.

Also in 1998, Barbara Streisand got down on her knees beside James Brolin to help unveil her new husband's new star on the Hollywood Walk of Fame.
In 2000, the 1500 KHz frequency went silent on Vancouver Island as CKAY Duncan completed its period of simulcasting its FM replacement, CJSU-FM "Sun-FM".
In 2002, CFRN Edmonton continued its all sports format as "The Team 1260" despite CHUM's closure of The Team radio network on this day. CFRN had only joined the network in early June.  Also continuing with all-sports was Vancouver'sTeam 1040 which had adopted the format 16 months earlier.
Also in 2002, The Dixie Chicks released their sixth studio album "Home," featuring an acoustic bluegrass sound.  It went on to sell almost 6 million copies.

In 2003, actress/model Jinx Falkenburg died at age 84, a month after her partner/husband Tex McCrary. Together they pioneered the intelligent talk radio format in New York City, as early as 1946.  Tex & Jinx later hosted 'At Home' on NBC TV.
Also in 2003, P Diddy was being sued for $5 million by a woman who claimed she was assaulted by a bouncer outside his New York restaurant, leaving her with an injured leg.
In 2007, Kevin Federline's lawyers asked Britney Spears to pay some of her former husband's legal expenses in their divorce. Kevin's legal team claimed he had "no net income" after expenses, and that Ms Spears was "clearly the monied party" with an average monthly income of $737,868 US.

In 2008, actress/singer Mackenzie Phillips, daughter of the Mamas and Papas' John Phillips and former co-star of the TV series "One Day At A Time," was arrested at LA International Airport on suspicion of drug possession. She later pleaded guilty to possession of cocaine and was sentenced to a drug rehab program.
Also in 2008, the FBI arrested Kevin Cogill, a 27-year-old California blogger, on copyright charges for leaking tracks from Guns N' Roses' long-overdue "Chinese Democracy" album online.
In 2011, prolific character actress Eve Brent, who guested repeatedly in the TV series Death Valley Days, Adventures of Superman, Dragnet, Family Affair, thirtysomething, Highway to Heaven, Roswell, Scrubs and Community, died of natural causes two weeks short of her 82nd birthday. She was perhaps best known as Jane (below) opposite Gordon Scott in two bigscreen Tarzan films of the 1950's.

In 2012, the man who holds the record for longest-serving TV children's show host, Russell Scott, known on air in Denver as Blinky the Clown, died of complications from pneumonia at age 91.  Having spent 41 years in character on 'Blinky's Fun Club,' Scott holds the record as longest-running television clown in history.
In 2013, Madonna was named the world's top-earning celebrity over the past year. The 55-year-old made an estimated $125m thanks to her MDNA tour, clothing and fragrance lines, according to Forbes.
In 2015,  Van Halen frontman David Lee Roth called out a fan for throwing a beer can onstage during the band's concert in Camden, NJ. "In a younger day, I would've promised I would've slept with his girlfriend," said Roth. "At this point in my career, the roughest ….. insult I could probably make to this guy is that I probably already have slept with his wife."
In 2016, Dr. Joy Brown died at age 71.
Today's birthdays:
Manitoba-born singer Juliette (CBC's Our Pet, Juliette) Augustina Sysak Cavazzi is 90.
Bluegrass singer-banjo player J.D. Crowe is 79.
Actor Tommy Sands (Wagon Train) is 79.
Former child actress Anne Whitfield (radio: Phil Harris/Alice Faye Show, One Man's Family, Broadway is My Beat, Damon Runyon Theater) is 78.
Musician Daryl Dragon of the Captain and Tennille is 74.
Actress Tuesday Weld (Many Lives of Dobie Gillis) is 73.
Actor G. W. Bailey (Major Crimes, The Closer, Jeff Foxworthy Show) is 72.
Singer-bassist Tim Bogert of Vanilla Fudge is 72.
Actress Barbara Bach (Princess Daisy) is 69.
Guitarist Jeff Cook of Alabama is 67.
Actor/cartoon voice Charles Fleischer (Welcome Back Kotter, Buzz Lightyear of Star Command) is 66.
Actor Paul Reubens (Pee-Wee Herman) is 64.
Actor Peter Stormare (The Blacklist, Prison Break) is 63.
Fernie BC-born guitarist Alex Lifeson of Rush is 63.
Actress Diana Scarwid (Pushing Daisies, Wonderfalls) is 61.
Bassist Glen Matlock of The Sex Pistols is 60.
Country singer Jeffrey Steele is 55.
Actor Vic Mignogna (Star Trek Continues, Bleach, Fullmetal Alchemist) is 54.
Gospel singer Yolanda Adams is 54.
Country guitarist Matthew Basford of Yankee Grey is 54.
Actress Claire Stansfield (Xena: Warrior Princess) is 52.
Bassist Mike Johnson (Dinosaur Jr.) is 51.
Percussionist Bobo of Cypress Hill is 48.
Actress Chandra Wilson (Grey's Anatomy) is 47.
Canine behaviour specialist/ TV personality Cesar Millan (Dog Whisperer) is 47.
Country singer Colt Ford is 47.
Actress Leanna Creel (Saved by the Bell) is 46.
Actor Monica Lacy (The Kicks) is 46.
Bassist Tony Kanal of No Doubt is 46.
Nova Scotia-born actor Mike Smith (Trailer Park Boys) is 44. 
Actor  Dalip Singh (WWF Raw, WWE Smackdown!) is 44.
Montreal-born actor Cory Bowles (Trailer Park Boys) is 43.
Actor Darren Goldstein (The Affair, American Odyssey) is 42.
Actor Bodie Olmos (Battlestar Gallactica) is 41.
Rapper Mase is 41.
Ottawa-born actress Sarah Chalke (How to Live With Your Parents, Scrubs, second Becky on Roseanne) is 40.
Actor Shaun Weiss (Freaks & Geeks, Tony Danza Show) is 38.
Actress Demetria McKinney (House of Payne) is 38.
Actress  Suranne Jones (Scott & Bailey, Coronation Street) is 38.
Actor/voicist Aaron Paul (The Path, BoJack Horseman, Breaking Bad, Big Love) is 37.
Guitarist Jon Sie bels of Eve 6 is 37.
Actor Kyle Lowder (The Bold & the Beautiful, Days of Our Lives) is 36.
Toronto-born actor Patrick J. Adams (Suits) is 35.
Actress Kara Moseley (The Bold & the Beautiful, Hart of Dixie, Guiding Light) is 35.
Ontario-born actress Sugar Lyn Beard (The Amazing Spiez, Sailor Moon) is 35.
Actress Kelly Thiebaud (General Hospital) is 34.
Actress Kayla Ewell (The Vampire Diaries, The Bold and the Beautiful) is 31.
Singer Mario (Dancing With the Stars) is 30.
Actress Michelle Pierce (NCIS, Days of Our Lives) is 29.
Actress Alexa PenaVega (Evening Shade, Life's Work, Ladies Man) is 28.
Singer/actor Blake Jenner (Glee) is 24.
BC-born actor Cainan Wiebe (Boy Who Cried Werewolf, Sanctuary) is 21.
Chart Toppers – Aug. 27
1948
A Tree in the Meadow – Margaret Whiting
My Happiness – Jon & Sondra Steele
It's Magic – Doris Day
Bouquet of Roses – Eddy Arnold
1957
Love Letters in the Sand – Pat Boone
Tammy – Debbie Reynolds
Whispering Bells – The Dell-Vikings
(Let Me Be Your) Teddy Bear – Elvis Presley
1966
Summer in the City – The Lovin' Spoonful
See You in September – The Happenings
Sunshine Superman – Donovan
Almost Persuaded – David Houston
1975
Fallin' in Love – Hamilton, Joe Frank & Reynolds
Get Down Tonight – K.C. & The Sunshine Band
Why Can't We Be Friends? – War
Rhinestone Cowboy – Glen Campbell
1984
Ghostbusters – Ray Parker Jr.
Stuck on You – Lionel Richie
Missing You – John Wait
Long Hard Road (The Sharecropper's Dream) – Nitty Gritty Dirt Band
1993
Can't Help Falling in Love – UB40
Whoomp! (There It Is) – Tag Team
I'm Gonna Be (500 Miles) – The Proclaimers
Why Didn't I Think of That – Doug Stone
2002
Complicated – Avril Lavigne
Just Like A Pill – Pink
Dilemma – Nelly featuring Kelly Rowland
The Good Stuff – Kenny Chesney
2011
Last Friday Night (T.G.I.F.) – Katy Perry
Party Rock Anthem – LMFAO featuring Lauren Bennett & GoonRock
Moves Like Jagger – Maroon 5 featuring Christina Aguilera
Just A Kiss – Lady Antebellum