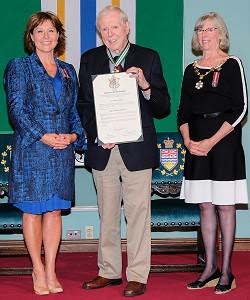 For local disc jockey Robert "Red" Robinson—the first deejay to play rock 'n' roll music in Vancouver—it was time to get some new jewelry.
One of sixteen nominees selected to receive the Order of British Columbia—an award created to honour those who have excelled in benefitting the people of B.C.—Red was awarded a medal widely recognized as the Province's most prestigious decoration.
The still-active radioman (at 79 years of age) was certainly in good company. Joining a star-studded group of recipients previously included Bryan Adams and Sarah McLachlan, Robinson's appointment flies the flag for rock 'n' roll and rockabilly music. Famed for bringing musicians like Elvis Presley and Jerry Lee Lewis into the public eye, the Order of British Columbia rightly recognizes Red's importance to Vancouver's music scene.
And it's far from the first institution to do so. Showcased as part of a deejay exhibit in the Rock and Roll Hall of Fame in 1995—his picture lining the walls of an institution that hasn't yet included giants like Motorhead, Deep Purple or Meat Loaf—Red's influence is acknowledged throughout the world. His OBC will sit alongside Canadian awards including The Queen Elizabeth Golden Jubilee medal and Canada 125 decoration for his contributions to the community.
Plus the man once MCed for the Beatles. Enough said.
Courtesy Straight.com
How to Follow
Red

Robinson