by Andrew Wallenstein, 

Co-Editor-in-Chief, Variety.com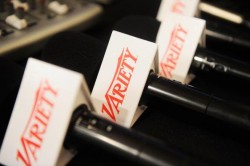 JULY 13, 2016
For a mogul used to getting his way, last week must have been an unusually frustrating week for Fox News chairman Roger Ailes.
First he was sued for sexual harassment by former employee Gretchen Carlson. Then parent company 21st Century Fox didn't exactly issue a vote of confidence in him by launching an "internal review." To top it all off, six more women who used to work with him came forward and made complaints similar to Carlson's.
But leave it to the most powerful man in the news business to turn the tables even as his circumstances kept getting progressively worse. At least a dozen men and women who currently or previously work for him as on-air talent came forward as well to proclaim their respect for Ailes in the press. Here's just a few excerpts:
"All this stuff I've been reading about Roger is a lot of clutter and a lot of nonsense," said Fox News anchor Neil Cavuto.
"He's someone who I admire greatly," enthused Kimberly Guilfoyle, co-host of the network's "The Five."
"I can't say enough good things about Roger and I've told him as much," gushed another Fox News anchor, Bret Baier.
Most executives have to donate enough money to merit one of those humanitarian-award tribute dinners to hear the kind of accolades now being heaped upon Ailes. And all he had to do was get accused of sexual harassment.
The huzzahs are all the more odd considering much of the alleged harassment that took place couldn't have possibly been witnessed by the people now singing his praises. Ailes' acolytes also can't anticipate what evidence or testimony could suddenly emerge that would seem to rebut their sentiments.
Which begs the question, what are these people thinking?
Perhaps all of these TV anchors are simply acting on a journalistic impulse here. To be fair to the man who created the "fair and balanced network," they want to demonstrate that for all the people who claim he has been guilty of sexual harassment, there are many more who say they've never seen anything of the sort.
"The facts I know are that this is not the Roger Ailes I've ever heard about or seen," said Fox News anchor Greta Van Susteren.
But as someone of her legal acumen can plainly determine, "the facts I know" are irrelevant when in this instance she doesn't know all of the facts. She wasn't in the room with Ailes and Carlson.
It's as if it hasn't occurred to his defenders that Ailes could have conceivably behaved like a combination of Gandhi, Mother Teresa and Martin Luther King Jr. to 99% of the employees he knew, yet conducted himself abominably to the other 1%.
It should be noted that of Ailes' defenders, only a handful went as far as Van Susteren and openly questioned Carlson's credibility. Almost every testimonial stopped just short of that, as if to say, "While I can't comment on the specifics of this case, you should know that Ailes was always a prince around me."
READ MORE HERE AT THE VARIETY WEBSITE