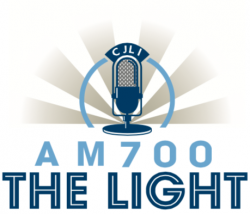 AM700 The Light
4510 Macleod Trail S
Calgary, Alta.
PRESS RELEASE
Subject: Calgary's newest AM radio station celebrates one year
CALGARY— June 29 marks the one-year anniversary of Calgary's most recently launched AM radio station. The milestone will be celebrated on July 7 with a stampede breakfast at the station located in the Calgary Dream Centre.
Morning show host, Les Moore says "It's been amazing to see how the station has grown in the past year through word of mouth and engaging with the Calgary community. I'm excited to see where things will go in the years to come."
In addition to Christian talk programming, AM700 The Light provides a very unique blend of music; everything from contemporary praise and worship, to Christian country and legends of the past including Johnny Cash, Elvis Presley, and The Oakridge Boys.
AM700 airs over 30 shows during the week, the most popular ones being Dave Ramsey's finance show , Adventures in Odyssey, and Focus on the Family. This will also be the station's second year as the city's official voice of the Calgary Stampede chuck wagon races.
-30-
Contact:
Les Moore
AM700 The Light Morning Show Host / APD
[email protected] / #403-276-1111