Message from Ian Jessop
Thursday September 29, 2016
 .
For the information of the wonderful folks who posted here and those who contacted me personally after being fired from CFAX, I would like to advise that I will be doing a podcast on medical cannabis with Corrie Yelland, a woman I used to interview once a month. As many of you know, she was given four months to live after refusing radiation for her cancer, researched and made her own cannabis oil and six months later was declared cancer free.
The podcast will be interviews with experts in the field but more significantly, those who have used medical cannabis to resolve their health issues or those of their loved ones. Our podcast will be posted daily – five days a week. We're still waiting for the arrival of some equipment but feel confident we should be up and running right after Thanksgiving.
Our website is being completed and not up yet but it will be www.cannabishealthradio.com We will also have social media accounts on Facebook and Twitter.
Without the constraints of the corporate media we hope to make it interesting and informative for listeners around the world.
Thanks again to all who have expressed kind words on this website and thanks to Puget Sound Radio for posting the information.
Ian Jessop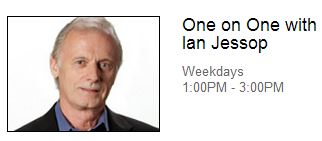 A usually well-informed source passes along word that Ian Jessop has just been terminated at C-FAX Victoria.
The talk show host in the 1-3 pm slot M-F has in recent months had his show repeated daily from 6- 8 pm.   So one would assume he had been held in somewhat high esteem.
Courtesy of Gord Lansdell and his Vancouver Broadcasters data bank, here is a summary of Jessop's recent employment history:
Ian Jessop – Legislative reporter CKNW Vancouver 1980-88; Press Secretary for Premier Bill Vander Zalm and Rita Johnston 1988-91; director of communications BC Liberal caucus 1992-96; co-founder Seismic Events Victoria 2004; director of communications for Gordon Campbell and BC Liberal Party; talk show host CFAX Victoria until today. 
We'll pass along any further word received on this breaking news.