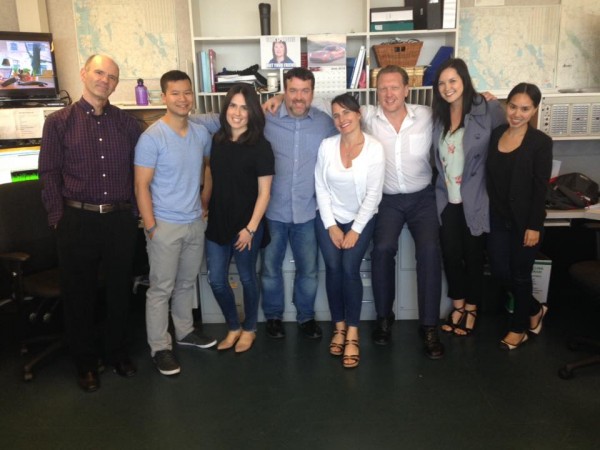 .
Puget Sound Radio wishes Shane Woodford, who's last day was today as a news anchor/journalist at CKNW, now makes his way with family in tow to Kamloops where he takes up the reigns of News Director, replacing long time newsman, news director Jim Harrison who retires later this year. All the best to you Shane, you have some big boots to fill….
the following was posted on Shane's facebook page and republished by permission.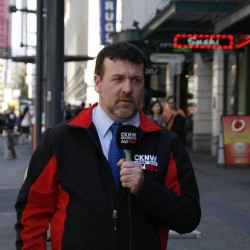 Well the last story is filed and it is time to move on to a new challenge.
Hard to believe it was five years ago I walked into CKNW and now I am leaving. I still remember being incredibly nervous during my first newscast. I also remember Bill Good coming into the newsroom to tell me he was incredibly happy to see me come aboard. Bill is a legend in this business and someone who I looked up to and who despite his stature in this business made time once long ago for an intern at CTV and through all the years that followed as I began my career. That for me was a big deal and it seems like it was just yesterday.
I count myself lucky to have known, earned the respect, and learned from CKNW veterans like Tom Mark, Terry Bell, and Philip Till. Although I did have to endure some of those infamous Tom Mark emails. It wasn't easy to see those guys go but I count myself lucky for having been given the time to work beside them.
It has also been my great pleasure to get know and become friends with Sean Leslie. It is no secret I have wanted to cover the legislature. Sean knew this when NW brought me aboard. A lesser man might have resented that but Sean is not that kind of person. Sean is an inspiration to me not just for how he could write, or fit 7 clips in a 35 second story, but for taking me under his wing and not just allowing me to frequently tread into his territory but helping me to become better at this job. Despite frequently stepping on his toes he was never shy about letting me spread my wings or sending out emails to the bosses praising my work. Sean is salt of the earth, one of the best people I know, and has become a good friend. It was without a doubt the highlight of my work year to join him in Victoria to cover the provincial budget each February.
In my career I have been incredibly fortunate to have had some really amazing mentors and two of them have been my boss. Jim Harrison, a legend, who I have been chosen to replace in Kamloops was one of them. The other is Terry Schintz. In no small way I will take the lessons and the experiences I have learned working for Terry for the last five years to lay the foundation for how I hope to be as a News Director in my new job. Terry is the gentle hand guiding the way, the calm in the storm, and reassuring voice making sure each day we are nudged in the right direction. Through the years Terry has always been available for advice, a kind word, a constructive criticism, or a sounding board. It was not an easy decision professionally or personally to take this new job. Terry was there every step of the way supporting me as I went through the decision process. It has been my distinct pleasure to, I hope, earn both Terry's respect and his friendship. The CKNW newsroom could not be in better hands.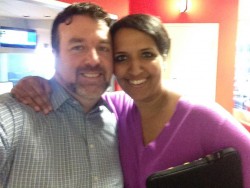 My thanks to Jon McComb and Simi Sara who are both amazing, talented, awesome people. Both have also been there for me over the years if I had questions or needed advice. I will miss working with both of them very very much.
Also a big thanks to everyone at CKNW, too many to name, for all their hard work, conversation, laughs, and for being really great people from board ops to producers the list goes on and on. I have been privileged to have worked with each and every one of you.
I have the great fortune of working a job I love beside people I really love to work with. There hasn't been a day in the last five years I haven't looked forward to getting to CKNW and working beside everybody here.
Metro Vancouver is an amazing place to live. We complain a lot but we should always take time to treasure this place we call home. We should strive to make it better and to address this region's various issues but we should also breathe its air, look at its mountains, and gaze upon the Pacific and remind ourselves that we lucky few call this place home.
Speaking of this place my wife, Henrik, and I will miss New Westminster. Since moving back to the lower mainland it wasn't until we bought our home in New West that we really felt deep down inside that we were home. We have a lovely place in a fantastic community. While we look forward to something called a "house" with what some people call a "yard" we will also deeply miss New Westminster and our friends there.
That said we also look forward to returning to Kamloops where my career began and reconnecting with the friends there who were sad to leave so many years ago. Kamloops is a great community, with a sane housing market, and I look forward to its beauty, much much less traffic, Wings night at the Dirty Jersey, hiking some of its amazing nearby trails again, and doing my best to continue what Jim Harrison has done in making sure Kamloops is an important place in this province because he has covered the community's stories so exceptionally. Oh yeah and also we will have a winter again.
Last but not least since this news came out (It has been the loooongest goodbye ever) I have been flooded with well wishes from both peers and people who either listen to NW or follow me on social media. All of those words have been flattering and very humbling. From the bottom of my heart thanks to each and every one of you.
I will end with this. It is not goodbye it is not even see you later. I will continue to do this job I love just in a different station in a different place. Some of my stories from Kamloops will be heard on NW and I will still clog up your Twitter feeds. I cut my teeth on covering BC politics when I began my career in Kamloops and I will continue to do so moving back. And hey this is the internet age so if you miss me simply head to Radio NL's home page and hit 'Listen Live' you won't regret it.
Shane
Related Story HERE