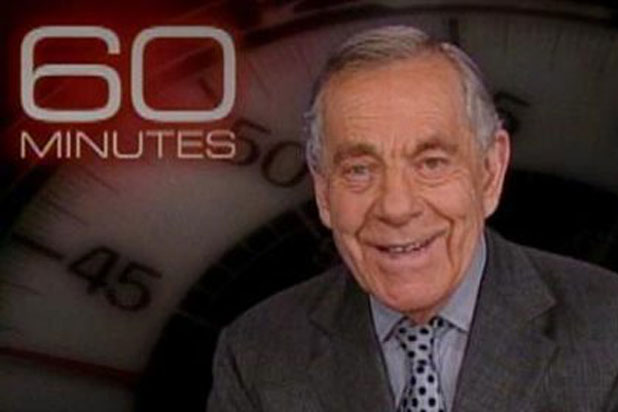 Mainstay of the CBS news magazine announced his retirement just last week
Morley Safer, "60 Minutes" correspondent for 46 years, has died. He was 84.
The mainstay of the CBS news magazine announced his retirement just last week, which was followed by a one-hour special chronicling his illustrious career on Sunday night. While undisclosed at the time, it appears his retirement coincided with his deteriorating health.
"After more than 50 years of broadcasting on CBS News and '60 Minutes,' I have decided to retire," Safer said last week. "It's been a wonderful run, but the time has come to say goodbye to all of my friends at CBS and the dozens of people who kept me on the air."
"Morley was one of the most important journalists in any medium, ever," CBS Chairman and CEO Leslie Moonves said on Thursday. "He broke ground in war reporting and made a name that will forever be synonymous with '60 Minutes.' He was also a gentleman, a scholar, a great raconteur — all of those things and much more to generations of colleagues, his legion of friends, and his family, to whom all of us at CBS offer our sincerest condolences over the loss of one of CBS' and journalism's greatest treasures."
Safer was the show's longest-serving correspondent, representing the longest run anyone has ever had on primetime network television, according to CBS.
"Morley Safer helped create the CBS News we know today. No correspondent had more extraordinary range, from war reporting to coverage of every aspect of modern culture. His writing alone defined original reporting. Everyone at CBS News will sorely miss Morley," CBS News President David Rhodes said.
That range is well illustrated by the reports with which he bookended his "60 Minutes" career. His first assignment, in 1970, was a story about the training of U.S. Sky Marshals; his last assignment, No. 919 in his career with the show, was a profile of star Danish Architect Bjarke Ingels, aired in March.
Safer interviewed everyone from Ruth Madoff to Jackie Gleason and was the first U.S. network newsman to film a report inside Communist China. He joined Mike Wallace in the third season of "60 Minutes" in 1970 and the program won an Emmy for Safer's 1971 investigation of the Gulf of Tonkin incident that provoked the Vietnam War.
The Canadian-born Safer joined CBS News in 1964, covering London for the Canadian Broadcasting Corporation. He went on to win every major journalism award imaginable, including four du Ponts, three Peabody awards, three Overseas Press Club awards, two George Polk Memorial awards, a Robert F. Kennedy Journalism first prize for domestic television, the Fred Friendly First Amendment award and 12 Emmys.
READ MANY MORE SHOW BUSINESS NEWS STORIES  HERE AT TheWrap.com