ON THIS DAY in 1909 

country musician Mother Maybelle Carter was born Maybelle Addington in Nicklesville Virginia. A member of The Carter Family, the first commercial rural country music group, she created a unique sound with her innovative 'scratch' style of guitar playing, where she used her thumb to play melody on the bass and middle strings, and her index finger to fill out the rhythm. She had three daughters, one of whom was June Carter Cash. She died Oct 23, 1978 at age 69.
In 1914, actor Charles McGraw was born Charles Butters in New York City. He made scores of TV and film appearances often portraying law enforcement figures or military officers, plus the odd shifty gangster. He died tragically July 30, 1980 at age 66, after falling through a glass shower door.
In 1922, actress Nancy Walker (below) was born Ann Myrtle Swoyer In Philadelphia.  The veteran of Broadway & bigscreen film found a second career on TV, where she gained instant notoriety as Rosie the waitress in a series of "Bounty" paper towel commercials.  She scored in recurring roles on McMillan and Wife, Mary Tyler Moore, Rhoda & True Colors, earning 8 Emmy nominations.  She died of lung cancer Mar 25, 1992 just weeks before her 70th birthday.

In 1927, the Hotel Statler in Boston became the first hotel to install radio headsets in each of its 1,300 rooms. What a concept!
In 1934, announcer & voice actor Gary Owens was born in Mitchell South Dakota.  After beginning in midwest radio in the 1950's he moved to California and ended up with a two-decade career being creatively funny in afternoon drive at KMPC Los Angeles.  As well as providing voices for cartoons like Roger Ramjet, he became widely known nationally as the hand-cupping-the-ear over-the-top announcer on NBC-TV's Rowan & Martin's Laugh-In.  Owens died Feb. 12, 2015 at age 80 from complications due to diabetes, a condition diagnosed in childhood.  He was still being heard later in 2015 as the voice of 'The Lounge' radio 99.9 in Parksville BC.
In 1940, Jimmy Dorsey and his orchestra recorded the big band classic, Perfidia, for Decca Records. The song would later be a hit for The Ventures (1960).
In 1950, a memorable moment on NBC radio's The Great Gildersleeve as niece Marjorie married her longtime boyfriend Bronco.
In 1951, Frank Sinatra teamed with Axel Stordahl's orchestra and Mitch Miller on Columbia Records. He sang with Dagmar (the sex symbol of the day), It's a Long Way (From Your House to My House), and the equally forgettable, Mama Will Bark.


Yes, friends, Mama Will Bark, by Sinatra & Dagmar, with vocal impressions of a dog by Donald Bain!  Sinatra hated what Mitch Miller had him doing and the label dropped him late in 1952, as his career bottomed out.
In 1960, in the UK The Silver Beetles (John Lennon, Paul McCartney, George Harrison, Tommy Moore and Stuart Sutcliffe) auditioned for a job as singer Billy Fury's backing group. Instead they were hired to accompany singer Johnny Gentle on his upcoming tour of Scotland.
In 1962, Johnny Cash was in New York City for his first-ever show at Carnegie Hall. The booking ledger at the hallowed concert venue had him listed as a "folksinger."
In 1963, The Rolling Stones produced their very first recordings for the UK's Decca Records. The session included 'Come On' and 'I Wanna Be Loved.' The Stones would make it to the North American pop music charts in August of the following year.

In 1964, UK singer Dusty Springfield made her US television debut on the "Ed Sullivan Show."
In 1965, the Rolling Stones began recording their "Out of Our Heads" album at Chess Studios in Chicago.
In 1966, still little-known Texas singer Janis Joplin was invited to San Francisco by her friend Chet Helms to audition with a group he was managing called Big Brother and the Holding Company.  And the rest is rock music history!
In 1967, Mick Jagger of the Rolling Stones was formally charged with illegal possession of pep pills, while fellow Stone Keith Richards was charged with allowing pot to be smoked on his premises. As the case was going to court, police arrested another Stone, Brian Jones, at his London apartment and charged him with drug possession.
In 1968, at the Chicago Coliseum, Jim Morrison of the Doors incited the audience to riot, then escaped backstage as police struggled to restore order.

In 1969, the Turtles (pictured) and the Temptations played the White House upon the request of 'First Daughter' Tricia Nixon.  Mark Volman (center back) fell off the stage 5 times.  Stories later abounded that the band had been snorting cocaine on a desk of Abraham Lincoln.
In 1970, Burton Cummings and the Winnipeg-based Guess Who's American Woman/No Sugar Tonight stayed at # 1 on the Billboard pop chart.
Also in 1970, The Jackson Five made their second appearance on CBS-TV's Ed Sullivan Show. Also on the bill were comedians Don Rickles and George Carlin, singer Sonny James, and pianist Roger Williams.
In 1972, George W. Trendle who originated & produced the Detroit-based radio serials 'The Lone Ranger,' 'The Green Hornet' and 'Challenge of the Yukon,' died at age 87.
In 1973, the original insult comedian, "Fat" Jack E Leonard, who appeared on TV's Ed Sullivan Show 13 times, and on Hollywood Palace 6 times, died of complications from diabetes at age 62.

In 1974, 'Just Don't Want to Be Lonely' earned a Gold Record for the group, The Main Ingredient. The trio began as The Poets in 1964. Cuba Gooding is heard singing lead. (Gooding's son, Cuba Jr., starred in the 1991 film Boyz N The Hood.)
Also in 1974, in Miami Eric Clapton recorded his future #1 hit "I Shot the Sheriff." This is the track credited with introducing reggae music to a wide audience.
Still in 1974, The Who sold out Madison Square Gardens in New York City for four nights, selling 80,000 tickets.
In 1975, more than five years after The Beatles split up their jointly-owned Apple Records label was dissolved.
Also in 1975, at the Washington Monument in the US capital Stevie Wonder and his band Wonderlove played for 125,000 people who had gathered in celebration of Human Kindness Day.

In 1977, Adam and the Ants played their first public concert at a restaurant in London's Institute of Contemporary Arts. Singer Adam Ant had told the booker they were a country band but showed up wearing leather, a hood and chains. The booker paid them their 15-dollar fee after one song and asked them to leave.
In 1980, Canadian Music Hall of Fame inductee Bruce Cockburn performed his "Wondering Where the Lions Are" on NBC-TV's Saturday Night Live.
In 1982, Top 40 formatted radio station WABC New York City, played its last record before adopting a Talk Radio format.  It was John Lennon's "Imagine."
Also in 1982, Elliott Gould made his dramatic television debut after 30 movies in 17 years. He starred in 'The Rules of Marriage' which aired on CBS-TV. Elizabeth Montgomery, formerly of Bewitched, co-starred with Gould in the film about marriage and divorce.

In 1983, the last episode of "Laverne & Shirley" aired on ABC.
Also in 1983, Metallica began recording their first album "Kill 'Em All" in Rochester New York. They finished 2 1/2 weeks later on May 27.
In 1985, the Go-Go's announced their breakup. The all-girl group's two top 10 hits were "We Got the Beat" and "Vacation." The group launched a reunion tour in 1990.
In 1986, "West End Girls" by the Pet Shop Boys topped the charts .. but only for the one week.
Also in 1986, Tommy Lee from Motley Crue married actress Heather Locklear, famous for her role in the ABC-TV show 'Dynasty.'

In 1990, actress Susan Oliver, who left her mark on almost 40 years of TV guest roles from the earliest days of live drama, lost her battle with lung cancer at age 58.  She had been a heavy smoker for most of her life.
In 1991, Madonna's 'warts and all' documentary film 'Truth Or Dare in bed with Madonna', premiered in Los Angeles.
In 1992, American jazz singer Sylvia Syms, not to be confused with the UK actress of the same name, collapsed with a heart attack and died on stage in New York City at age 74.
In 1994, Barbra Streisand played the US Air Arena in Landover Maryland as she embarked on her first concert tour in 30 years.

In 1995, the 30th Annual Academy of Country Music Awards saw top honors go to Reba McEntire.
In 1999, artist/author/songwriter Shel Silverstein, 68, was found dead of a heart attack in Key West, Fla. He penned Johnny Cash's 1969 No. 1 country hit "A Boy Named Sue" and two 1972 top-10 hits for Dr. Hook & the Medicine Show, "Sylvia's Mother" and "The Cover of the `Rolling Stone.'"
In 2000, actor Craig Stevens, who starred in the title role of TV's ground-breaking private eye show 'Peter Gunn,' succumbed to cancer & died at age 81.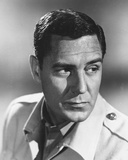 Also in 2000, the Backstreet Boys were honored four times at the 12th annual World Music Awards, presented at the Sporting Club in Monaco. The act was honored as best-selling pop group, R&B group, dance group, and American group.
Still in 2000, snger Michael Bolton lost his appeal against a court ruling that he stole from the Isley Brothers part of his 1991 hit "Love Is a Wonderful Thing." He was ordered to pay $5.4 million in damages.
In 2003, Steven Tyler of Aerosmith received an honorary doctorate degree in music fromn the Berklee College of Music.
In 2004, Glen Campbell (mugshot below) pleaded guilty to driving under the influence and leaving the scene of an accident, when he crashed into another car six months earlier in Phoenix Arizona.  He was sentenced to 10 days in jail.

In 2006, Keith Richards of the Rolling Stones left a New Zealand hospital, just two days after undergoing surgery to relieve pressure in his head. The injuries resulted from a reported fall from a palm tree while vacationing in Fiji.
In 2007, hip-hop artist Akon apologized after provocative scenes were posted on the internet, showing his semi-lewd dance with a 14-year-old girl during his club date in Trinidad.  It led to telecommunications giant Verizon cancelling its deal to sponsor his US tour with Gwen Stefani.
Also in 2007, the surviving members of Pink Floyd took part in a tribute concert paying respects to their former front man, Roger "Syd" Barrett.  Diabetes had led to his death 10 months earlier at age 60.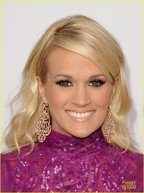 In 2008, in Nashville, country singing star Carrie Underwood was inducted as the latest member of the Grand Ole Opry.
In 2010, Harlem's Apollo Theatre began installing bronze plaques of legends who had appeared frequently at the theater. Among the first plaques unveiled on the sidewalk outside were those of James Brown, Michael Jackson, Smokey Robinson and Ella Fitzgerald.
Also in 2010, NBC-TV's Late Night With Jimmy Fallon kicked off a week of special performances devoted to celebrating the reissue of the Rolling Stones' classic album "Exile On Main Street." First up was Green Day who performed "Rip This Joint."

In 2011, Seattle-raised singer Norma Zimmer, the best known and longest serving "Champagne Lady" with Lawrence Welk on his weekly TV show, died at age 87, the result of a neurological disorder.
In 2013, character actor Laurence Haddon, who appeared in dozens of TV series like Dallas, Lou Grant and Mary Hartman, Mary Hartman during a four-decade career, died at age 90, the result of complications associated with Lewy body disease, a form of dementia.
In 2014, Led Zeppelin guitarist Jimmy Page gave the commencement speech at the Berklee College of Music in Boston. He told the grads "your love of music will sustain you through the unexpected twists and turns that lie ahead."
In 2015, Prince's Rally 4 Peace event 
 was held at Baltimore's Royal Farms Arena. The concert was an effort to unify the community following the death of Freddie Gray while in police custody and the subsequent riots.
Today's Birthdays:
Singer Henry Fambrough of The Spinners is 78.
Actor David Clennon (Thirty Something,Ghost Whisperer, The Agency, Almost Perfect) is 73.
UK actress Maureen Lipman (Coronation Street) is 70.
Singer Donovan is 70.
Singer Dave Mason is 70.
Actress Meg Foster (Cagney & Lacey) is 68.
Singer Ron Banks of The Dramatics is 65.
ESPN sportscaster Chris Berman is 61.
Actress Paige O'Hara (The Legend of Prince Valiant) is 60.
Actress Victoria Rowell (Diagnosis Murder, Young & The Restless, Cosby Show) is 57.
Singer Bono of U2 is 56.
Actress Teri Copley (We Got it Made, I Had Three Wives) is 55.
Drummer Danny Carey of Tool is 55.
Actor Darryl M. Bell (A Different World, Homeboys in Outer Space) is 53.
St. Catherines Ont.-born model/actress Linda Evangelista is 51.
Bassist Krist Novoselic of Nirvana is 51.
Newfoundland-born actress Tracy Tweed (Gene Simmons' Family Jewels) is 51.
Actress Polly Walker (Mr. Selfridge, Caprica, Rome) is 50.
Actor Jason Brooks (Baywatch) is 50.
Rapper Young MC is 49.
Actor Erik Palladino (666 Park Avenue, Over There, ER) is 48.
Actor Adrian Scarborough (Upstairs Downstairs 2010, Edge of Heaven) is 48.
Singer Richard Patrick of Filter is 48.
Actor Judson Mills (Walker Texas Ranger) is 47.
Actor Dallas Roberts (The L Word, Unforgettable, The Good Wife) is 46.
Actress Gina Philips (Ally McBeal, Boston Public) is 46.
Actor Adriano Giannini (Missing, In Treatment) is 45.
Actress Leslie Stefanson (MDs) is 45.
Actress Andrea Anders (Joey, Better Off Ted, Mr. Sunshine) is 41.
Actor Todd Lowe (True Blood, Gilmore Girls) is 39.
Actor Kenan Thompson (Sat. Night Live, Kenan and Kel) is 38.
Actress Corri English (Holliston, The Bedford Diaries) is 38.
Singer Jason Dalyrimple of Soul for Real is 36.
Rock musician Joey Zehr (The Click Five) is 33.
Actress Odette Annable (October Road, House MD, Breaking In, Banshee) is 31.
Singer Ashley Poole (Dream) is 31.
Actress Erika Fong (Power Rangers Samurai) is 30.
Actress Lindsey Shaw (Ned's Declassified School Survival Guide, Pretty Little Liars, 10 Things I Hate About You) is 27.  
Actress Lauren Potter (Glee) is 26.
Toronto-born actress Alyssa Veniece (Love is Dead, The Listener) is 26.
Singer/actress Charice (Glee) is 24.
Actor Spencer Fox (Kim Possible) is 23.
Actress Halston Sage (Crisis, How to Rock) is 23.
Chart Toppers – May 10
1947
Linda – Buddy Clark with the Ray Noble Orchestra
Heartaches – The Ted Weems Orchestra (whistler: Elmo Tanner)
The Anniversary Song – Dinah Shore
So Round, So Firm, So Fully Packed – Merle Travis
1956
Heartbreak Hotel /I Was the One – Elvis Presley
Standing on the Corner – The Four Lads
The Wayward Wind – Gogi Grant
Blue Suede Shoes – Carl Perkins
1965
Mrs. Brown You've Got a Lovely Daughter – Herman's Hermits
Count Me In – Gary Lewis & The Playboys
Ticket to Ride – The Beatles
This is It – Jim Reeves
1974
The Loco-Motion – Grand Funk
Dancing Machine – The Jackson 5
The Streak – Ray Stevens
Things Aren't Funny Anymore – Merle Haggard
1983
Beat It – Michael Jackson
Jeopardy – Greg Kihn Band
Let's Dance – David Bowie
Jose Cuervo – Shelly West
1992
Jump – Kris Kross
Bohemian Rhapsody – Queen
My Lovin' (You're Never Gonna Get It) – En Vogue
Neon Moon – Brooks & Dunn
2001
Survivor – Destiny's Child
All for You – Janet Jackson
Hanging by a Moment – Lifehouse
Ain't Nothing 'bout You – Brooks & Dunn
2010
Nothin' On You – B.o.B featuring Bruno Mars
Rude Boy – Rihanna
Break Your Heart – Taio Cruz featuring Ludacris
Gimmie That Girl – Joe Nichols