By Warren Copnick
Sony Music/Canada
Wednesday April 20, 2016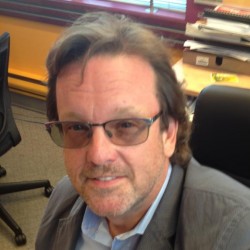 The Canadian radio and music industry has lost one of its greatest brains and most passionate advocates. Longtime radio announcer, programmer and executive Patrick Cardinal died Tuesday night, two years after being diagnosed with pancreatic cancer. He was 54.
Born in Winnipeg, Patrick Cardinal began his radio career in 1979 at CJRL in Kenora, Ontario and held numerous positions first on-air, then in programming and management, in many Canadian markets. Career highlights included bringing the Howard Stern Show to Q107 in Toronto and helping to launch the JACK FM format first in Vancouver, then Toronto. Most recently, Cardinal was General Manager for Bell Media's Edmonton stations including 100.3 The Bear, 104.9 Virgin Radio and TSN 1260.
As he made his way across the country and up the broadcast ladder, Cardinal brought a deep voice to the airwaves, a deep knowledge to his programming decisions and a deep passion for radio to the office every day. His influence is deep and wide; he has mentored countless young broadcasters, and has made Canadian radio more exciting – for those who work in it and those who listen to it.
"Pat made great radio, he caused waves and was someone I preferred to work with rather than compete against," says Ross Winters, Director of Programming for the Jim Pattison Broadcast Group – and a longtime friend of Cardinal's. "When I visited Pat a few times in the past week he wanted to talk about radio and the stations that I work with. At one point Pat said, 'I am lying here and I know more about everyone's radio stations and radio companies then anybody else because everyone comes in here and tells me stuff, that's gotta be worth something,' which he said with a smile."
Says Jim "JJ" Johnston, another longtime Canadian radio executive and friend of Cardinal's: "He was a giant through all of this and an inspiration to all in his battle, and well before that. He was fun, funny, smart, passionate, mischievous, talented, fearless, and kept his sense of humour right to the end."
Sony Music Entertainment (Canada)'s Warren Copnick says "Today we lost a man who fought a most courageous battle with terrible disease but in the process re affirmed the strength, life and passion he had shown so many over the years in his incredible professional accomplishments to his warmth and kind hearted friendships," says Copnick, Director, A&R / National Promotion radio- video. "He will be missed by the countless number of people whose lives in the music industry he touched as a teacher, mentor and inspiration. Radio upstairs is much better this am. It's not goodbye its Later, Pat !"
On Monday, what would turn out to be the final full day of his life, Cardinal learned that he will be inducted into the Canadian Broadcast Hall of Fame at Canada Music Week on May 5. He was overjoyed by this news and deeply moved.
Cardinal died Tuesday night in Vancouver; he was with his son Kael Cardinal and surrounded by friends. AC/DC was playing softly in the background.
Details for a celebration of life in Toronto will soon be announced.
Warren Copnick
Director, A&R / National Promotion radio- video
SONY MUSIC ENTERTAINMENT (CANADA) INC