ON THIS DAY in 1916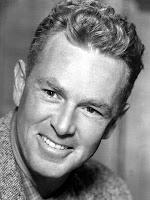 actor Sterling Hayden was born in Upper Montclair New Jersey. Most of his career was on the big screen, where his studio advertised him as "The Most Beautiful Man in the Movies."  His limited TV appearances included The Godfather Saga, The Blue & the Grey, and four starring roles on Playhouse 90.  He died of prostate cancer May 23 1986 at age 70.
Also in 1916, trumpeter/bandleader/arranger Vic Schoen was born in Brooklyn.  From the late 30's through the 1960's he was one of the busiest arrangers, recording with Dinah Shore, Bing Crosby, Danny Kaye, Ethel Merman, and most notably, the Andrews Sisters.  Later he added Patti Page, the Weavers, Andy Williams, & Pat Boone, a number of whom he worked for on their TV shows.  He died of pneumonia Jan 5 2000 at age 83.

In 1919, actor Strother Martin Jr. was born in Kokomo Indiana. A national champion diver, he got into show biz on a local kid's TV show "Mabel's Fables."  A few bit parts led to a friendship with film director Sam Peckinpaugh & a series of uniquely  menacing TV & film roles, including multiple appearances on Gunsmoke, Bonanza, Have Gun Will Travel, Perry Mason, Baretta, etc. His career was at its peak when he suffered a fatal heartattack Aug 1, 1980 at age 61.
In 1923, comedian Bob Elliott of the comedy team Bob & Ray was born in suburban Boston. Beginning a career as a radio announcer in the 1940's, his rise to national recognition began when he was teamed with Ray Goulding on WHDH Boston.  Moving to New York the pair appeared on various networks and radio/TV outlets with their unique brand of humour spoofing broadcasting until Goulding's death in 1990.  He succumbed to throat cancer Feb. 2 2016 at age 92.
In 1941, one of the top all-black big bands Jimmie Lunceford and his orchestra recorded the tune, Battle Axe, for Decca Records.
In 1956, comedian Red Buttons made his debut as a television actor in "The Tale of St. Emergency" on CBS TV's drama anthology series Studio One.

In 1957, Ricky Nelson recorded his first songs, the Fats Domino standard "I'm Walkin'" and "A Teenager's Romance" for the jazz-oriented Verve label.
In 1958, the 30th Annual Academy Awards celebration was televised with Rosalind Russell, James Stewart, David Niven, Jack Lemmon, Bob Hope and Donald Duck (on film) co-hosting.  Two blockbusters shot it out this night, The Bridge on the River Kwai, with 7 Oscars, vs. Sayonara with 5. The prize for Best Music/Song went to James Van Heusen (music), Sammy Cahn (lyrics) for All the Way (the classic Sinatra song) from The Joker Is Wild.
Also in 1958, Dee Clark recorded "Hey Little Girl" which would peak at #2 on the Billboard R&B chart.
Still in 1958, in New York City, the Kalin Twins recorded their one-hit wonder, "When," which topped the UK pop singles chart for 5 weeks. (Peaked at #5 in North America.)
In 1959, The Coasters recorded a comedic number from songwriters Jerry Leiber and Mike Stoller, the future Top 10 pop single "Along Came Jones."

In 1960, the TV special "Welcome Home Elvis" was taped in Miami Beach, FL. The show was hosted by Frank Sinatra.
Also in 1960, Roy Orbison was in Nashville to record what would prove to be his break-through single, "Only the Lonely." Floyd Cramer played piano on the session.
In 1961, some 18 months before he began hosting the Tonight Show, Johnny Carson was the featured standup comedian on CBS-TV's Ed Sullivan Show.  Singers Della Reese, Alfred Drake and pianist Errol Garner also performed.
Also in 1961, Elvis Presley set a British chart first with three consecutive Number-1 releases: "It's Now or Never," "Are You Lonesome Tonight?" and "Wooden Heart."

In 1964, Pete Best, the Beatles' first drummer, appeared live as a contestant on CBS-TV's panel show "I've Got A Secret," hosted by Garry Moore (above). Best did not fool the panel.
In 1965, Mick Jagger, Brian Jones and Bill Wyman all received electric shocks from a faulty microphone on stage during a Rolling Stones show in Denmark. Wyman was knocked unconscious for several minutes.
In 1967, on Easter Sunday the Ed Sullivan Show on CBS-TV was headlined by singers Nancy Sinatra, Barbara McNair and Charo with the Xavier CugatOrchestra. Comedian Corbett Monica supplied the laughs.

In 1969, the TV movie Marcus Welby, M.D., aired on ABC. Ratings showed the film to be so popular that it was turned into a long-running series starring Robert Young.
That same night in 1969, Pat Boone guest-starred as himself on the "Collard Greens An' Fatback" episode of CBS-TV's "The Beverly Hillbillies."
Still in 1969, John Lennon and Yoko Ono began their "Bed-in" at the Amsterdam Hilton.
In 1970, Peter Yarrow of the folk group Peter, Paul and Mary pleaded guilty in Washington to taking "immoral and indecent liberties" with a 14-year-old girl. He would spend three months in jail. Just days earlier, the trio had won a Grammy Award for Best Recording for Children for their album, 'Peter, Paul and Mommy'.

In 1971, radio's original Marshall Matt Dillon on "Gunsmoke," William Conrad starred in the TV movie "Cannon" on CBS. This led to the weekly series which started the following September. It ran 124 episodes and spawned a spinoff series "Barnaby Jones."
In 1972, David Bowie wrote the song "All the Young Dudes" for the British band Mott the Hoople. Bowie also produced the single and the album of the same name. The song became a British and North American hit, as well as a gay anthem.
In 1973, Noel Coward, writer of some of the wittiest English songs of the 20th century, and a great guest on many of radio's variety shows, died in Jamaica at age 74. His songs included "Mad Dogs and Englishmen" and "Mad About the Boy."
Also in 1973, "Young and the Restless" debuted on CBS.  For most of its history, it has been the most watched soap-opera on US television.
Still on this date in 1973, fiddler and band leader Don Messer died in Halifax at age 63.


Messer and his Islanders were Canada's most popular old-time music group for more than 30 years. Their national radio show began in 1944, and "Don Messer's Jubilee" was a fixture on C-B-C Television from 1959 until its controversial cancellation 10 years later. The program was then syndicated from CHCH TV in Hamilton until Messer's death. Messer and the Islanders also recorded more than 30 albums.
In 1974, David Essex was awarded a Gold Record for the hit, Rock On. Though a million seller, Rock On never made it to number one on the pop-rock charts — stalling at #5.
In 1976, after coming upon a multi-vehicle accident scene in Memphis Elvis Presley jumped out of his limo, displayed his honorary police captain's badge and did his best to assist victims before police and emergency teams arrived.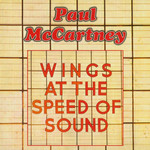 Also in 1976, Paul McCartney's group Wings released the band's fifth album "Wings at the Speed of Sound."
In 1977, "Rich Girl" by Daryl Hall & John Oates topped the charts and stayed there for 2 weeks.
Also in 1977, Foreigner's debut single, "Feels Like the First Time," was released. It peajed at number four on the Billboard Hot 100.
Stll in 1977, the first single by Elvis Costello, "Less Than Zero", was released.

In 1979, the No. 1 Billboard Pop Hit was "Tragedy" by the Bee Gees. The song was the fifth No. 1 single in a row for the Aussie group.
In 1980, drummer Jon Paulos of the Chicago rock quintet the Buckinghamsdied of a drug overdose at age 32. The group's "Kind of a Drag," "Don't You Care" and "Mercy, Mercy, Mercy" were all Top 10 hits in 1967.
Also in 1980, Pink Floyd's "The Wall" broke the record for the longest-charting pop album, previously held by Carole King's "Tapestry." It remained on the Billboard 200 album chart for another 8 years!

In 1982, the daily drama "Capitol" about life in suburban Washington DC began its 5-year run on CBS TV.
In 1985, radio stations in South Africa banned Stevie Wonder's records, because he'd dedicated to Nelson Mandela the Oscar for music he'd received at the Academy Awards the night before.
In 1986, rockers Guns N' Roses were signed to Geffen Records.
Also in 1986, actor Bartlett Robinson, who had running roles in TV's Wendy & Me, and Mona McCluskey, plus scores of bit parts over a 30 year span, died at age 73.

In 1987, actor Walter Abel, a familiar face as supporting actor in decades of movies & episodic TV, died after a heart attack at age 88.
Also in 1987, Elton John ignored doctor's orders not to sing by performing "Your Song" for 71-year-old singer Nellie Lutcher in Hollywood. John had recently undergone throat surgery.
In 1988, "Man in the Mirror" by Michael Jackson topped the charts and stayed there for 2 weeks.
In 1989, the first episode of the science-fiction series "Quantum Leap" aired on NBC TV.
In 1990, host Billy Crystal kept us smiling for the 62nd Annual Academy Awards, which gave Best Picture Honors to Driving Miss Daisy.  Best Actor was Daniel Day-Lewis for My Left Foot and Best Actress was Jessica Tandy in Driving Miss Daisy. Best Music/Song winners were Alan Menken (music), Howard Ashman (lyrics) for Under the Sea from The Little Mermaid.

In 1992, broadcast journalist Barbara Frum died of leukemia at age 54. She was the longtime host of CBC Radio's As It Happens and CBC-TV's The Journal.
Also in 1992, having sold more than a million copies Tricia Yearwood's self-titled debut album was certified Platinum.
In 1993, Grammy-winning Toronto rock singer Alannah Myles cancelled a 25-city Canadian tour due to illness.
In 1994, "Whoomp! (There It Is)" by Tag Team became the longest-running single on Billboard's Hot 100 chart, logging its 44th week.

In 1995, rapper Eazy-E, who helped popularize the hardcore "gangsta" rap style, died in Los Angeles of complications from AIDS. He was 31. Eazy-E, whose real name was Eric Wright, had disclosed he had AIDS only 10 days earlier.
Also in 1995, the animated TV series "Johnny Bravo" aired for the first time.
In 1996, the 68th Annual Academy Awards show was held at the Shrine Auditorium, with actress/comedienne Whoopi Goldberg as hostess. The Best Picture was Braveheart,  Best Actor was Nicolas Cage for Leaving Las Vegas, & Best Actress award went to Susan Sarandon (below) for Dead Man Walking.

In 1997, the National Enquirer announced it had paid two million dollars for North American rights to 10 photos of Michael Jackson's five-week-old son. The money went to a Jackson charity.
In 1998, Chuck Negron sued his former mates in the group Three Dog Night. He claimed Danny Hutton and Cory Wells were defrauding the public by using the group's name and performing, without him, such hits as "Old Fashioned Love Song" and "Joy to the World."
In 1999, it was announced that rap mogul Master P recently donated $500,000 to keep his old New Orleans grammar school from closing.

In 2000, the 72nd Academy Awards, with Billy Crystal as host, gave Best Picture honors to American Beauty. Phil Collins won the Oscar for Best Original Song with 'You'll Be In My Heart' from the Disney animated feature 'Tarzan.'
Also in 2000, TV screens around the Pacific Northwest were filled with images of Seattle's aging Kingdome imploding, to make way for a modern, outdoor football stadium.
In 2002, Randy Castillo, the former drummer for Ozzy Osbourne and Motley Crue, lost his battle with stomach cancer. He was 41.
That same day in 2002, Joe Schermie Jr, the original bass player with Three Dog Night, suffered a fatal heart attack at age 55.
In 2004, singer Jan Berry of the 60's hitmaking duo Jan and Dean, died following a seizure at age 62. He'd never fully recovered from a brain injury and partial paralysis suffered in a 1966 car crash.
Also in 2004, actress Jan Sterling, who capped a bigscreen career 

with roles in TV's The Guiding Light & Backstage at the White House, died after a series of strokes at age 82.
In 2005, CBC Radio One listeners chose the Ian Tyson composition "Four Strong Winds" as the greatest Canadian song of all time, on the series "50 Tracks: The Canadian Version."
In 2006, readers of the UK's Total Guitar magazine voted the guitar solo by Jimmy Page in Led Zeppelin's 'Stairway To Heaven' as the greatest guitar solo of all time.  It has received over the years an estimated 2.8 million radio plays worldwide.
In 2008, one of Chicago's favorite broadcasters, Wally Phillips, whose skillful blend of information and humour made him a pioneer of talk radio, died at age 82 of Alzheimer's disease.  Phillips dominated Chicago's radio airwaves after taking over the WGN morning show in 1965.

Also in 2008, the Los Angeles Times apologized for claiming rap mogul Sean "Diddy" Combs was involved in a 1994 shooting of hip-hop star Tupac Shakur.  The apology followed a claim that the newspaper was conned by a prisoner who doctored documents reporters had relied on.
In 2009, Toronto radio station CHUM AM 1050 ended its music era again and this time it went to simulcasting the local cable-only TV news channel CP 24.  The final full song played was "Release Me" by Engelbert Humperdinck, just before 5 am.
Also in 2009, a jumpsuit that Elvis Presley wore at one of his concerts at New York's Madison Square Garden sold at auction for $212,588.
Still in 2009, on ABC's Jimmy Kimmel Live! Ozzy Osbourne claimed to have started writing his autobiography. "I can't remember anything," said Ozzy. "It's going to be the thinnest book in the world."

In 2011, Roger Abbott, one of the founders and stars of Canada's satirical comedy group 'Royal Canadian Air Farce,' lost his 14-year battle with leukemia at age 64.
Also in 2011, Slash, the former Guns N' Roses/Velvet Revolver guitarist, auctioned personal items for charity, including a Harley Davidson motorcycle, a '66 Corvette Stingray, and the Guild guitar used on the '89 hit "Patience."  Proceeds went to aid Los Angeles homeless and abused adolescents.
In 2012, the composer of many familar TV theme songs (WKRP in Cincinnati, Buffalo Bill, We Got it Made, Open All Night, The Duck Factory, Harper Valley PTA) and guitarist, James T. "Tom" Wells died at home in Atlanta at age 70.
In 2013, Don Payne, a writer for Fox TV's "The Simpsons," who also penned the movies "Thor" and "Thor: The Dark World," as well as other films, lost his battle with bone cancer at age 48.
Also in 2013, 
 Ariana Grande's first single, "The Way", was released. She became popular first as the star of two Nickelodeon TV series "Victorious" and "Sam & Cat."
In 2015, The Who performed in London at the Teenage Cancer Trust benefit. They performed at Royal Albert Hall after receiving an apology for being banned there more than 40 years earlier (12/9/72). The Hall was worried about the damage Rock acts and their fans would inflict.
Today's Birthdays:
Vancouver jazz pianist/composer/author Al Neil is 92.
Actor/director Alan Arkin (100 Centre Street, Harry) is 82.
Five Satins lead vocalist Fred Parris is 80.
Actor James Caan (Las Vegas, Brian's Song) is 76.
Singer Diana Ross is 72.
Actor Johnny Crawford (The Rifleman) is 70.
Vancouver broadcaster Bob Saye is ??
Singer Steven Tyler of Aerosmith (& American Idol) is 68.
Singer-actress Vicki Lawrence (The Carol Burnett Show, Mama's Family, Yes Dear) is 67.
Actor Ernest Thomas (What's Happening, E'body Hates Chris) is 67.
Hamilton-born comedian/actor Martin Short (Damages, Jeremy Glick, SCTV) is 66.
Country singer Ronnie McDowell is 66.
Country singer Dean Dillon is 61.
Country singer Charly McClain is 60.
Radio-TV host Leeza Gibbons (Entertainment Tonight, America Now) is 59.
Actress Jennifer Grey (Dancing With the Stars, 10 TV movies) is 56.
Actor Eric Allan Kramer (Good Luck Charlie, The Hughleys, Down Home) is 54.
Actress Marita Geraghty (Woops) is 54.
Canadian singer Roch Voisine is 53.
Actor/voicist/writer Todd Barry (Louie, Delocated, Dr. Katz Professional Therapist) is 52.
Actor Michael Imperioli (Detroit 1-8-7, Life On Mars, The Sopranos) is 50.
Guitarist James Iha (Smashing Pumpkins) is 48.
Country singer Kenny Chesney is 48.
Actress Leslie Mann (Allen Gregory) is 44.
Comedian/actor Jon Reep (Rodney, Last Comic Standing) is 44.
Actor T.R. Knight (Grey's Anatomy) is 43.
Actress/voicist/writer Natasha Leggero (Another Period, Brickleberry, Burning Love, Ugly Americans) is 42.
Rapper Juvenile is 41.
Actress Amy Smart (Felicity, Smith) is 40.
Actress Natalia Livingston (Days of Our Lives, General Hospital) is 40.
Seattle-born actress Bianca Kajlich (Rules of Engagement, Rock Me Baby, Boston Public) is 39.
Actress Alicia Lagano (The Client List, All About Us) is 37.
Actor Joe Anderson (Outsiders) is 34.
Actress Keira Knightley (Oliver Twist, Dr. Zhivago 2002) is 31.
Actor Jonathan Groff (Looking, Glee, Boss) is 31.
Rapper J-Kwon is 30.
Actress Carly Chaikin (Suburgatory) is 26.
Actress Haley Ramm (Chasing Life) is 24.
Actress Freya Tingley (Once Upon a Time, Hemlock Grove) is 22.
Actress Ella Anderson (Henry Danger) is 11.
Chart Toppers – March 26
1952
Wheel of Fortune – Kay Starr
Any Time – Eddie Fisher
Please, Mr. Sun – Johnnie Ray
(When You Feel like You're in Love) Don't Just Stand There – Carl Smith
1961
Surrender – Elvis Presley
Dedicated to the One I Love – The Shirelles
Apache – Jorgen Ingmann
Don't Worry – Marty Robbins
1970
Bridge Over Troubled Water – Simon & Garfunkel
Let It Be – The Beatles
Instant Karma (We All Shine On) – John Ono Lennon
The Fightin' Side of Me – Merle Haggard
1979
Tragedy – Bee Gees
What a Fool Believes – The Doobie Brothers
Sultans of Swing – Dire Straits
I Just Fall in Love Again – Anne Murray
1988
Man in the Mirror – Michael Jackson
Endless Summer Nights – Richard Marx
Out of the Blue – Debbie Gibson
Turn It Loose – The Judds
1997
Can't Nobody Hold Me Down – Puff Daddy featuring Mase
You Were Meant for Me – Jewel
In My Bed – Dru Hill
We Danced Anyway – Deana Carter
2006
Be Without You – Mary J. Blige
Unwritten – Natasha Bedingfield
Walk Away – Kelly Clarkson
Living in Fast Forward – Kenny Chesney