'3/18/2016 by Mike Barnes, The Hollywood Reporter
.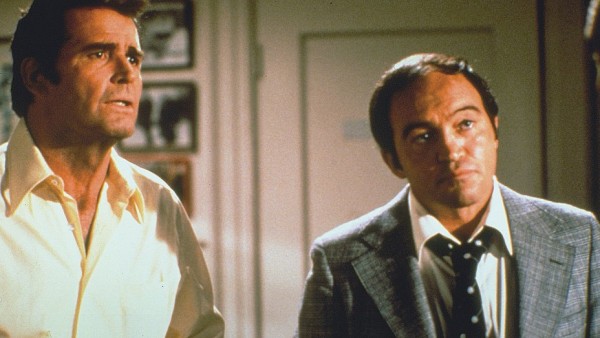 Joe Santos (right) with James Garner on 'The Rockford Files.'
NBC/Photofest
In a career marked by playing good cops, he earned an Emmy nomination for starring as Lt. Dennis Becker on the long-running James Garner series.
Joe Santos, best known for playing Lt. Dennis Becker, the frustrated L.A. policeman pal of James Garner's private detective on The Rockford Files, died Friday. He was 84.
Santos' son son Perry told TMZ that his father suffered a heart attack at his Los Angeles home Wednesday and was put on life support. He died in a Santa Monica hospital, he said.
The Brooklyn native played Becker, who had a love-hate relationship with Garner's Jim Rockford, on 112 episodes of The Rockford Files, which ran on NBC from 1974-80. He was nominated for an Emmy for outstanding supporting actor in a drama series in 1979 and reprised the role for several telefilms.
"He's the kind of guy who lights up a set just by showing up," Garner said of Santos in a 1977 story in TV Guide. "And there aren't too many around like that. He's so good and so professional, and he's got so much enthusiasm. He's one hell of an actor, and he's one tough little dude. But mostly, Joe is a pussycat."
His 40-year career was filled with roles as good cops on such series as Police Story, Magnum, P.I. and Hardcastle and McCormick and on the 1973 miniseries The Blue Knight opposite William Holden, though he played a bad guy, Consigliere Angelo Garepe, on The Sopranos.
Santos also portrayed a detective in the Al Pacino starrer The Panic in Needle Park (1971) and a reporter in the Frank Sinatra film The Detective (1968). He also was in such films as The Gang That Couldn't Shoot Straight (1971), Shaft's Big Score! (1972), The Friends of Eddie Coyle (1973), Blue Thunder (1983), The Last Boy Scout (1991) and Chronic (2015).
SEE THE REST OF THE STORY  HERE  AT THE HOLLYWOOD REPORTER WEBSITE