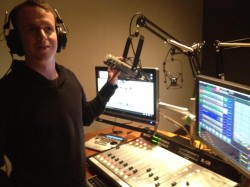 By Donovan Tildesley
PSR Contributor
Donovan's Aircheck Corner
Tuesday February 23, 2016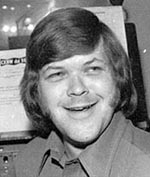 While I'm admittedly disappointed, I'm not surprised that no one in the PSR community came forward with any Rick Honey material for this week's feature. Far too often, the people who worked in radio saved very little, if any of theirs or other's shows. Exceptions to this rule would be people such as Red Robinson, Buzz Bishop, and of course the Late Jack Cullen. In an email communication with Doug Rutherford, Rick Honey's former boss at 'NW from 1983-1993, he laments: "As I get older (and of course wiser) I wish I had kept more taped material." That being said, if you do have any airchecks, from any era, that you wish to share, please drop me a line.
RICK HONEY
On February 24, 2001, Vancouver radio lost a legend. Rick Honey lost his battle with throat cancer at the age of 53. Although he'd been battling the illness for nearly two years, his passing was very sudden. Just a few days prior, he'd done his (unknown to even him) final morning show on Vancouver's 600 AM, a gig he'd started the previous August. Although I'd met Rick on two occasions while he was broadcasting live from the PNE, I was not a frequent listener to his CKNW "Road Show". Aside from Jack Cullen's nightly Network Replay Old Time Radio segments, summer simulcasts of the Symphony of Fire, and of course Canucks hockey broadcasts, the Top Dog didn't have much appeal for someone under the age of twelve. As has happened to me on a couple of other occasions, I discovered Rick in what some might call the sunset of his career.
After being let go by 'NW in June of 1997, it didn't take long for Rick to land on his feet again, although not at a Vancouver radio station. Star-FM, a mainstay of the Abbotsford radio market for many years, was making plans to move their transmitter to Mount Seymour, boost power, and take a run at the competitive Vancouver radio market. But with two AC stations already in the mix, each with strong morning shows (Fred and Cathy on KISS-FM and Terry and Tara on QM/FM), Fraser Valley Broadcasting needed a secret weapon: Rick Honey.
So on the morning of Monday August 18 1997, the newly-rebranded "Super Station" introduced the morning show of Rick Honey and Fraser Valley veteran Kerry Grace, at a live broadcast from Vancouver's Planet Hollywood. The rest of the staff consisted of former morning host John Oliver in middays, Jake Rider (Glen Slingerland) in PM drive, the syndicated Delilah at nights, and a gardening show with Brian Minter on the weekends. Robert Linden did morning news, and former PM drive host Bob Brown did a split shift on traffic. Musically speaking, the station was a gold-based AC, with IMHO some of the greatest jingles ever recorded from Jam Productions out of Dallas.
I had just turned thirteen, and was very curious about this station. I tuned in, and to my surprise I loved what I heard! I've always been a sucker for schmaltzy pop music: Star-FM had that and then some. But it was Rick Honey's bright and irreverent personality that grabbed me instantly. You could hear him smiling through the radio, and his quick and sometimes sarcastic wit had me hooked. I was a frequent contest winner on the show, and Rick remembered having met my Dad and I at the PNE two summers prior. To this day, I maintain that the Rick and Kerry morning show is one of my favourites, in the twenty some-odd years I've now been listening to Vancouver radio.
But it was not to be. Despite its best efforts, Star-FM was unable to make a sizeable dent in the Vancouver market. Much of their advertising still came from small Fraser Valley businesses, with a scarily light spot-load in morning drive. The morning show itself became less cohesive when Rick started to broadcast out of his home as opposed to the radio station. In later years, I learned that the chemistry between he and co-host Kerry Grace was strained to say the least. In less than a year, Rick was let go from Fraser Valley Radio. He subsequently sued the station for wrongful dismissal, and lost. It was around that time that he was diagnosed with throat cancer.
In the summer of 2000, he did some audition shifts at CISL. I still think he was heir apparent to the morning show, as Red Robinson was making plans to retire in November of that year. But before any move could be made to that effect, 600 AM came calling, and Rick joined the Pattison station as morning man, what would be his final stop in radio.
I wish I had an original aircheck of Rick to share with you this week. However, our friends over at RadioWest posted some Honey memories five years ago. Enjoy two airchecks of Rick in his boss jock days at CKLG from 1970 HERE

DARYL B
Three days after Rick's passing, another Vancouver radio legend walked through the gates of Rock 'N' Roll Heaven. Daryl B (Burlingham), who had jocked at not only CFUN and CKLG Vancouver, but also CHUM Toronto and CKLW Windsor/Detroit, was a close friend of Rick's. The news of his passing caused him to have a massive stroke. He was 58. Daryl B was no longer in Vancouver, and had subsequently left radio, by the time I started listening as a youngster. But thanks to Shawn Rosvold, a hitherto unknown B aircheck is here for your listening pleasure!
Daryl B, CFUN, January 1975 (18:20)
It's a Friday afternoon in January and despite a "recent illness", Daryl is at the top of his game. We get to hear two contestants qualify for a trip to Honolulu with the Ten Second Tongue Twister (with Jim Holt as the promo voice), short snippets of Tom Lucas on one commercial as well as Red Robinson on an A&W spot, and Michael Taylor and Merv Connelly on CFUN "news first at 45". (Why does Merv's voice sound higher-pitched than his later work on the LG Morning Zoo?). There are a couple cool Drake-style imaging pieces, which sound like the voices of Charlie van Dyke and the late Gary Gears. CFUN is using a Johnny Mann acapella at the top of the hour, and a WLS PAMS cut coming out of stopsets. Sit back, relax, and enjoy this 41-year trip back in time!
If you have any suggestions for future selections, please email me!
Email Donovan: [email protected]
INSURANCE and Donovan Tildesley go hand in hand.
Call Donovan for all your insurance needs, be it house, property, possessions, Auto Insurance, Mr. Tildesley is your man.

Donovan Tildesley, BA CAIB
t: 604-733-3000
Photo of Daryl B courtesy of RockRadioScrapBook