ON THIS DAY in 1900
Canadian radio pioneer Graham Spry was born at St Thomas Ontario. Spry founded the Canadian Radio League, and is regarded as The Father of Canadian Public Broadcasting.  He helped mobilize public opinion that led to the formation in 1932 of the Canadian Radio Broadcasting Commission, the predecessor of the CBC. He died November 24, 1983 at age 83.
 On this day in 1906, character actor Gale Gordon was born Charles T. Aldrich Jr. in New York City.  He is perhaps best remembered as Lucille Ball's longtime television foil, and for his role as school principal Osgood Conklin in the early '50s  radio & TV hit Our Miss Brooks starring Eve Arden. Gordon was also a respected and beloved radio actor all over the dial, making regular weekly appearances on Fibber McGee & Molly, plus assignments on Burns & Allen, The Great Gildersleeve, The Cinnamon Bear, Mr. & Mrs. Blandings, The Joe E. Brown Show, etc., and starring in title roles on Flash Gordon, Granby's Green Acres and The Casebook of Gregory Hood.  He died of lung cancer June 30, 1995 at age 89.
.

On this day in 1914, broadcast journalist/TV host John Daly was born in Johannesburg South Africa. Although best remembered as host of the CBS TV game show What's My Line, he had a distinguished newscasting career on CBS radio, bringing first word of both the Pearl Harbour attack & the death of President Roosevelt.  He died Feb 24, 1991 at age 77.
On this day in 1916, actor/TV host Paul Tripp was born in New York City. His first children's show Mr. I. Magination, was seen on CBS TV, but most of his subsequent informational children's programs were only on local New York TV.  Among his acting credits was a role as Sally's unfaithful boyfriend on The Dick Van Dyke Show.  He died Aug. 29 2002 at age 86.
.
On this day in 1929, actress Amanda Blake 
  was born Beverly Louise Neill in Buffalo NY.  Although she had other TV assignments before & after, she will be forever remembered as Miss Kitty in 337 episodes of Gunsmoke spanning nearly 20 years. She died at age 60 Aug 16, 1989 of AIDS-related viral hepatitis.
On this day in 1936, actor/comedian Larry Hovis was born in Wapito Washington.  His break-through role was on TV's Gomer Pyle USMC, and he became a regular on the long-running Hogan's Heroes.  He also wrote & performed for Rowan & Martin's Laugh-In, plus numerous guest roles. He died of cancer Sept. 9 2003 at age 67.
On this day in 1940, Larry Clinton and his orchestra recorded "Limehouse Blues" on Victor Records.
On this day in 1941, Quebec singer and songwriter La Bolduc died in Montreal. She was 46. Her songs, detailing the life of ordinary Quebecers in the 1920's and '30s, were very popular at the time, and had a great influence on later Quebec singers.

On this day in 1949, future teen singing idol, 8-year old Ricky Nelson (above, lower left), and his older brother David began playing themselves on their parents' radio show, "The Adventures of Ozzie & Harriet." Until now Ricky had been played by child actor Henry Blair, while David was played by Tommy Bernard.
On this day in 1958, actor Thurston Hall, who was featured in TV's Adventures of Hiram Holliday & who played Mr. Schuyler on the Topper series, died at age 75 following a heart attack.
Also in 1958, billed as 'The Big Gold Record Stars' Bill Haley and his Comets, The Everly Brothers, Buddy Holly & The Crickets, Jerry Lee Lewis and Jimmie Rodgers all appeared in Orlando on the first date of a 12-show tour of Florida.

On this day in 1959, The Platters made their one-and-only appearance on ABC-TV's American Bandstand, lip-synching their latest #1 hit "Smoke Gets in Your Eyes" and their new release, "Enchanted."
On this day in 1960, budding rocker Jimi Hendrix made his stage debut when he played a show at a high school in his Seattle hometown.
On this day in 1963, The Beatles drove through the night from Liverpool to London to appear on the live lunchtime BBC radio program "Parade of the Pops." Performing 'Love Me Do' and 'Please Please Me', the appearance lasted just over 4 minutes. They then drove another 180 miles back north for a performance that night in Doncaster, Yorkshire.
Also this day in 1963, 18-year old Brenda Lee recorded what would soon become her 11th Top 10 single, "Losing You."

On this day in 1964, the Beach Boys recorded "Don't Worry Baby." It was released three months later as the B-side of "I Get Around."
On this day in 1965, the Supremes' "Stop! In the Name of Love" was released. It would become their fourth number-one hit.
Also this day in 1965, "This Diamond Ring" by Gary Lewis & the Playboys topped the charts and stayed there for 2 weeks.  Gary is Jerry Lewis' son.
n this day in 1966, the Dave Clark Five and The Supremes were the musical stars of CBS-TV's Ed Sullivan Show, while comedians Allen Sherman and Stiller & Meara (Ben Stiller's parents) supplied the laughs.

Also this day in 1966, the No. 1 Billboard Pop Hit was "These Boots Are Made for Walkin"' by Nancy Sinatra. The singer is the oldest of Frank and Nancy Sinatra's three children.
On this day in 1967, singer Kurt Cobain of Seattle-based Nirvana was born in Aberdeen Washington.  His death by shotgun wound April 8 1994 has been legally ruled a suicide.
.
On this day in 1968, Monty Python's John Cleese 
 married his co-star in the Fawlty Towers TV series, American actress Connie Booth (pictured, left).  They would divorce in 1978.
On this day in 1970, John Lennon's highly acclaimed single "Instant Karma" was released.
On this day in 1971, the soundtrack to 'Jesus Christ Superstar' went to No.1 on the US album chart.

On this day in 1972, gossip columnist & iconic radio star Walter Winchell died of prostate cancer at age 74.  His weekly broadcasts in the 30's, 40's & 50's began: "Hello Mr. & Mrs. North America & all the ships at sea, let's go to press."  A later generation would only know him as narrator on the TV series The Untouchables.
On this day in 1974, after 10 years together singer-actress Cher filed for separation from her husband, Sonny Bono.
On this day in 1975, orchestra leader Edgar "Cookie" Fairchild, who led the band on the Eddie Cantor radio shows, died at age 76.

Also this day in 1975, burly, gravel-voiced character actor Robert Strauss, who had recurring roles on the TV series Bewitched and Mona McCluskey, died after suffering a stroke at age 61.
On this day in 1976, a judge in New York ruled that Roulette Records could not release an album of John Lennon singing rock 'n' roll oldies. The judge ruled Lennon had a previous commitment to Capitol Records.
Also on this date in 1976, all 4 original members of Kiss implanted their footprints & handprints in the pavement outside Mann's Chinese Theatre in Hollywood.
Still in 1976, the UK band Genesis released "A Trick of the Tail," their first LP with Phil Collins as lead singer, replacing the departed Peter Gabriel.
On this day in 1977, winners at this years Grammy Awards included Stevie Wonder for Best album with 'Songs In The Key Of Life', and Best Vocal performance for 'I Wish.' Best album went to Chicago for 'Chicago X' and best new artist went to the Starland Vocal Band.
On this day in 1981, the No. 1 Billboard Pop Hit was "9 to 5" by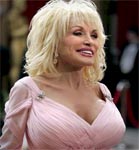 Dolly Parton. The single was the title song to the film starring Parton, Jane Fonda and Lily Tomlin.
On this day in 1983, actor Ray Vitte, featured as Cody in the TV series The Quest, died after a scuffle with LA police at age 33.
On this day in 1985, cartoon voice actor Clarence Nash, the voice of Donald Duck for more than 50 years, lost his battle with leukemia at age 80.

On this day in 1987, David Hartman exited as host of ABC's "Good Morning America" after 11 years on the job. He was replaced by Charles Gibson who, with Joan Lunden, would co-host the broadcast for the next 11 years.
On this day in 1988, "Seasons Change" by Expose topped the charts, but only for a week.
Also this day in 1988, Canadian rocker Bryan Adams put on a private concert for three-thousand athletes and media people at the Calgary Olympics. More than 200 athletes joined Adams on stage for the finale.
Also in 1988, Canadian singer Bruce Cockburn (below) opened a U-S tour in Seattle before a sellout crowd of three-thousand. The concert netted Cockburn more than 10-thousand dollars, which he donated to the Central American Peace Campaign.

On this day in 1989, Tone-Loc's "Wild Thing" became only the second single to be certified double-platinum in the U-S — meaning it had sold two-million copies. Since the double-platinum category was created in 1984, only one other single, "We Are the World," had reached that plateau. The phenomenal sales of "Wild Thing" showed that rap had moved out of the urban ghettos into the pop music mainstream.
On this day in 1991, Vancouver's CHQM 1320 dumped its 'Lite 1320' format for 'Memory Music' from the 30s to 60s.
Also in 1991, Bob Dylan was awarded a lifetime achievement award at the 33rd annual Grammy' Awards. Quincy Jones won six Grammys for his album "Back on the Block," making him the second-biggest winner in Grammy history with 25. Toronto rocker Alannah Myles was named best female rock vocalist for "Black Velvet," a number-one single from her self-named debut album.

On this day in 1992, actor Dick York, best known as the first Darrin on TV's "Bewitched," died of emphysema at age 63. At age 15 York had been the star of the network radio show "That Brewster Boy."-
Also this day in 1992, Ross Perot appeared on CNN's "Larry King Show" and announced he would be a candidate for president that fall.
Still in 1992, singer Paula Abdul and actor Emilio Estevez announced their engagement. It would be the first marriage for both, but it lasted only two years.
On this day in 1993, Jackyl lead singer Jesse James Dupree was arrested for allegedly exposing himself on stage during a concert a few days earlier in Long Beach, California.

On this day in 1996, rapper Snoop Doggy Dogg (now Snoop Dogg) and his ex-bodyguard were acquitted of murder in a 1993 drive-by shooting in a Los Angeles park. Prosecutors alleged that the bodyguard, McKinley Lee, had shot 25-year-old Philip Woldemariam from a Jeep driven by the rapper, whose real name is Calvin Broadus. The two claimed self-defence because Woldemariam was reaching for a gun.
On this day in 1998, Bob McBride, former lead singer with the Canadian jazz-rock band Lighthouse, died in a Toronto hospital after years of illness and drug abuse, at age 51.
On this day in 1999, Chicago Tribune movie critic Gene Siskel, co-star of TV's 'Siskel and Ebert At the Movies,' died  after brain surgery at age 53.
On this day in 2000, Leon starred in the title role of the biopic movie "Little Richard" on NBC-TV.
On this day in 2001, actress Rosemary De Camp
 succumbed to pneumonia at age 90. She shine in many roles on bigtime radio, including the longrunning part of nurse Judy Price on CBS' Dr. Christian. On TV she was Peg Riley on Life of Riley, and also had feature roles on The Bob Cummings Show & That Girl.
On this day in 2003, 100 people were killed and 200 were injured in an inferno at The Station nightclub in Providence, Rhode Island. Pyrotechnics had ignited highly flammable foam around the stage during a performance by the heavy metal band "Great White."

On this day in 2005, Broadway baritone John Raitt, the father of singer Bonnie Raitt (together, above), died at age 88.  His TV appearances were few in comparison to his stellar stage work, but he guested 13 times with Dinah Shore, 9 times on the Bell Telephone Hour, and 7 times with Ed Sullivan.
Also this day in 2005, Scissor Sisters went to No.1 on the Billboard album chart with their debut and self-titled album,
On this day in 2006, sportscaster Curt Gowdy died in Palm Beach, Fla., at age 86, after a long battle with leukemia. He'd been part of the national broadcast of 13 World Series, 16 baseball All-Star Games, 9 Super Bowls, 14 Rose Bowls, 8 Olympic Games and 24 NCAA Final Fours. He also hosted ABC-TV's long-running outdoors show The American Sportsman.

On this day in 2007, Britney Spears first checked into rehab. She checked out the next day.
Also in 2007, the Vancouver-based band Nickelback started another tour in support of their '05 album "All The Right Reasons," with a show at the Tacoma Dome south of Seattle. Opening acts for all 18 arena dates over the foillowing 30 days were Three Days Grace and Breaking Benjamin.
On this day in 2009, Conan O'Brien hosted his final 'Late Show' on NBC before moving to California for his ill-fated gig as host of 'The Tonight Show."
On this day in 2011, the acclaimed guitarist who backed Canada's Gordon Lightfoot for nearly 40 years, Terry Clements died after a stroke two weeks earlier at age 63.

On this day in 2012, the Seattle radio personality known as Danny Holiday, a so-called "walking encyclopedia of rock & roll," died following a long illness at age 68. His radio itinerary over the decades included Seattle radio stations KOL, KZOK, KBSG and Everett's KSER.
On this day in 2013, Pearl Jam's '91 debut album "Ten," reached the 10 million mark in U.S. sales.
On this day in 2014, longtime NBC newsman Garrick Utley 
 lost his battle with prostate cancer at age 74.
Also in 2014, on what would have been his 47th birthdsy it was "Kurt Cobain Day" in his hometown of Aberdeen, Washington.  The mayor unveiled a statue of the late Nirvana frontman shedding a single tear. (For the record, Cobain made no secret of his animosity toward his hometown.)
Today's Birthdays:
Actor Sidney Poitier (David & Lisa, Separate But Equal) is 89.
Actress Marj Dusay (Guiding Light, All My Children, Facts of Life) is 80.
Jazz and soul singer Nancy Wilson is 79.
Actor Richard Beymer (Twin Peaks, Murder She Wrote) is 78.
Olympia Wash-born singer Barbara Ellis of The Fleetwoods is 76.
UK actress Judy Cornwell (Keeping Up Appearances) is 76.
Saskatchewan-born singer-songwriter Buffy Sainte-Marie is 75.
Actress Sandy Duncan (Sandy Duncan Show, The Hogan Family) is 70.
Guitarist J. Geils of The J. Geils Band is 70.
UK actress Brenda Blethyn (Alias Smith & Jones, RKO 281) is 70.
Actor Peter Strauss (Rich Man Poor Man, Moloney) is 69.
Singer-bassist Walter Becker of Steely Dan is 66.
Singer Paul Cooper, a founder of the Canadian a-capella group the Nylons, is 66.
Country singer Kathie Baillie of Baillie and the Boys is 65.
Actor Anthony Stewart Head (Dominion, Buffy The Vampire Slayer, Monarch of the Glen) is 62.
Actor James Wilby (Legends) is 58.
Bassist Sebastian Steinberg (Soul Coughing) is 57.
Actor Joel Hodgson (Mystery Science Theater 3000) is 56.
Singer Ian Brown of Stone Roses is 53.
Actor Willie Garson (White Collar, Sex and the City) is 52.
Actor French Stewart (Third Rock from the Sun, The New WKRP) is 52.
Actor Ron Eldard (Justified, Men Behaving Badly, ER,Bakersfield P.D.) is 51.
Model Cindy Crawford (House of Style, Sex With Cindy Crawford) is 50.
Actor Andrew Shue (Melrose Place) is 49.
Actress Lili Taylor (Six Feet Under) is 49.
Actor/voicist David Herman (Futurama, Bob's Burgers, Brickleberry) is 49.
Actor Louis Ferreira (Motive, SGU Stargate Universe, 1-800 Missing) is 49.
Actress Andrea Savage (Episodes, Dog Bites Man, Significant Others) is 43.
Singer Brian Littrell of Backstreet Boys is 41.
Actress Chelsea Peretti (Brooklyn Nine-Nine) is 38.
Actress Lauren Ambrose (Six Feet Under, Torchwood) is 38.
Actor Jay Hernandez (Six Degrees, Undressed, Hang Time) is 38.
Actress Majandra Delfino (Roswell, Tony Danza Show) is 35.
Singer-musician Chris Thile is 35.
Comedian/TV host Trevor Noah (The Daily Show) is 32.
Actor Jake Richardson (Invasion, Fudge) is 31.
Actress Daniella Pineda (The Originals) is 29.
Winnipeg-born actress Tracy Spiridakos (Revolution, Majority Rules!) is 28. 
Singer Rihanna is 28.
Actor Jack Falahee (How to Get Away With Murder) 27.
Actress Heather Paige Cohn (Jess Like Me) is 26.
Chart Toppers – Feb. 20
1945
Accentuate the Positive – Johnny Mercer
I Dream of You – The Tommy Dorsey Orchestra (vocal: Freddy Stewart)
Don't Fence Me In – Bing Crosby & The Andrews Sisters
I'm Losing My Mind Over You – Al Dexter
1954
Oh! My Pa-Pa – Eddie Fisher
Secret Love (facts) – Doris Day
Till Then – The Hilltoppers
Wake Up, Irene – Hank Thompson
1963
Hey Paula – Paul & Paula
Walk like a Man – The 4 Seasons
Ruby Baby – Dion
The Ballad of Jed Clampett – Flatt & Scruggs
1972
Without You – Nilsson
Hurting Each Other – Carpenters
Never Been to Spain – Three Dog Night
It's Four in the Morning – Faron Young
1981
Celebration – Kool & The Gang
9 to 5 – Dolly Parton
I Love a Rainy Night – Eddie Rabbitt
Who's Cheatin' Who – Charly McClain
1990
Opposites Attract – Paula Abdul with The Wild Pair
Two to Make It Right – Seduction
Escapade – Janet Jackson
On Second Thought – Eddie Rabbitt
1999
Believe – Cher
…Baby One More Time – Britney Spears
(God Must Have Spent) A Little More Time on You – 'N Sync
I Don't Want to Miss a Thing – Mark Chesnutt
2008
Low – Flo Rida featuring T-Pain
Don't Stop The Music – Rihanna
No One – Alicia Keys
Letter to Me – Brad Paisley