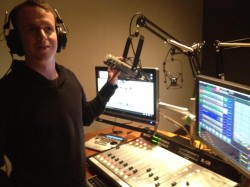 By Donovan Tildesley
PSR Contributor
Tuesday February 16, 2016
Before I begin this week's feature, I'm hoping that someone out there in Puget Sound Radioland can help me next week. I've got a problem. I have a B, but no Honey.
CONFUSED??
The third week of February marks the fifteenth anniversary of the passing of two Western Canadian radio greats: Rick Honey and Darrell B., within days of one another. Naturally I plan to dedicate my February 24 Aircheck Corner to showcasing both of these legends. Shawn Rosvald, who I featured several weeks back, has kindly offered a Darrell B. aircheck from his personal collection. (Shawn, if you're reading this, please send along when you can.) But I have nothing from Rick Honey. If you have anything, whether it be from Rick's boss jock days at CKLG, his time at CKNW, or his short-lived morning shows from Star FM Abbotsford and 600 AM Vancouver, please contact me. And now onto this week's feature…
Calling a DJ at your local station was not always a free pass to get on the radio. There were request shows, but there was no guarantee that they'd play your song every week. And there were guys like Don Percy, who made his listeners a daily extension of his on-air program, but not every DJ crafted their show in the same manner. From a very young age, I was blessed to develop some close radio friendships. I would call these people on a weekly basis, and we'd talk about everything from the weather, to what I was doing in school, to of course radio. People like Carol Alexander, BJ Doyle, Susan Sierra, and Dale Toews took time out of what was undoubtedly a busy show (remember…we're talking the early '90s here, prior to everything being run by computers!) in order to spend a good number of minutes talking to me, usually on a weekly basis. As a child I'm sure I took it for granted. Looking back, I realize the gift I was given by these individuals, who really went above and beyond to be a friend to that precocious (and undoubtedly annoying) blind kid on the other side of the radio. One of these early radio friends is in the spotlight this week.

DAVE WELCH
I first became friends with Dave while he was on the morning show at CISL in 1992-93. Program Director BJ Doyle, who'd worked with Dave at K-Lite in Edmonton, brought him over from CFUN to do the morning show, which had temporarily (READ 9 months) been filled by Bob Merchant after Don Percy's departure for Winnipeg in the summer of 1991. I was first encouraged to call Dave by afternoon host, Carol Alexander, who I'd been speaking to on a weekly basis for about a year by this time. Dave was patient and kind, answering my never-ending 8-year-old questions, and even putting me on air from time to time, usually to help him out with a weather forecast. Needless to say, I was shocked to learn from him a few months later, that he was soon to leave CISL for frequencies as-yet unknown. New management wanted to take the morning show in a different direction, which involved bringing in Red Robinson and a whole raft of nostalgia-based features. Unlike the restructuring in today's radio, Dave was given fair notice of the change and even allowed to do a final show. Several weeks later, he called me at home to tell me that he had returned to his previous station, and was now working swing at both CFUN and QM/FM. I of course resumed my weekly calling ritual, and our friendship continued. Reflecting back years later, I realize there was something very unique about Dave. He wasn't a performer like Don Percy, a rock 'n' roll historian like Red Robinson, or even a charismatic communicator like Fred Latremouille. But what he was, was both versatile and consistent. Day in and day out, he did the work and did it well. Blessed with a great voice and easy laid-back on-air style, he managed to do just about everything, including reading the news on then-talk formatted CFUN in between breaks on AC-formatted QM/FM. It is little wonder that, in the Fall of 2000 when he and new wife Ann decided to move back to their native Ontario, the brass at CHUM asked him to continue to do his QM/FM weekend morning show via an ISDN line from the Yonge Street CHUM headquarters! That came to an end when Rogers Kitchener brought him aboard for afternoon drive on CHYM-FM as Bryan Davis (the previous host was called Dave so he had to change his name). That led to fifteen years with the Rogers cluster, including six years in PM drive on Country 106.7. Unfortunately, that came to an end last November, as Dave became yet another victim of restructuring. And unlike his dismissal from CISL, there was no goodbye show. If anything positive came out of this termination, it was that Dave joined LinkedIn, and we reconnected after six years over Christmas. I'd like to personally thank Dave for the below production and aircheck material.
Dave Welch's First CISL Show, May 4 1992
Despite what the opening credits say, this was an aircheck that I recorded of Dave's second half-hour on the air. For someone who's just started a new job, and is running their own board, he sounds pretty darn good! The morning show operator position had been eliminated a few months earlier when Steve Bush moved into full-time production, and it wasn't until Red's arrival that the morning show got its op back. Speaking of Red, he makes a cameo appearance on this aircheck, along with John Norman (news), and Joanna Millios (traffic).
Dave Welch Elvis Promos, Fall 1992
On the heels of a summer promotion asking listeners to "Spot Elvis" for a chance to win a trip to Graceland, CISL was hosting an Elvis Party at the Commodore Ballroom. Years later, then-Program Director BJ Doyle said that in hindsight, the Elvis-based contests were perhaps skewing to an older than necessary demographic. Here's Dave having some fun with Elvis impersonators, promoting ticket giveaways to the upcoming Party.
CISL Beatles Contest Wrap-up, Spring 1993
Dave really captures the hype surrounding this promotion. After all, who wouldn't want to win a free trip to London England?
Canucks Meet the Oldies, Spring 1993
What Dave didn't often overtly show on-air was his funny side. The goofy-voiced Willy Pokecheck is an example of his masked hilarity. In the Spring of 1993, the boys were making yet another run at the illusive Stanley Cup. And willy/Dave is right there, with a Dickey Goodman-esk take on the team's progress. Produced by Steve Bush, this clip encompasses two montages for both the first and second series. (Dave was in the process of making a third, but the LA Kings put a stop to any playoff hopes). The following year, Red Robinson put together a similar montage, but it wasn't the same without Willy.
Dave Welch's LinkedIn Profile:
https://ca.linkedin.com/in/dave-welch-b89739110
Donovan Tildesley, BA CAIB

t: 604-733-3000
f: 604-224-5153