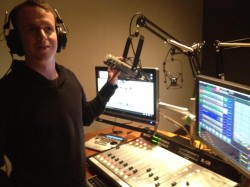 By Donovan Tildesley
PSR Contributor
Tuesday January the 19th, 2016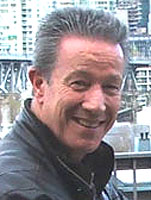 I chose to feature the "Luker" this week. According to cisl650.com, Tom is now listed as the host of the CISL 650 Morning Show, heard 7:00-10:00 weekday mornings. (I wonder how Tom managed to pull off that extra hour of sleep??) This will be Tom's second tour of wake-up duty at 650; he replaced Red Robinson when the Redhead retired from daily radio in November 2000, and was subsequently replaced by Doc Harris in November of 2002.
Much has been written about Tom's near four-and-a-half decade radio career elsewhere. A graduate of Lord Byng High School, the Luker cut his radio teeth in Duncan, followed by several stops in Ontario (including CFGO Ottawa), prior to landing back in Vancouver at 14/CFUN in 1974. Since then, Tom's held a variety of positions, including on-air, TV host, and radio sales. There's something very special about the man. Not only is he a consistent pro day in and day out, but every time he cracks the mic, one can't help but crack a smile. His energy and enthusiasm is infectious to the point where you can feel it on the other side of the radio. I had the pleasure of sharing a couple of coffees with Tom just over two years ago. Truth be told, he was hoping to bring me, and Buntain Insurance Agencies on board as a sponsor for his Radio Real Estate show. While Tom never did get the sale…radio advertising didn't fit within our company's overall marketing plan…it was a pleasure to get to know him on a personal level. Not only did he share some of his radio stories, but also imparted some wisdom on how to create success in business. As a young guy, having that sort of interaction with someone of his experience is a real gift. I walked away with a richer understanding and respect for Tom, not just as a great radio man, but also as a mentor.
Now … Let's rock 'n' roll!!
Tom Lucas on CFUN,  Part 1: August 1976
part 1 of this aircheck starts off with the Brother (Benson), and leads into Tom's high-energy nighttime show. It's a wet night on the West Coast, the Bay City Rollers are playing in Victoria, and "girls and gumboots just don't make it!".
https://soundcloud.com/donovans_airchecks/tom-lucas-on-14cfun-vancouver-august-1976-part-1
CFUN Part 2: August 1976
Tom's talk-up of "Shining Star" in part 2 still gives me chills. This guy had something for every break, including a handful of phoners. Little wonder that Tom, at one time, was offered a job at KHJ in Los Angeles. He told me that his wife Margaret refused to make the move so he turned it down. In retrospect probably a wise decision, as by the late '70s KHJ's ratings were in a downward spiral.
https://soundcloud.com/donovans_airchecks/tom-lucas-on-14cfun-vancouver-august-1976-part-2
Retro Rock Demo: December 2013
When the Vancouver-based Satellite Radio Network was purchased by Pelmorex in 1996, the local talent was offered the opportunity to stay on with the new company, although it would involve a move to Toronto. I believe that Don West was the only one who made the move and remained under the new management. Tom had enjoyed a successful run as evening host of the all-request Goldline program. Ready for a new challenge, he decided to take the request show concept to the brave new world of the worldwide web. The show was also heard on Abbotsford's Radio Max, and for a time on select stations across Western Canada, prior to finishing it's run as an Internet-only show in Summer 2000. In November 2013, the show was resurrected on AM650 on Saturday nights, and began to gain a small but loyal following. Unfortunately the live radio honeymoon only lasted seven months, and was cancelled right after 104.3 flipped to Classic Hits in June of 2014. Perhaps Newcap management was afraid of their AM stealing audience from the newly-reformatted FM. (Tom or no Tom, it happened regardless!) Tom sent me this demo in January 2014. I'm thinking this is what he used to pitch the show to potential advertisers.
https://soundcloud.com/donovans_airchecks/retro-rock-demo-december-2013
As the Luker says at the end of each and every show; Thank-ya-bye!!
INSURANCE and Donovan Tildesley go hand in hand. Call Donovan for all your insurance needs, be it house, property, possessions, Auto Insurance, Mr. Tildesley is your man.
Email Donovan: [email protected]