…Many Happy Returns to News 1130's ANDY WALSH!!
ON THIS DAY in 1905
"Scientific America" published an advertisement for the "Telimco", a radio device guaranteed to receive signals "for as far as one mile." It cost $7.50.
On this day in 1910, Enrico Caruso and Emmy Destinn were heard via a telephone transmitter, rigged by DeForest Radio-Telephone Company to broadcast from the Metropolitan Opera House in New York City.
On this day in 1913, 
 producer/host Ralph Edwards was born near Merino Colorado.  Best known as producer/host of TV's This is Your Life, he came to prominence as the host of radio's zany Truth or Consequences, a game show which ran for 38 years on radio & TV.  As producer he brought to the airwaves TV's The People's Court, still on the air 25 years later.  He died of congestive heart failure Nov. 25 1997 at age 84.
On this day in 1918, actor Steve Dunne was born in Northampton Mass. He succeeded Howard Duff on radio as the star of The Adventures of Sam Spade.  On TV he starred in the series Professional Father & The Brothers Brannigan, and appeared repeatedly on Alfred Hitchcock Presents, The Brady Bunch, The Millionaire & Lux Video Theatre.  He died Sept. 2 1977 at age 59.
On this day in 1919, future movie & TV star Robert Stack was born in Los Angeles.  He starred as Elliott Ness in The Untouchables, and accepted many guest roles, including recurring appearances in The Name of the Game & Falcon Crest.  His career blossomed again as host of NBC's Unsolved Mysteries. Stack died at age 84 May 14 2003 after a heart attack.

On this day in 1925, actress/dancer Gwen Verdon was born in Culver City, Los Angeles. Best known for her stage work & the movie Damn Yankees, Verdon did not have a breakthrough broadcast credit, despite repeated appearances on All My Children, Magnum PI, The Cosby Mysteries & Walker Texas Ranger. She died Oct 18 2000 at age 75, after a heart attack.
On this day in 1928, Ernst F. W. Alexanderson gave the first public demonstration of television at Schenectady New York, using a perforated scanning disk and high-frequency neon lamps.
On this day in 1934, a comedy-variety hit of early radio The Al Pearce Show debuted on NBC Blue, after 5 successful years on KFRC San Francisco.
On this day in 1938, singer Allan Jones recorded "The Donkey Serenade" for Victor Records. The song became the one most often associated with the singer. Singer Jack Jones, whose 78th birthday is tomorrow, is his son.

On this day in 1941, the four Modernaires joined to sing with the Glenn Miller Orchestra on a permanent basis.  They had a 'solo' hit in 1946 with "To Each His Own".
On this day in 1947, the No. 1 Billboard Pop Hit was "The Old Lamp-Lighter" by Sammy Kaye & his Orchestra. "Swing & Sway with Sammy Kaye."
On this day in 1948, the first country music TV show, "Midwestern Hayride", debuted on WLW-TV Cincinnati.
On this day in 1949, 
 former NBC TV executive Brandon Tartikoff was born in Freeport New York. In the 1980's he turned around the network's fortunes with hit shows Hill Street Blues, L.A. Law, Family Ties, The Cosby Show, Cheers, Miami Vice, The Golden Girls, St. Elsewhere, Night Court, Highway to Heaven, Matlock, and Empty Nest. He succumbed to Hodgkin's Disease Aug. 27 1997 at age 48.
On this day in 1958, St. Louis radio station KWK declared Rock n' Roll dead. (Ha ha ha ha ha.) After giving their rock records a final play, the station staff broke them.
Also this day in 1958, Little Richard released his signature song & 3rd Top Ten pop single, "Good Golly Miss Molly."
On this day in 1959, the No. 1 Billboard Pop Hit was "Smoke Gets in Your Eyes" by The Platters.
On this day in 1962, singer Chubby Checker set a record, literally, with the hit, "The Twist". The song reached the #1 position for an unprecedented second time — within two years. "The Twist" was also number one on September 26, 1960. The Philadelphia boy made good twice!

Also this day in 1962, TV comedian Ernie Kovacs died in a car crash in West Los Angeles, at age 42.
Still in 1962, singer Gene Chandler released the song for which he is best remembered, his future #1 pop single "Duke of Earl."
On this day in 1963, the usual eclectic group of performers headlined CBS-TV's Ed Sullivan Show, on location in Miami Beach. Brenda Lee, Robert Goulet, Sophie Tucker and comic Jackie Mason were joined by a balancing knife act and circus trapeze performers.

On this day in 1964, the Beatles released their third straight US #1 single "I Want To Hold Your Hand."
Also in 1964, Capitol Records released what would be Al Martino's fourth & final Top 10 pop single, "I Love You More & More Everyday."

On this day in 1965, the first day of recording sessions for Bob Dylan's Bringing It All Back Home album were held at Columbia Recording Studios in New York City.  Dylan recorded 'Subterranean Homesick Blues', and 'It's All Over Now, Baby Blue.'
Meantime, that same day, Columbia released Dylan's LP "The Times They are a-Changing."
On this day in 1966, Elizabeth Montgomery's character, Samantha, on "Bewitched", had a baby.


Tabitha was the name given to the witch's daughter. She could wriggle her nose and cause all kinds of problems for daddy, just like her mom.
On this day in 1968, Dr. K.C. Pollack of the University of Florida audio lab reported that tests found that the noise levels at rock & roll concerts was harmful to teenage ears.
Also this day in 1968, Johnny Cash played a show, which was recorded, for his forthcoming live album at California's Folsom Prison in front of 2,000 inmates.

On this day in 1969, the Beatles' "Yellow Submarine" album was released.
Also this day in 1969, Elvis Presley began a ten day recording session that would produce his final Billboard number one, 'Suspicious Minds'.  For the first time since his days at Sun Records Elvis recorded this session in Memphis.
On this day in 1970, John Lennon and Yoko Ono cut their hair and donated it to a charity auction.
On this day in 1973, ABC aired the final episode of the western series "Alias Smith and Jones."
Also this day in 1973, Carly Simon's "No Secrets" was the #1 album in the U.S. for the first of five weeks.
Again in 1973, 
 Eric Clapton's comeback concert (after drug rehab) was held at the Rainbow Theatre, London.
On this day in 1975, the singer/songwriter with the more than five octave singing range, Minnie Ripperton released her signature song & future #1 single, "Lovin' You."  It had been produced by Stevie Wonder.
On this day in 1976, the trial of seven Brunswick Records and Dakar Records employees began. The charges were bilking artists out of more than $184,000 in royalties.

On this day in 1978, the British rock band Police began recording their debut album, "Outlandos d'Amour."
Also in 1978, "My Way" by Elvis Presley was certified Gold.
On this day in 1979, soul pop singer Danny Hathaway died after jumping, (or falling) from a 15th floor hotel room in New York City at the age of 34.
Also this day in 1979, the Y.M.C.A. filed a lawsuit against the Village People over their smash hit, "Y.M.C.A." The suit was later dropped.
On this day in 1980, the Russian-born arranger & orchestra leader who had his own CBS radio show in the 1930's, and went on to pioneer the era of easy listening music, Andre Kostelanetz died in Haiti at age 78.
Also this day in 1980, The Police kicked off their first world tour in Buffalo, NY.

On this day in 1983, comedian Doodles Weaver, best known for his appearances & recordings with Spike Jones & His City Slickers, died by his own hand at age 71, after years of alcoholism & failing health.
On this day in 1984, TV anchor Christine Craft won a $325,000 judgement after sueing a Kansas City station for terminating her, apparently because she was "too old."
Also in 1984, BBC Radio 1 announced a ban on 'Relax' by Frankie Goes To Hollywood, after DJ Mike Read called it 'obscene', a BBC TV ban also followed. That was apparently all that was needed to propel it to No.1 in the UK.  It spent a total of 48 weeks on the UK chart.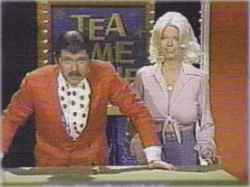 On this day in 1985, Carol Wayne, Johnny Carson's teatime movie hostess, died at age 42 in an apparent swimming accident in Mexico.
On this day in 1988, INXS scored their first #1 single with "Need You Tonight."
On this day in 1989, the soap opera "Ryan's Hope" aired its final episode on ABC TV, after a 13½ year run.
On this day in 1991, the 12th ACE Cable Awards resulted in 25 wins for HBO.
On this day in 1993, 
 rocker Bobby Brown was arrested in Augusta, GA, for simulating a sex act onstage. It was the second time that he had been arrested by the Augusta police department for the same offense.
On this day in 1997, the first episode of the made-in-Canada series "La Femme Nikita" aired on the USA cable channel.

Also in 1997, Debbie Reynolds was honored with her own star on the Hollywood Walk of Fame.
On this day in 1998, CBS agreed to pay $4 billion to televise AFC games for the next 8-years.
Also this day in 1998, NBC agreed to pay almost $13 million for each episode of the TV show E.R. It was the highest amount ever paid for a TV show, to that time.
Again in 1998, the 100th episode of "NYPD Blue" aired on ABC.
On this day in 2000, a Manhattan grand jury indicted Sean "Puffy" Combs on charges of criminal possession of a weapon in the second and third degree, for having two loaded 9-millimeter handguns in his possession. The charges stem from a Dec. 27, 1999, incident in which weapons were found in the rap mogul's vehicle, following a shooting at a New York nightclub in which three were injured.

Also this day in 2000, Christina Aguilera had the US No.1 single with 'What A Girl Wants'.
On this day in 2001, a veteran keyboardist of the big band era who went on to compose special material for Carol Burnett and Mary Tyler Moore, Stan Freeman died of emphysema at age 80.  He had played the harsichord for Rosemary Clooney on her breakout hit, "Come On-a My House."
On this day in 2002, Canadian comedian Frank Shuster of the early radio/TV team Wayne & Shuster, died of pneumonia at age 85.  With his partner Johnny Wayne he made a record 67 appearances on The Ed Sullivan Show.

On this day in 2003, The Who's Pete Townshend was arrested on suspicion of possessing indecent images of children. Townshend claimed that his use of internet websites advertising child pornography was for research for an autobiography.  He was subsequently cleared of the possession charge.
Also in 2003, Diana Ross appeared in a Tucson Arizona court charged with driving while twice over the drink driving limit. Police reported that Miss Ross could not walk in a straight line, touch her nose or count to 30 after she had been stopped for swerving across the road.
On this day in 2004, Edmonton's JOE-AM, an attempt to put a Jack-FM-type format on AM ended as CHQT reverted to being Cool 8-80.  The 'Jack' format was reborn as JOE-FM on CKNG-FM.
On this day in 2005, former CBC announcer Earl Cameron, who succeeded Lorne Greene as the Mother Corp's lead radio news anchor in 1944, then became the face and voice of the "CBC Television National News" from 1959-1966, died in Barrie Ont. at age 89.

Also this day in 2005, we first learned that more songs had been written about Elvis Presley than any other artist. The report listed over 220 songs including: 'Graceland' by Paul Simon; 'A Room At The Heartbreakhotel' by U2; 'Calling Elvis', Dire Straits; 'Happy Birthday Elvis', Loudon Wainwright III; 'There's A Guy Works Down The Chip Shop Swears He's Elvis', Kirsty MacColl; 'I Saw Elvis in a UFO', Ray Stevens; 'Elvis Has Left the Building' by Frank Zappa, and 'My Dog Thinks I'm Elvis' by Ray Herndon.
Also this day in 2005, the Canadian rock band Rush headlined a "Canada for Asia" tsunami-relief CBC telethon in Toronto. Ed Robertson of the Barenaked Ladies and Mike Smith of the Trailer Park Boys also took part.
On this day in 2008, Elton John began a tour of South Africa for the first time, opening in Cape Town.
 On this day in 2009, British actor Patrick McGoohan, star of the TV series Rafferty, Secret Agent and The Prisoner, died at the age of 80.
On this day in 2010, soul singer Teddy Pendergrass died at the age of 59 following a difficult recovery from colon cancer surgery. Pendergrass enjoyed early success with Harold Melvin and the Blue Notes, whose hits included If You Don't Know Me By Now, before going solo in 1976. He was the first black male singer to record five consecutive multi-platinum albums in the US.
Also in 2010, Nickelback's "Dark Horse" was #1 (again) on Billboard's Hard Rock Albums chart. The band's sixth studio release made its debut in '08 and charted for 61 weeks, with much of that time spent at #1.

Still in 2010, Beyonce and Jay-Z were named Hollywood's top-earning couple by Forbes magazine. The pair earned an estimated $122 million between June 2008 and June 2009 – more than any other couple married or unmarried.
On this day in 2011, the Canadian Broadcast Standards Council banned Dire Straits '85 hit "Money For Nothing" because a homophobic epithet in the song is no longer acceptable. "The panel concluded that, like other racially driven words in the English language, 'faggot' is one that, even if entirely or marginally accepted in earlier days, is no longer so," said CBSC chair Ron Cohen in an official statement. Many Canadian stations ignored the ban.
On this day in 2012, longtime CBS News correspondent who ended his career with ABC, Richard Threlkeld, one of the last US journalists to leave Saigon at the end of the Viet Nam War, died in a car crash on New York's Long Island at age 74.

On this day in 2014, the 71st Annual Golden Globes saw Woody Allen saluted as the Cecil B. DeMille Award honoree (Diane Keaton accepted for him.) American Hustle, Behind the Candelabra, Breaking Bad, Brooklyn Nine-Nine, and Dallas Buyers Club were among the films and TV shows that received multiple awards.

On this day in 2015, UK virtuoso whistler Ronnie Ronalde, whose career also as a yodeller and bird song impersonator led to his own shows on BBC radio and ITV, died at age 91.
Today's Birthdays:
Actor David Sheiner (Mr. Novak, Mission Impossible, Blind Ambition) is 88.
Actress Frances Sternhagen (The Closer, ER, Sex & The City, Cheers) is 86.
Actor Jon Cypher (Major Dad, Hill Street Blues, Dynasty) is 84.
Ontario-born News 1130 weekend anchor Andy Walsh is 84.
Comedian Rip Taylor (Life With Bonnie, Santa Barbara) is 82.
Actor Billy Gray (Father Knows Best) is 78.
Toronto-born actor William B. Davis is 78.
Singer Carl Dobkins, Jr. (My Heart Is An Open Book) is 75.
Actor Richard Moll (Night Court) is 73.
Guitarist Trevor Rabin of Yes is 62.
Drummer Fred White of Earth, Wind and Fire is 61.
Actress Janet Hubert (The Fresh Prince of Bel-Air, All My Children) is 60.
Actor Kevin Anderson (Nothing Sacred, Skin) is 56.
Actress Julia Louis-Dreyfuss (Seinfeld, Veep, New Adv. of Old Christine) is 55.
Edmonton-born goalie/colour man Kelly Hrudey (Hockey Night in Canada) is 55.
Singer Graham "Suggs" McPherson of Madness is 55.
Country singer Trace Adkins is 54.
Actress Penelope Ann Miller (Mistresses, Men of a Certain Age, A Minute w/Stan Hooper) is 52.
Actor Patrick Dempsey (Grey's Anatomy) is 50.
Actress Suzanne Cryer (Two Guys a Girl and a Pizza Place) is 49.
Actress Traci Bingham (The Dream Team, BattleBots, Baywatch) is 48.
Actor Keith Coogan (The Waltons, The MacKenzies of Paradise Cove) is 46.
TV writer Shonda Rhimes (Grey's Anatomy, Scandal, How to Get Away with Murder) is 46.
Actor John Asher (Weird Science) is 45.
Actress Nicole Eggert (Baywatch, Charles in Charge) is 44.
Actor Michael Peña (Gracepoint, Chozen, The Shield) is 40.
Actor Ross McCall (Crash, White Collar, 24: Live Another Day) is 40.
Actress/TV host Jill Wagner (Wipeout, Teen Wolf) is 37.
Actress Rayna Tharani (Days of Our Lives) is 36.
Actress Ruth Wilson (The Affair) is 34.
Actor Pawel Szajda (Generation Kill) is 34.
Actor Julian Morris (Pretty Little Liars) is 33.
Actor Brandon P Bell (Hollywood Heights) is 31.
Actor Parker Croft (Once Upon a Time) is 29. 
Victoria-raised actor Beau Mirchoff (Awkward, Desperate Housewives, Heartland) is 27.
Chart Toppers – Jan. 13
1952
Slowpoke – Pee Wee King
Sin (It's No) – Eddy Howard
Undecided – The Ames Brothers
Let Old Mother Nature Have Her Way – Carl Smith
1961
Wonderland by Night – Bert Kaempfert
Exodus – Ferrante & Teicher
Will You Love Me Tomorrow – The Shirelles
North to Alaska – Johnny Horton
1970
Raindrop Keep Fallin' on My Head – B.J. Thomas
I Want You Back – The Jackson 5
Whole Lotta Love – Led Zeppelin
Baby, Baby (I Know You're a Lady) – David Houston
1979
Too Much Heaven – Bee Gees
Le Freak – Chic
My Life – Billy Joel
Lady Lay Down – John Conlee
1988
So Emotional – Whitney Houston
Got My Mind Set on You – George Harrison
The Way You Make Me Feel – Michael Jackson
I Can't Get Close Enough – Exile
1997
Un-Break My Heart – Toni Braxton
I Believe I Can Fly – R. Kelly
Don't Let Go (Love) – En Vogue
Nobody Knows – Kevin Sharp
2006
Stickwitu – Pussycat Dolls
Don't Forget About Us – Mariah Carey
Check on It – Beyoncé Knowles
She Let Herself Go – George Strait