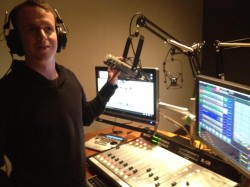 By Donovan Tildesley
PSR Contributor


January 12th, 2016
Welcome all! As you've probably seen from my banner on PSR, I spend my
days providing my clients with piece of mind through simplified
insurance solutions. I'm a people-person: I thrive on interacting with
others, and hearing their stories. While insurance pays the bills,
radio has always been my hobby and passion. Over the next while, I
plan to use this space to highlight some of the personalities who
have made my days (and hopefully yours too) that much richer. If you have
material you'd like to share? Just email me and we'll make it happen.
Kid Carson
With his recent departure from Rogers and KiSS, I thought I would
highlight a couple of clips which really highlight his brilliance.
The Beat 94.5 Party Bus
In the Summer of 2005, The Beat 94.5 toppled long-time rival Z95-3.
With PD Chris Myers at the healm, and a lineup of young and dynamic
personalities who weren't afraid to "take it to the street", it felt
as if the radio station was everywhere. I was 21 at the time and
attending UBC, and I recall feeling that the whole station really
spoke to my generation. From personal experience, the most successful
teams not only work well, but also play well together. On this
particular night, the Thursday before Remembrance Day, The Beat crew
were doing just that, on route to Cheers in the North Delta Inn. All
aside from Flipout, who was holding down the fort back in the studio.
A couple of calls from the limo bus illustrate, that, in the words of
the Black Eyed Peas, tonight was gonna be a good good night!
Kid Carson's Christmas dinner
January 3, 2005. Kid is back on air after spending Christmas with
family and friends in Ontario. A good holiday, aside from one small
annoyance; the family Christmas dinner. In typical Kid fashion, he
let's the audience into the dining room on that particular evening.
Unbeknownst to his family, Kid's digital camera is doing more than
just taking up space on the table. Over the years, Kid has been known
for pulling off these sorts of bits. No doubt this was close to home
(pun intended) for a portion of the listening audience!
Again,  if you have any airchecks you'd like to share, please contact me.
Donovan
Email Donovan: dtildesley@buntaininsurance.com