ON THIS DAY in 1898

English comedienne & singer Gracie Fields was born Grace Stansfield in Lancashire.  Her hit records like Sally, Now is The Hour, Walter Walter, & The Biggest Aspidistra in the World were played all over the British Commonwealth & especially on English Variety Shows on Vancouver radio stations CJOR, CKWX & CKMO.  'Our Gracie' died from pneumonia Sep 27, 1979 at age 81.

On this day in either 1911, Gypsy Rose Lee was born Rose Louise Hovick in Seattle.  Famous as a stripper, her life was the subject of the Broadway musical "Gypsy."  In TV she had her own two short-lived series, and guested on The Steve Allen Show, Batman, Burke's Law, The Name of the Game, US Steel Hour, Hollywood Squares & Pantomime Quiz, among others. She hosted a daytime talk show on KGO TV San Francisco, before dying of lung cancer Apr 26, 1970 at age 59.
On this day in 1915, actor
Fernando Lamas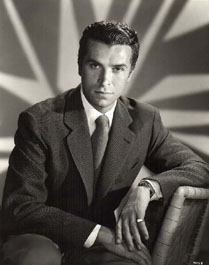 was born in Buenos Aires.  After a big screen career as a Latin lover, Lamas guest starred on TV over a 25 year period. He appeared repeatedly in the series Run for Your Life, It Takes a Thief, Mission Impossible, The Mod Squad, Switch, & the Love Boat.  He was still working when felled by cancer Oct 8, 1982 at age 67.
Also this day in 1915, actress Anita Louise was born in New York City.  In a 48 year film career starting as a child in the silent era, she guested on many early TV shows and had a running role in the series My Friend Flicka.  She suffered a stroke & died Apr. 25, 1970 at the age of 55.
On this day in 1928, singer Domenico Modugno was born in Italy.  He is best known in North America for his version of the song Volare, titled Nel Blu Dipinto di Blu, a huge hit in 1958. He died from a heart attack Aug. 6 1994 at age 66.

On this day in 1935, future TV star Bob Denver was born in New Rochelle NY.  His two TV shows, The Many Loves of Dobie Gillis & Gilligan's Island are memorable milestones in TV.  He died Sep 2, 2005 following surgery for throat cancer at age 70.
On this day in 1940, for the first time, television was used to present a sales meeting to convention delegates in New York City. They sat around watching a test pattern and listening to a loud tone before someone realized that TV wasn't practical to use, yet.
On this day in 1941, Sammy Kaye and his orchestra recorded "Until Tomorrow" on Victor Records.


This song became the sign-off melody for Kaye and other big bands.
Also this day in 1941, the first demonstration of small-screen color television was given by the Columbia Broadcasting System. The TV failed miserably, since RCA had pretty much wrapped up the patent process on color TV at the time.
On this day in 1949, a radio adaptation of the movie 'Stagecoach' starring John Wayne and Ward Bond opened a 20-month run of 'Screen Director's Playhouse,' a Hollywood anthology drama series on NBC.
On this day in 1955, Ed Sullivan's "Toast of the Town" on CBS TV featured pop singer Guy Mitchell, with actress Grace Kelly and author James Michener discussing the film "Bridges at Toko-Ri."  And a remote pickup from an arena in Philadelphia gave a preview of Shipstad & Johnson's "Ice Follies."
On this day in 1956, the Texas trio known as Buddy Holly and the Two-Tunes began a two-week tour of the southern United States as a supporting act for George Jones and Hank Thompson.

On this day in 1959, the western TV series "Rawhide" starring Clint Eastwood premiered on CBS TV. The show ran for 7 years.
Also in 1959, Dion and The Belmonts performed their newest song, "Teenager In Love," on ABC-TV's "American Bandstand."
On this day in 1960, singer Patsy Cline joined the Grand Old Opry.
On this day in 1961, "Wonderland by Night" by Bert Kaempfert topped the charts and stayed there for 3 weeks.  Kaempfert produced The Beatles first recording session when they were in Hamburg.

Also in 1961, Brenda Lee recorded her next ballad, "You Can Depend on Me," which would soon peak at #6 on the pop singles chart.
Again in 1961, comedian Bob Newhart went to No.1 on the US album chart with 'The Button Down Mind Strikes Back!'
Still in 1961, singer Connie Francis was Ralph Edwards' surprise honoree on NBC-TV's "This Is Your Life."
On this day in 1962, at a studio in Nashville, Roy Orbison recorded his next Top Five chart entry, "Dream Baby (How Long Must I Dream)."
On this day in 1963, the No. 1 Billboard Pop Hit was "Go Away Little Girl" by Steve Lawrence.
Also in 1963, drummer Charlie Watts joined The Rolling Stones after leaving Blues Incorporated.
On his day in 1964, at Motown's "Hitsville USA" studios in Detroit The Temptations recorded their first Top 40 hit "The Way You Do The Things You Do."  The Smokey Robinson-written track was also their first R&B #1.

On this day in 1965, "Beatles '65" was the number-one album in the U.S. for the first of nine straight weeks (thru Mar 6). The tracks were: "No Reply", "I'm a Loser", "Baby's in Black", "Rock and Roll Music", "I'll Follow the Sun", "Mr. Moonlight", "Honey Don't", "I'll Be Back", "She's a Woman", "I Feel Fine", and "Everybody's Trying to Be My Baby".
On this day in 1968, RCA Victor released Elvis Presley's next single "Guitar Man," featuring the composer, Jerry Reed, on lead guitar. Reed's own recording had enjoyed a degree of success the previous year.
On this day in 1973, the Rolling Stones' plans to tour Asia were halted when Japan refused to grant Mick Jagger a visa. The Japanese rejected Jagger's request on account of his 1969 drug bust.
On this day in 1976, Queen were at No.1 on the UK singles chart with 'Bohemian Rhapsody'.
On this day in 1979, country vocalist/guitarist Sara Carter died at age 80. Known for her deep and distinctive singing voice, she was the lead singer on most of the recordings of the historic Carter Family act (which included June Carter Cash) in the 1920's and 1930's.
Also in 1979, a benefit concert called A Gift of Song was held at the United Nations General Assembly in New York. The performers were Olivia Newton-John, Rita Coolidge, the Bee Gees, Rod Stewart, Donna Summer, John Denver, Kris Kristofferson, Abba, and Earth Wind & Fire.
Still in 1979, K-Mart in the US refused to carry Steve Martin's "Let's Get Small" LP because they considered some of the material to be "in bad taste."
On this day in 1984, "WHERE'S THE BEEF?" was heard in a Wendy's commercial for the first time uttered by Clara Peller. Dave Thomas spent $8 million on the ads that promoted hamburger sales plus T-shirts, baseball caps, records, greeting cards and countless other items bearing the picture of the elderly cult star.
On this day in 1987, 
 actor Arthur Lake, who played Dagwood for years in Blondie movies & radio shows, suffered a fatal heart attack at age 81.
On this day in 1988, Whitney Houston scored her sixth consecutive No.1 song with 'So Emotional'.
On this day in 1989, CBS's "Pat Sajak Show" made its debut on late night T-V, but was unable to compete with the likes of Johnny Carson and David Letterman on NBC, and was cancelled after 15 months.