Funeral services have been announced for legendary band leader/broadcaster Dal Richards who passed away New Year's Eve at age 97.  It is scheduled for 2 p.m. Saturday, January 9 at Christ Church Cathedral, 690 Burrard Street, Vancouver.  A reception limited to family and friends, including those in the radio business past and present, will follow.  His wife Muriel told Gord Lansdell of NWBroadcasters.com, "Dal had a great life and a fairly quick passing.  On Christmas Eve he was at Christ Church for the 1 p.m. Christmas Eve service, where he did his traditional stint as a 'celebrity reader' of a bible verse….after which we stopped in at the Hotel Vancouver for lunch before heading home.  He enjoyed Christmas dinner with family, and then fairly suddenly and comfortably faded away.  He had a lovely 97++ years of life and an easy death, and will be loved and remembered by many….what more could any of us ask for?"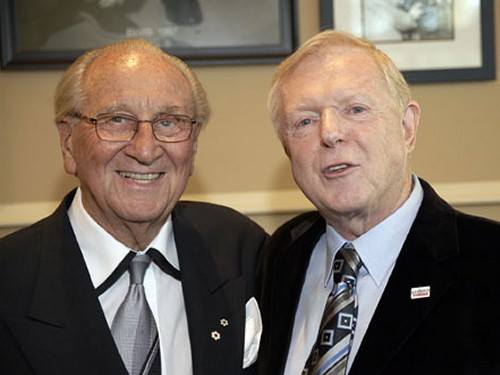 Red Robinson offered his own thoughts on Dal's passing on his website: Dal Richards would have turned 98 on January 4. He passed away minutes before midnight on New Year's Eve. This New Year's Eve would have seen him fronting his band for the 80th consecutive year. Out here on the west coast we referred to him as the King of Swing, a title held by his idol Benny Goodman.   Dal was a favourite son of Vancouver. Dallas was named for the doctor who delivered him, Dr. Dallas Perry. The good doctor recommended Dal take up an instrument. Dal's mother p
layed piano and she immediately acted on the suggestion. She took him to see Arthur Delamont, the leader of the Kitsilano Boys Band, and Mr. Delamont suggested Dal play the clarinet. By the end of high school Dal was leading his own band playing at golf courses and many other small dates. Later he played house gigs at local night clubs like the Palomar and the Alma Academy ballroom.
His big break came when Vancouver big band favourite Mart Kenny left the Hotel Vancouver for a cross country tour. Dal was booked as his replacement at the Panorama Roof of the hotel and his show was broadcast "live" on CBC Radio at 10:30 p.m. on Saturday night. He remained the big band host from the Hotel from 1940 through 1965 when rock and roll ended the big band era. In recent years Dal continued to play his annual stint at the Pacific National Exhibition where he first appeared in 1938. Some of his honours included the Order of B.C. and the Order of Canada. He was one of a select few asked to carry the Olympic torch — at 92! I appeared many times on his radio show where he would ask the guests to bring in something that meant something to them. I think I surprised him when I brought records by Stan Kenton, June Christie and the Four Freshmen. His wife Muriel managed his appearances and he played over 200 a year throughout B.C. Carole and I always sat next to them at B.C. Lions football games. Did you know Dal scored the music for the clubs theme "Roar, You Lions Roar"? He had the heart of a lion and once told me he hoped to live to 100. He lived to work and every working day was a glory day for him because he had passion for the music. We should all be so lucky.
Dal Richards
 was one in a million and will be missed by millions. Good bye old friend.