Advertisment
Looking for that last minute Christmas gift or Stocking stuffer?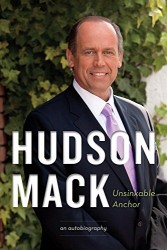 For decades, Hudson Mack has been the face of television news on Vancouver Island. In 2004, when he "crossed the street" from CHEK to The New VI, it was an industry-wide sensation. As he recalls that life-changing event in this autobiography he admits he wasn't sure where his new path might lead. CHEK was established, respected and popular in Victoria, but its senior management had passed Mack over for promotion to news director, more than once. The New VI was high-budget and original, but hadn't exactly earned a reputation for professionalism, especially after one of its anchors dropped an F-bomb on the air. When New VI management offered Mack the chance to rebuild and lead its news department, he couldn't resist the chance to rescue the floundering news program and signed on.
Ten years later, after revamping The New VI and leading it to success as A-Channel and then CTV, Mack left the station. "Time is right for a change," he told dismayed viewers at the time. It was true; changes were happening, but there's more to the story, and in Hudson Mack, the broadcast veteran reveals the rest of the truth.
And not just career-related truths. There's more to Mack than what you see on TV, and in this memoir he shares his personal stories as well as his professional ones. He tours through some of the lighter moments of his life and career–for example, the day of the royal visit, when Prince Philip put Mack's wife Patty in a very awkward position–but doesn't balk at sharing the tragedies, and also tells of his older brother's accidental shooting and the loss of his father and sister to cancer.
Read all about Hudson Mack in his first book 'Unsinkable Anchor' which is available through Amazon or at your local book store.