ON THIS DAY in 1907

actress Fran Allison was born in smalltown Iowa. She played the folksy tale-telling Aunt Fanny for decades on ABC/CBC radio's Don McNeill's Breakfast Club.  On TV she was a co-star (with Burr Tillstrom & his puppets) on Kukla Fran & Ollie. She died of bone marrow failure June 13 1989 at age 81.
On this day in 1908, author & TV host Sir Alistair Cooke


was born in England, although he lived most of his life in the US.  He did a weekly "Letter from America" on the BBC for 58 years, however he is best remembered hereabouts as the erudite host of PBS' Masterpiece Theatre.  He died from lung cancer Mar 30, 2004 at age 95.
On this day in 1913, Judy Canova was born in smalltown Florida.


She began her career yodeling, singing and playing guitar with her brother and sister in a nightclub act before joining the Ziegfield Follies, and then starring in her own weekly radio show for 12 years.  She took scattered guest roles on TV for 25 years.  Judy died from cancer Aug 5 1983 at age 69.
On this day in 1919, actress Phyllis Thaxter was born in Portland Maine. 
 She guest starred in dramatic television over 40 years, including repeated roles on the US Steel Hour, Alfred Hitchcock Presents, Climax, Lux Video Theatre, and the mini-series Once an Eagle.  After a lengthy battle with Alzheimer's she died Aug. 14 2012 at age 92.
On this day in 1929, the first broadcast of "The Rise of the Goldbergs", with Gertrude Berg as Molly, debuted on the NBC Blue radio network. Later, the title would be shortened to The Goldbergs. Mrs. Berg, incidentally, wrote the first scripts for the 15-minute program and starred in the show — for $75 a week. The program continued until 1945 (it returned for one season in 1949-1950).


Gertrude Berg brought The Goldbergs to TV in 1949, entertaining audiences with New York style, motherly phrases like, "Button up your neck. It's cold outside."
Also this day in 1929, Leo Reisman and his orchestra recorded Happy Days are Here Again for Victor records. The classic was waxed just three weeks after the stock market crash that plunged North America into the Great Depression. Some people have a unique sense of timing, don't they?
On this day in 1932, actor/quiz show star Richard Dawson was born in Hampshire, England. He was well known for playing Corporal Peter Newkirk on Hogan's Heroes, being the original host of the Family Feud game show from 1976–1985 and 1994–1995, and the central regular panelist on the 1970s version of Match Game. He died June 2, 2012 of complications from cancer of the aesophogus at age 79.
On this day in 1938, Father Coughlin broadcast the first documented anti-Semitic remarks over U.S. radio.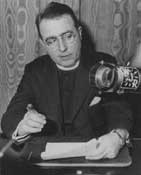 On this day in 1944, Les Brown & His Orchestra, featuring vocalist Doris Day, recorded "Sentimental Journey," which soon became Ms. Day's first hit.
On this day in 1947, the first TV network presentation of "Meet the Press" aired on NBC-TV (consisting of two stations). The panel interview program, which originated on Mutual radio in 1945, became the longest-running series on network television.  And it is still #1 among Sunday news shows….
On this day in 1952, the No. 1 Billboard Pop Hit was the comedic sermon  "It's in the Book" by Johnny Standley.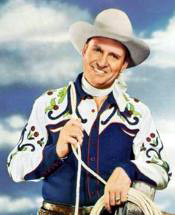 On this day in 1954, when his career as America's most successful singing cowboy was almost over, Gene Autry appeared for the first time on radio's "Grand Ole Opry." Autry was easily the most popular country singer of the 1930's and '40s, with such hits as "Silver Haired Daddy of Mine," "South of the Border" and "Tweedle-O-Twill." Autry's trio of million-selling children's records — "Here Comes Santa Claus," "Rudolph the Red Nosed Reindeer" and "Peter Cottontail" — were recorded in the late '40s.
On this day in 1955, Ed Sullivan presented a 15-minute tribute to rhythm-and-blues on his television show. Featured were Bo Diddley, Lavern Baker, the Five Keys and saxophonist Willis (Gator Tail) Jackson. Diddley refused Sullivan's request to perform Tennessee Ernie Ford's "Sixteen Tons," claiming he didn't know the song, and sang "Bo Diddley" instead.  The brouhaha resulted in him being banned from further appearances on the top rated Sunday night variety show.
Also in 1955, the song that helped change popular music history 'Rock Around The Clock' by Bill Haley & His Comets went to No.1 on the UK singles chart.
Still in 1955, singer Kay Starr recorded her 2nd #1 pop single (after "Wheel of Fortune") "The Rock & Roll Waltz" for RCA Victor.
On this day in 1959, one of America's great rock jocks was fired from WABC radio in New York.


The "Moondoggy" himself, Alan Freed, was axed after refusing to sign a statement saying he had never accepted "payola" or gifts from record labels in exchange for airplay.
On this day in 1961, Bob Dylan started recording his debut album over two days at the Columbia Records studios in New York City.
On this day in 1962, the Four Seasons' "Big Girls Don't Cry" was released.
On this day in 1965, The Supremes had their sixth US No.1 single with 'I Hear A Symphony.'
On this day in 1966, CBS-TV's Ed Sullivan Show featured the Dave Clark Five with "Sitting Here Baby," Bobby Vinton singing "Coming Home Soldier," and monologues by comedians Dick Cavett and Henny Youngman.
On this day in 1967, the No. 1 Billboard Pop Hit was "Incense and Peppermints," by  Strawberry Alarm Clock.

Also in 1967, Time magazine went into raptures reviewing The Doors' second album "Strange Days" for Elektra Records. It said the group takes listeners "into symbolic realms of the unconscious – eerie night worlds filled with throbbing rhythms, shivery metallic tones, unsettling images."
Still in 1967, The Beach Boys twelfth studio album "Smiley Smile" was released. Some critics praised it but initial sales were dismal, throwing group leader/songwriter Brian Wilson into a drug addled emotional tailspin.
On this day in 1968, the 100th episode of "Green Acres" aired on CBS.
Also this day in 1968, one of the great actresses of radio,
Spokane native Cathy Lewis

 died of cancer at age 50. Half of "the first couple of radio" (with husband Elliot Lewis) she was featured as Jane Stacy on My Friend Irma on both radio & TV.  She was one of the most oft-used stars on CBS radio's Suspense series.  When Fibber McGee & Molly came (briefly) to TV, she was cast as Molly.
On this day in 1970, Kinks singer Ray Davies re-recorded one word for the single "Apeman." The song contained the word "foggin'," which sounded too much like an expletive.
On this day in 1971, Isaac Hayes got his first #1 hit as the "Theme from Shaft" began a two-week stay at the top of the charts.
On this day in 1972, Elton John 's first #1 single in North America, "Crocodile Rock" was released.
On this day in 1973, TV writer/producer & comedian Allan Sherman ("Hello Muddah, Hello Fadduh") died of emphysema, ten days short of his 49th birthday.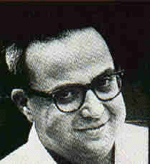 Also this day in 1973, Who drummer Keith Moon collapsed twice during a concert in San Francisco, after spiking his drink with horse tranquillizer. Guitarist Pete Townshend asked for a volunteer from the audience to finish the set — and got one — for the show's final three numbers.
On this day in 1976, Gordon Lightfoot's 'The Wreck Of The Edmund Fitzgerald' peaked at #2 on the Billboard pop single chart.
Also in 1976, George Harrison and Paul Simon sang as a duet on "Homeward Bound" and "Here Comes The Sun," in pre-recorded versions that aired on NBC-TV's "Saturday Night Live."
On this day in 1979, the No. 1 Billboard Pop Hit was "No More Tears (Enough Is Enough)," with Barbra Streisand and Donna Summer. The song was the fourth No. 1 for both women, including a duet Streisand had with Neil Diamond.
On this day in 1980, the 200th episode of "M*A*S*H" aired on CBS.
On this day in 1981, Ringo Starr released "Stop and Smell Roses," his eighth album as a solo act.
On this day in 1982, precocious 7-year old actress Drew Barrymore, the young star of the Steven Spielberg movie "ET," was the guest host of NBC-TV's "Saturday Night Live."
Also in 1982, ABC TV news reporter Catherine 'Cassie' Mackin succumbed to cancer at age 43.
On this day in 1983, an estimated 100 million North Americans watched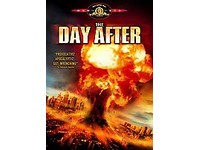 the ABC-TVmovie "The Day After," a controversial depiction of nuclear war and the devastation resulting.
On this day in 1984, the largest crowd to see the unveiling of a Hollywood Walk-of-Fame star turned out as Michael Jackson was awarded his piece of the sidewalk, right in front of Mann's Chinese Theatre. "The Gloved One" became star number 1,793 on the famed walk.
On this day In 1991, the Rolling Stones signed with Virgin Records in a deal estimated to be worth a then-record 45 million dollars. The deal gave Virgin rights to all albums made by the Stones since 1971. The band agreed to record three new albums over six years.

Also on this date in 1991, 30-thousand copies of Michael Jackson's album "Dangerous," scheduled for release the following week, were stolen from an air freight terminal in Los Angeles. Three men with shotguns broke into the facility and tied up the employees. No one was hurt.
Still on this date in 1991, one of Michael Jackson's brothers, Randy Jackson, was sentenced in Los Angeles to a month in a hospital lockup for beating his wife and baby daughter. The former Jackson Five member was also placed on two years probation and ordered to enroll in a domestic violence rehabilitation program.
Again in 1991, Canadian-born rocker Bryan Adams had a Billboard #1 single with 'Can't Stop This Thing We Started'.
On this day in 1993, exactly two years later, Bryan Adams' 'Please Forgive Me' peaked at #7 on the Billboard charts.
On this day in 1994,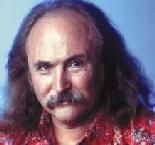 rocker David Crosby got a life-saving liver transplant. Crosby's publicist blamed the musician's medical problems on his decades of drug abuse. Crosby made a complete recovery.
On this day in 1995, "Free as a Bird," featuring a John Lennon vocal and music by the three surviving Beatles, was released to British radio stations. The new recording came 25 years after the Beatles broke up and 15 years after Lennon's death. The Beatles album from which it was taken, "Anthology I," went on sale in Britain the same day, and a day later in the U-S and Canada.
Also this day in 1995, Princess Diana admitted being unfaithful to Prince Charles in an interview broadcast on BBC Television.

Still this day in 1995, the No. 1 Billboard Pop Hit was "Exhale (Shoop Shoop)" by Whitney Houston.
On this day in 1997, Victoria got its own CBC Radio One service as CBCV-FM signed on at 90.5 MHz. Morning and afternoon drive was locally produced, with the remainder of the schedule simulcast from CBU AM 690 Vancouver.
Also this day in 1997, Seattle instrumentalist Kenny G. was on hand to help unveil his new star on the Hollywood Walk of Fame.

On this day in 1998, Skatalites saxophonist Roland Alphonso, 67, died at Cedars-Sinai Medical Center in Los Angeles. He had been in a coma after suffering a seizure earlier in the month.
On this day in 1999, R&B superstar Brandy appeared in her first television special. "Brandy In Concert: A Special For The Holidays" featured songs taped at a recent concert at Chicago's Rosemont Theatre.
On this day in 2000, organist Gaylord Carter died of Parkinson's at age 95. 
 Born in Wiesbaden Germany, his family moved to the US when he was a child.  He became active in playing music for bigtime radio, notably "Hollywood Hotel", "The Packard Show", "The Second Mrs. Burton", and "Breakfast In Hollywood". Carter will always be associated in the public mind with "The Amos & Andy Show".  For seven years on radio he introduced the show by playing its theme, "The Perfect Song".  After the war he played for both radio & TV, including "Bride & Groom", "The Big Payoff", and "The Pinky Lee" TV show.
Also in 2000, Spice Girl Mel C announced she was quitting the group during a TV interview on the UK's ITV.
On this day in 2001, the KISS Deluxe Edition 5 disc box set was released. The set included 92 tracks.
On this day in 2003, singer Michael Jackson turned himself in to police in Santa Barbara on an arrest warrant alleging multiple counts of child molestation. Jackson posted a $3-million bail bond.

Also this day in 2003, record exec. Phil Spector was indicted for the murder of Lana Clarkson at his home the previous February. Spector pleaded not guilty.
On this day in 2004, longtime Toronto radio personality Tom Rivers died of cancer at the age of 57.  In the 90's he had several gigs in Edmonton, and a talk show on Calgary's CHQR.
Also this day in 2004, Seattle's Experience Music Project unveiled an exhibit called Bob Dylan's American Journey, 1956-1966. Dylan guitars, hand written and typed lyrics and concert posters were on display along with Dylan interviews.
On this day in 2005, Madonna for the eighth time went to No.1 on the UK album chart with 'Confessions On A Dancefloor.'

Also this day in 2005, U2 were profiled on the CBS newsmagazine 60 Minutes.
Still in 2005, Robbie Williams smashed a Guinness World Record by selling more than 1.6 million tickets for his 2006 World Tour in one day.
On this day in 2006, Army of Anyone, with Richard Patrick of Filter and Stone Temple Pilots siblings Dean and Robert DeLeo appeared on NBC's Late Night With Conan O'Brien.
On this day in 2007, Velvet Revolver were forced to cancel a four-city Japanese tour after their request for visas was rejected, ostensibly over previous drug convictions.

Also in 2007, Radiohead frontman Thom Yorke admitted he was among the thousands of people who paid nothing to download the band's latest album In Rainbows. Speaking on the BBC Yorke said: "There wasn't any point. I just move some money from one pocket to the other." According to one survey, three in five people paid nothing at all for it.
On this day in 2008, KISS bassist-singer Gene Simmons gave the keynote speech at the Billboard Touring Conference in New York. Simmons took the opportunity to voice frustration that Kiss wasn't yet in the Rock and Roll Hall of Fame.
On this day in 2009, novelty record artist (Ambrose-Part Five)/singer/songwriter Linda Laurie, who wrote Helen Reddy's Leave Me Alone (Ruby Red Dress), succumbed to cancer at age 68.

On this day in 2010, broadcaster and historian Chuck Davis succumbed to lung cancer at age 75.  His radio/TV work in this area began in 1960 at CJVI and CHEK Victoria, then continued at many of the call letters in Vancouver, most notably the CBC. He may be remembered by most broadcasters for the masterful job he did on "Top Dog," the coffee-table book that beautifully tells the story of CKNW's first 50 years.
Also in 2010, singer/pianist Billy Joel had both his hips replaced in surgery at a hospital in Long Island.
On this day in 2011, we first learned that Robin Gibb of the Bee Gees was suffering from terminal colorectal cancer, which would claim his life the following May.
Also this day in 2011, Maroon 5 won the Favorite Pop-Rock Band/Duo/Group award at the 39th annual American Music Awards in L.A.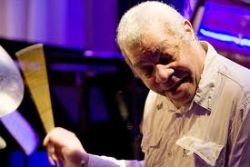 On this day in 2012, Pete La Roca Simms, a powerful and distinctive drummer of the 1950's and 60's, who played with the likes of John Coltrane, Sonny Rollins, Marian Maitland, Stan Getz and Mose Allison, lost his battle with lung cancer at age 74.
Also in 2012, Toronto-based Rush were inducted into the Guitar Center's RockWalk on Hollywood's Sunset Boulevard.
Still in 2012, the Rolling Stones launched their first official App as part of the band's 50th anniversary celebrations.

On this day iin 2013,
Dan Gerrity
, an actor & broadcaster who appeared in the TV shows 
Cheers
,
Night Court,Dallas
, 
Knots Landing
,
Family Matters
,
Murder One
,
JAG
,
The King of Queens
,
Frasier
and
The West Wing, 
suffered a fatal heart attack at age 59. At the time of his death he was News Director at KSFR-FM Santa Fe, New Mexico.
.
Also in 2013, The Beatles debuted at #7 on the Billboard 200 album chart with "On Air – Live At The BBC Vol.2."  The set, recorded fifty years earlier, sold 37,000 copies in its first week.
.
On this day in 2015, TV game show host, and host of the 'Miss Canada Pageant' for two decades, Jim Perry succumbed to cancer at age 82.
Today's Birthdays:
Actress-comedian Kaye Ballard (Steve Allen Comedy Hour, Mothers-in-Law, Doris Day Show) is 90.
Actress Estelle Parsons (Roseanne, NBC Today Show) is 88.
Comedian Dick Smothers (Smothers Brothers Show) is 76.
Actor/writer Bob Einstein (Super Dave Osborne, Curb Your Enthusiasm, Crank Yankers) is 76.
Singer Tony Butala (The Lettermen) is 75.
Singer Norman Greenbaum is 73.
Actress Veronica Hamel (Hill St. Blues) is 72.
Broadcast journalist Judy Woodruff (PBS News Hour) is 69.
Actor Samuel E. Wright (The Little Mermaid) is 69.
Singer Joe Walsh (The Eagles) is 68.
Actor Richard Masur (One Day at a Time, All My Children, Empire) is 67.
Actress Bo Derek (Seventh Heaven, Fashion House) is 59.
Reggae musician Jim Brown (UB40) is 58.
Actress Sean Young (Young & the Restless, Tender is the Night) is 56.
Pianist Jim Brickman is 54.
Rock musician Todd Nance (Widespread Panic) is 53.
Actress Ming-Na Wen (Vanished, ER) is 52.
Actor Ned Vaughn (Cane, Murder One) is 51.
Actress Callie Thorne (Mysteries of Laura, Necessary Roughness, Homicide, Rescue Me) is 46.
Actress Angelica Bridges (Baywatch, Days of Our Lives) is 45. 
Actress Sabrina Lloyd (Numbers, Ed, Sports Night, Sliders) is 45.
Actor/TV host Joel McHale (Community, E's 'The Soup') is 44.
Actress Marisa Ryan (Major Dad, New York Undercover) is 41.
Country singer Dierks Bentley is 40.
Actor Joshua Gomez (Chuck) is 40.
Vancouver-born actress Laura Harris (Defying Gravity, Dead Like Me, 24) is 39.
Country singer Josh Turner is 38.
Actress Nadine Velazquez (My Name is Earl) is 37.
UK singer/songwriter/TV presenter Kimberley Walsh (Girls Aloud) is 34.
Actress Andrea Riseborough (Bloodline) is 34.
Actress Margo Stilley (The Trip) is 33.
Actor Jeremy Jordan (Smash) is 31.
Actor Dan Byrd (Cougar Town, Aliens in America) is 30.
Actress Ashley Fink (Glee) is 29.
Bassist Jared Followill of Kings of Leon is 29.
Actor Cody Linley (Hannah Montana, Dancing With the Stars) is 26.
Chart Toppers – Nov. 20
1952
You Belong to Me – Jo Stafford
Wish You Were Here – Eddie Fisher
Because You're Mine – Mario Lanza
Jambalaya (On the Bayou) – Hank Williams
1961
Big Bad John – Jimmy Dean
Runaround Sue – Dion
Goodbye Cruel World – James Darren
Big Bad John – Jimmy Dean
1970
I'll Be There – The Jackson 5
We've Only Just Begun – Carpenters
I Think I Love You – The Partridge Family
I Can't Believe that You've Stopped Loving Me – Charley Pride
1979
Still – Commodores
Dim All the Lights – Donna Summer
No More Tears (Enough is Enough) – Barbra Streisand/Donna Summer
Come With Me – Waylon Jennings
1988
Bad Medicine – Bon Jovi
Wild, Wild West – The Escape Club
The Loco-Motion – Kylie Minogue
I'll Leave This World Loving You – Ricky Van Shelton
1997
Something About the Way You Look Tonight/Candle in the Wind 1997 – Elton John
You Make Me Wanna… – Usher
How Do I Live – LeAnn Rimes
Love Gets Me Every Time – Shania Twain
2006
My Love – Justin Timberlake featuring T.I.
How to Save a Life – The Fray
Lips of an Angel – Hinder
Before He Cheats – Carrie Underwood