On This Day in 1911  
actor William Tannen was born in New York City. He earned a living in TV from 1953 on, with supporting roles in The Adventures of Kit Carson & The Life & Legend of Wyatt Earp.  He was called for bit parts in a raft of series, including Daniel Boone, Rawhide, Bat Masterson, Annie Oakley, Lone Ranger & The Roy Rogers Show.  He died at age 65, Dec 2 1976.
On this day in 1914, broadcaster/comedian/writer Archie Campbell, 
best known for his work on TV's Hee Haw, was born in Bullsgap Tennessee. He was in country music radio prior to WWII; after the war he originated Knoxville's first Country TV Show (1952-58.)  He moved on to Nashville & the Grand Ole Opry, where he started a recording career with RCA. In 1969 he joined Hee Haw as the barber, famous for his spoonerism stories & "That's bad, that's good" routines.  Archie died Aug. 29 1987 after a heart attack.  He was 72. On this day in 1916, actor Frank Maxwell was born in the Bronx.  He kept busy in supporting roles for the first 30 years of television, including recurring roles in the series Our Man Higgins, Felony Squad, Return to Peyton Place, The Young Marrieds & General Hospital.  He died Aug. 4 2004 at age 87, of complications from heart disease. On this day in 1917, announcer & TV host Jack Lescoulie 
 was born in Sacramento. He was best known for his stint on NBC's Today Show during its earliest years, and the Jackie Gleason Show on CBS.  He died July 22, 1987 at age 69. On this day in 1925, actor Rock Hudson was born Roy Harold Scherer Jr in Winnetka Ill.  After his great big screem success he beame a hit on TV starring in McMillan and Wife.  He died at 59 Oct 2, 1985 of complications from AIDS. On this day in 1936, 
 ventriloquist Edgar Bergen & his little wooden friend Charlie McCarthy became an overnight success after appearing on the Rudy Vallee Show.  NBC gave them their own long-running radio show the following year. On this day in 1938, orchestra leader Kay Kyser, speaking to an audience at the College of the City of New York (CCNY) told of the "inner workings and artistic features of swing music." It marked the first of a series of lectures on swing music presented by Kyser, who went on to preside over The Kollege of Musical Knowledge, in reality a radio quiz show, for over a decade. On this day in 1941, guitarist/songwriter Gene Clark 
 was born in rural Missouri.  He is best known as a founding member of  the folk-rock group The Byrds.  He also performed with the New Christy Minstrels. He died May 24, 1991 at just 49. On this day in 1951, the song "It's No Sin" by Eddy Howard topped the charts and stayed there for 8 weeks. On this day in 1953, the No. 1 Billboard Pop Hit was "Rags to Riches" by Tony Bennett. On this day in 1957, Harry Belafonte was at No.1 on the UK singles chart with 'Mary's Boy Child,' the first single to sell over 1 million copies in the UK. It stayed on top for seven weeks making it this years Christmas No.1. Also in 1957, singer Gene Vincent made his national television debut on the CBS' Ed Sullivan Show, singing his latest Capitol release "Dance To The Bop."
On this day in 1962, The Four Seasons, with Frankie Valli as lead singer, began a five-week run at the top of the tunedex with Big Girls Don't Cry. On this day in 1963, singer Tommy Sands joined his wife, Nancy Sinatra, as they sang "Old Straw Hat" and "Hey Good Lookin'" on CBS-TV's "Ed Sullivan Show." Also in 1963, Mick Jagger and Keith Richards met singer Gene Pitney at the taping of ITV's Thank Your Lucky Stars. They gave him their joint composition "That Girl Belongs To Yesterday" which soon became a Top Ten hit for Pitney in the UK, and less so (#49) on this side of the Atlantic. On this day in 1964, Calgary radio station CHQR signed on for the first time, with 10,000 watts on 810 KHz.
On this day in 1965, the No. 1 Billboard Pop Hit was "I Hear a Symphony" by the Supremes. On this day in 1968, the infamous "Heidi Game" happened on NBC TV. The New York Jets/Oakland Raiders football game was cut off to begin a family show ("Heidi"), causing the TV audience to miss Oakland's two touchdowns (in nine seconds) to win the game 43-32. NBC was flooded with complaints and a policy of delaying the program schedule until the final whistle was adopted by the networks. Also this day in 1968, 
 Glen Campbell received gold records for the singles "By The Time I Get To Phoenix" and "Gentle On My Mind." On this day in 1970, Elton John recorded an album live, on what was WABC-FM in New York City. It marked the first time that a concert was aired live and recorded for release as aired. The LP was titled, "11/17/70." On this day in 1974, John Lennon scored his second solo US No.1 album with 'Walls And Bridges.' On this day in 1975, the No. 1 Billboard Pop Hit was "That's the Way (I Like It)" by KC & the Sunshine Band.
On this day in 1976, ABC-TV aired "A Very Special Olivia Newton-John," the Aussie-born star's first television special. On this day in 1978, the Linda Ronstadt compilation "A Retrospective" was certified gold. On this day in 1979, bass player John Glascock of the group Jethro Tull, died at age 26 of a heart valve defect, exacerbated by an abscessed tooth. Also this day in 1979, the song "Still" by the Commodores topped the US singles chart. It was their second US No.1 single. On this day in 1980, 
 newsman Roger Mudd began working as chief Washington correspondent for NBC. Mudd had left CBS after being passed over as Walter Cronkite's replacement on The CBS Evening News. Also this day in 1980, John Lennon's "Double Fantasy" two-record set was released. Initially a flop it became a Grammy-winning international smash following John's death three week's later. On this day in 1981, Luke Spencer married Laura Baldwin in what was called "the wedding of the year" on the TV daytime serial "General Hospital." An audience of 14 million watched as vows were exchanged on the ABC program. Also this day in 1981, vocalist Bob Eberly,
who sang with Helen O'Connell on some of the big band hits of the Jimmy Dorsey Orchestra, suffered a fatal heart attack at age 65. On this day in 1982, announcer/actor Bill Baldwin died nine days short of his 69th birthday.  He was a highly regarded commercial announcer in network radio who transitioned easily to early TV.  He also played numerous bit parts in episodic TV, frequently portraying radio and track announcers & the like. On this day in 1984, ten weeks after its first appearance in the Hot 100 at number 80,Wham!'s single, "Wake Me Up Before You Go-Go" reached the No. 1 spot.
Wham!'s George Michael and Andrew Ridgeley held their lead for three weeks. On this day in 1987, Chicago-based singer/actress Ireene Wicker died at age 81. She had been "The Singing Story Lady" on network radio for twenty years, dramatizing the children's stories with her own acting & singing ability.  She also played bit parts on other radio & TV programs out of Chicago. On this day in 1988, British-born gossip columnist Sheilah Graham,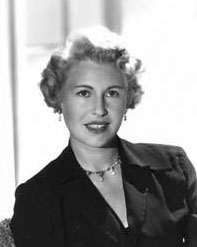 who frequently showed up as a guest on US TV talk shows, died of heart failure at age 84. On this day in 1990, David Crosby broke his left leg, ankle and shoulder in a motorcycle accident in Los Angeles. Police said he was speeding and was not wearing a helmet. On this day in 1991, the first TV condom ad aired on FOX-TV. It featured a young man talking about disease infecting nice people. On this day in 1992, Dateline NBC aired a demonstration of unsafe General Motors trucks apparently blowing up on impact. It was later revealed that NBC rigged the test. Also in 1992, at the end of a long court battle Jimmy Merchant and Herman Santiago(former members of Frankie Lymon and the Teenagers), were awarded $4 million in royalties as their share of the group's 1956 Top Ten hit 'Why Do Fools Fall In Love'. On this day in 1997, Canadian country superstar Shania Twain received certification of having sold 10 million units of her smash hit album, "The Woman In Me." 
On this day in 1998, actress Esther Rolle died as a result of complications from diabetes at age 78. Rolle played Florida the maid on TV's Maude, and the Emmy award-winning matriarch in the series Good Times. Also this day in 1998, retailers in the U.S. were hit with a wave of superstar releases on what the industry dubbed "Super Tuesday." Among the sets released were Garth Brooks' "Garth Brooks: Double Live," Whitney Houston's "My Love is Your Love," Mariah Carey's "#1's,"Jewel's "Spirit," and three soundtracks associated with the animated film "The Prince of Egypt."
On this day in 2000, Cher made her first guest appearance on the NBC-TV sitcom "Will and Grace," in an episode titled "Gypsies, Tramps and Weed." Also in 2000, ABC-TV aired the prime time documentary "The Beatles: Revolution," which featured stars discussing how the Fab Four and their music had affected their lives. On this day in 2003, American country music legend Don Gibson (Oh, Lonesome Me, Sea of Heartbreak) died of natural causes aged 75. Also in 2003, Rush Limbaugh
returned to his syndicated talk show after spending a month in rehab for addiction to prescription painkillers. Still in 2003, 21 year-old Britney Spears became the youngest singer to be honored with her own star on the Hollywood Walk of Fame. Again ion this day in 2003, the performer known as Meatloaf collapsed during a performance at London`s Wembley Arena. The 52-year-old singer underwent heart surgery four days later. On this day in 2006, R&B singer Ruth Brown (Mama He Treats Your Daughter Mean) died from complications following surgery at age 78.
Also in 2006, the Ontario-based band Three Days Grace were seen performing "Running Away" in a club scene on an episode of the CBS series The Ghost Whisperer, starring Jennifer Love Hewitt.  Still in 2006, U2's Bono and the Edge joined Pearl Jam onstage for a cover of Neil Young's "Rockin' In The Free World" at the Make Poverty History concert in Melbourne. Some 14,000 Australians attended the event, timed to coincide with the G-20 summit in that city. "The politicians have to do what you tell them to do," Bono told the crowd. On this day in 2007, longtime Philadelphia radio deejay Hy Lit, known nationally via his syndicated TV show, suffered kidney failure and died at age 73. Also in 2007, Kid Rock was the musical guest on NBC's Saturday Night Live.
Still this day in 2007, The Eagles were at No.1 on the US album chart with 'Long Road Out Of Eden,' the bands seventh studio album and first since 1979. On this day in 2009. the Canadian trio Rush released yet another album "Working Men." The compilation featured tracks from various periods in the band's long career. On this day in 2011, Aerosmith frontman (and sometime American Idol judge) Steven Tylerwas one of five celebrities transformed into one-of-a-kind Cabbage Patch Kids, auctioned on Ebay to benefit the Children's Action Network (CAN), a national adoption awareness organization. Tyler's doll came with its own microphone stand!
On this day in 2012, actress/dancer Bonnie Lynn Fields lost her battle with throat cancer at age 68.  She was a member of the Mouseketeers in 1957 on the third year of ABC-TV's Mickey Mouse Club. On this day in 2014, Vancouver-based Nickelback released their eighth studio album, "No Fixed Address." The set contains the singles, "Edge Of A Revolution" and "What Are You Waiting For?" It was the group's first effort for Republic Records (after leaving Roadrunner). Also in 2014, actor Matthew McConaughey, who co-starred in the highly-regarded first season of HBO's 'True Detective,'  was on hand to help unveil his new star on the Hollywood Walk of Fame.  
Today's Birthdays: 
Guitarist Gerry McGee of The Ventures is 78. Ontario-born singer Gordon Lightfoot is 77. Singer/songwriter/producer Bob Gaudio (Royal Teens, 4 Seasons member) is 73. Actress Lauren Hutton (Central Park West, Falcon Crest, Paper Dolls) is 72. Actor-director Danny DeVito (It's Always Sunny in Philadelphia, Taxi) is 71. Toronto-born "Saturday Night Live" (and "30 Rock") producer Lorne Michaels  is 71.   Rock guitarist Martin Barre (Jethro Tull) is 69. Rocker Robert "Stewkey" Antoni is 68. Actor Stephen Root (West Wing, NewsRadio, King of the Hill) is 64. Actress Mary Elizabeth Mastrantonio (Without a Trace, Law & Order: CI) is 57. Actor William Moses (Falcon Crest, Melrose Place, Perry Mason TV Movies) is 56. Actor Dylan Walsh (Unforgettable, Nip/Tuck, Brooklyn Bridge) is 52. Actor/cartoon voicist Ralph Garman (Family Guy, The Joe Schmo Show) is 51. Actress-model Daisy Fuentes (America's Funniest Home Videos, Loving, Style World, I Spike) is 49. Rhythm-and-blues singer Ronnie DeVoe (New Edition; Bell Biv DeVoe) is 48. Rock musician Ben Wilson (Blues Traveler) is 48. Rhythm-and-blues musician Jeff Allen (Mint Condition) is 47. Actor Leonard Roberts (Heroes) is 43. Actress Leslie Bibb (Crossing Jordan, Line of Fire, Big Easy) is 41. Model/actress Diane Neal (Law & Order: SVU) is 40. Actor Brandon Call (Step by Step, The Charmings) is 39. Country singer Aaron Lines is 38. London-Ont.-born actress Rachel McAdams (Slings & Arrows) is 37. Actress Azita Ghanizada (Alphas, General Hospital: Night Shift) is 36. Rock musician Isaac Hanson (Hanson) is 35. Actress Bojana Novakovic (Rake, Satisfaction) is 34. Model/singer-songwriter/sctress Sarah Harding (Girls Aloud, Coronation Street) is 34.  Actor Harry Lloyd (Game of Thrones) is 32. Actress Viva Bianca (Spartacus: War of the Damned) is 32. Timmins Ont.-born actor Jon Cor (Shadowhunters, Beaver Falls, Being Erica) is 31.  Actor Justin Cooper (Brother's Keeper, Same Old Days, Boys are Back) is 27. Actress Raquel Castro (Law & Order:SVU, Third Watch) is 21.
Chart Toppers – Nov. 17
1949
That Lucky Old Sun – Frankie Laine
Don't Cry, Joe – The Gordon Jenkins Orchestra (vocal: Betty Brewer)
I Can Dream, Can't I? – The Tommy Dorsey Orchestra (vocal: Jack Leonard)
Slipping Around – Margaret Whiting & Jimmy Wakely
1958
Tom Dooley – The Kingston Trio
Topsy II – Cozy Cole
Beep Beep – The Playmates
City Lights – Ray Price
1967
To Sir with Love – Lulu
Soul Man – Sam & Dave
Incense and Peppermints – Strawberry Alarm Clock
You Mean the World to Me – David Houston
1976
Tonight's the Night (Gonna Be Alright) – Rod Stewart
The Wreck of the Edmund Fitzgerald – Gordon Lightfoot
Love So Right – Bee Gees
Somebody Somewhere (Don't Know What He's Missin' Tonight) – Loretta Lynn
1985
We Built This City – Starship
You Belong to the City – Glenn Frey
Separate Lives – Phil Collins & Marilyn Martin
Hang on to Your Heart – Exile
1994
I'll Make Love to You – Boyz II Men
Another Night – Real McCoy
Here Comes the Hotstepper – Ini Kamoze
Livin' on Love – Alan Jackson
2003
Baby Boy – Beyoncé Knowles featuring Sean Paul
Stacy's Mom – Fountains of Wayne
Hey Ya! – Outkast
I Love This Bar – Toby Keith